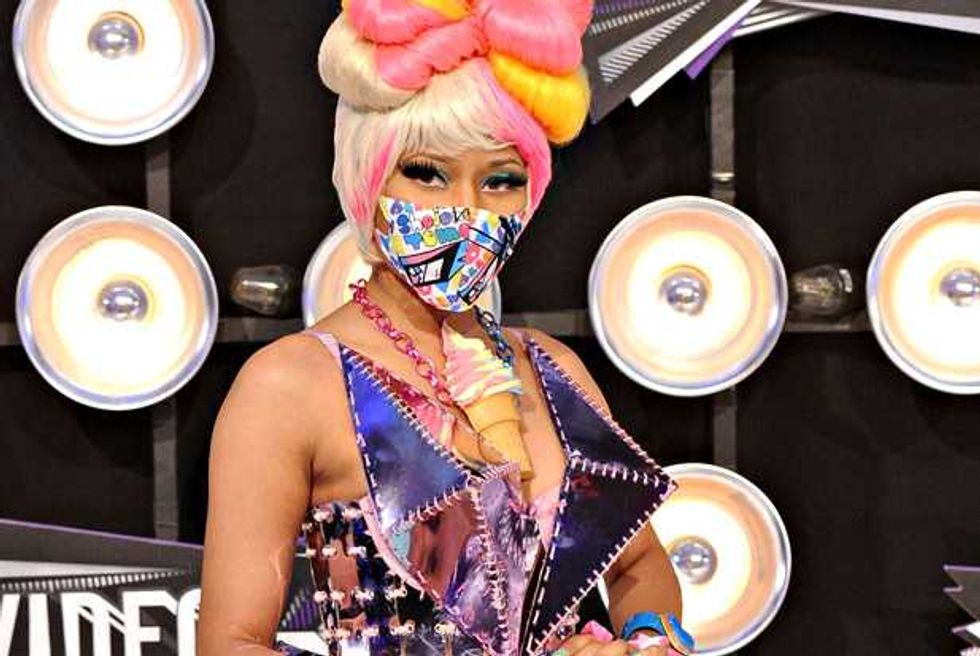 After one impressive display of duckface back in January, the video for Nicki Minaj and Rihanna's "Fly" got a release date: the VMAs! For everyone who hadn't seen the two in public together, this was fairly eventful. Cool and droll (Ri) meets wacky (Nicki)! Contrasts of all metaphorical kinds! But what's this, single four-times-umpteen from both of their albums? Can't you set up a makeshift songwriting camp outside the VMA studios to knock out a new album? Just crowdsource a few bars of a melody from everyone clamoring to get in! Maybe even gamify it, so if they sing the right five notes they'll get ushered into the front row.
Anyway, "Fly" sort of debuted, if you count one minute or so as a debut. (False advertising, VMAs. As false as that "Born This Way" non-win, featuring precisely ZERO GAGA.) The track was more Nicki's song and video than Rihanna's, not that anyone could tell from the approximately 30 seconds we got of each (Nicki Minaj looking very Sarah Brightman-against-a-cliffside, Rihanna looking very un-singerly and not entirely notable).
So let's focus on the real news: Nicki's geometry-porn dress! The world's already comparing her to Lady Gaga, as if they're the only two people who dress in unconventional clothes for awards shows, and as if Nicki didn't outshine Gaga sartorially at the Grammys anyway. It makes total sense. We think she had a tailish thing, making her a (rah, rah) dungeon dragon. And the blocks are clearly dice, and that thing on her face was armor. That is our completely official theory, and if you don't get it, just wait for Nicki's inevitable explanation in which she backs us up. C'mon, Nicki. We're waiting here.
(EDIT: Oh, those jokers at MTV, claiming the full video premiered. We actually watched the thing, which gives us the advantage. But if they want to post the video, who are we not to propagate it?)