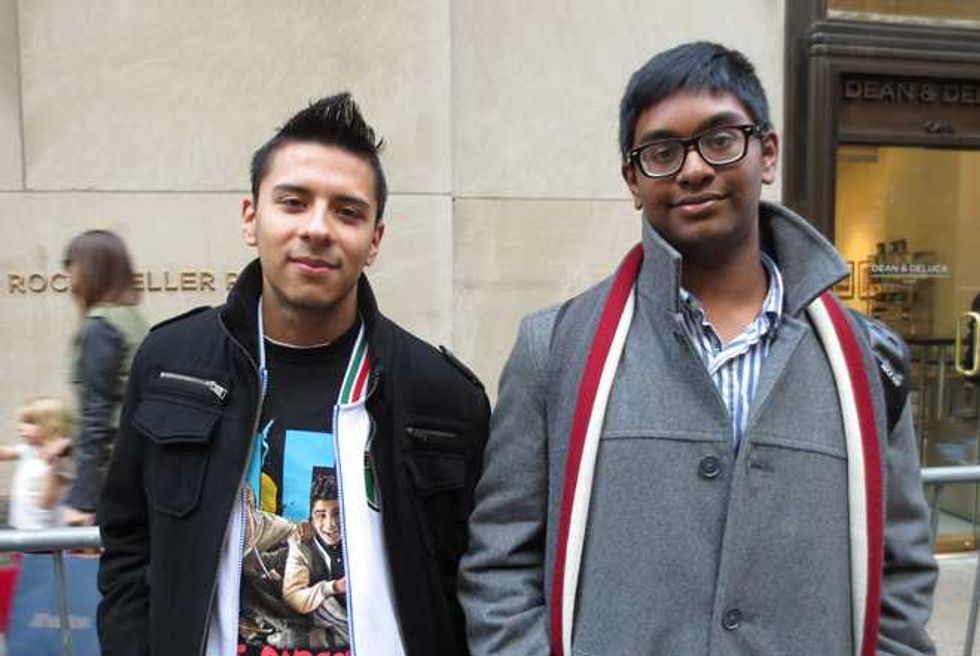 Tomorrow marks the official release of Take Me Home here in the U.S., and One Direction will perform on the Today stage in celebration of their latest album. After arriving at Rockefeller Center on their own double-decker bus last spring, and spending much of 2012 bringing large groups of fans to tears, how will this performance possibly compare?
There are already groups of eager fans storming midtown Manhattan, sharing sign-making techniques and best Twitter practices after having claimed their viewing spots as early as last Thursday morning. Throughout history boy band fans have tended to skew highly female, capturing girls' hearts at a young age and refusing to let go long after their own children have caught the bug. While there are currently many shrieking young women waiting and withstanding basic grooming practices for a chance to see Harry, Liam, Louis, Niall and Zayn up close and personal, Popdust is pleased to confirm that male Directioners of varied ages do exist.
Below, meet the brave and dedicated bros counting the hours until 1D takes the stage Tuesday morning.
MIKE, 17, LONG ISLAND, NY
Did you have to convince your parents to let you do this?
They kind of had no choice. I was like, 'OK I'm going there' and they were like, 'OK, fine,' because they know how much One Direction is part of my life.
What do you like best about the group?
They're not like a normal boy band. They're not choreographing stuff and they're just having fun doing it.
Do you have a favorite member?
Louis. He's just funny and kind of, like, sassy.
What about the way he makes subtle hints at  The Wanted? Any thoughts on those who want there to be a rivalry?
I don't like The Wanted. They're, like, old.
So "Glad You Came" didn't make an impact on you?
I don't like them. They're not my cup of tea.
Do a lot of people at school like One Direction?
Yes!
Does anyone make fun of you for being such a big fan?
No, because I think they know I'll hate them forever and I'll find them. I don't really like people from school that like [One Direction] because they're just more fake. These are the real fans that camp out on the street.
KENNETH, 18, NEW YORK, NY
Do you have a favorite member?
Niall, because he's blonde. And he's Irish.
I think he's the best at Twitter.
Yeah, he says a lot of stupid stuff. Good stupid stuff.
As a guy, do you look to individual members of One Direction for fashion tips?
No, I try to make my own style. But I like the way they dress, they look really nice.
Have you been following them since The X Factor?
About a couple months after they were one. They were the ambassadors for Pokemon, that's how I found out.
What was your first impression?
Zayn's cute. Zayn was my first and then I saw Niall and then I found out how sweet Liam is, and I met him, too.
We need details.
We were at the same hotel and he tried to get everyone around the hotel to take pictures with him, so that was good. And he smelled nice.
So you kept it cool?
Yeah, yeah. I just said "hi," I shook his hand, sniffed him—without him knowing, casual sniffing—and took a picture. [Laughs.]
What do you think of some of the crazier examples of fandom—the fan fiction, the Twitter threats, etc.?
The fan fictions are so crazy, they get so scary. Sure, we're fans of them, but we don't know them like that; we can't say certain things. Even with their girlfriends, I know a lot of fans only say [they love them] so they have the respect of the boys. And there are some fans that hate the girlfriends—for what reason? Especially with Larry—Harry and Louis, "the couple"— like, some people truly believe that they're gay for each other. But they're just friends.
What if it were true though?
That would be pretty cool. A gay power couple.
Do your parents think you're crazy for doing stuff like this?
Oh yeah.
Does it feel weird to be spending hours in a sea of overly enthusiastic girls? 
No. I just totally fit in.
BRANDON, 17, QUEENS, NY
ALVIN, 16, QUEENS, NY
How long have you been following One Direction?
Brandon: I've been liking them since they were on The X Factor.
Alvin: About half a year now. I just love the music.
What do you like most about it?
Brandon: The meaning of the songs; it's a good meaning, because I dedicated three of the songs ("One Thing," "Stole My Heart," "Little Things") to my girlfriend, so that's pretty great.
What did she think?
Brandon: She was happy.
Is she as big a fan as you are?
Brandon: Yes.
Does she think it's weird that you like a boy band?
No, she thinks it's cool. She was hoping to come here, too, but she couldn't.
Besides the music, do you look up to the guys?
Brandon: I like the way they express themselves. They're very good singers, and my favorite out of the whole band is Zayn Malik because he's kind of like my idol. He's a very good guy and I think he's the best singer out of the whole group.
Why is he your idol?
Brandon: The way he dresses, and all the girls like him, too.
Alvin: They're almost all average boys but they all had dreams of getting big.
What about their style?
Alvin: I actually started dressing like them—I don't wear t-shirts anymore, I wear only [button-down] shirts and cardigans.
That is a very 1D outfit. Very "Gotta Be You."
Alvin: [Laughs] I guess so.
So you want to steal some of their "game" with women?
Brandon and Alvin: Yes.
Do any of your friends think that liking One Direction makes you gay?
Alvin: No...
Brandon: Guys are hating. They're just jealous because [One Direction] is getting all the attention, and probably because they don't [have it]... and they're not getting as many girls.
Alvin: You can't call someone gay just because they like music.
Brandon: If you think you can be better than [One Direction] then go for it. I hardly believe you'll be better than them, though.
ALEX, 15, CARLISLE, PA
Will this be your first time seeing One Direction live?
Yes.
How are you feeling?
Oh my gosh, I'm SO excited.
Who's your favorite member?
I like Zayn. I mean, Zayn doesn't know it yet, but he likes guys and he's going to marry me.
How do you feel about being a male One Direction fan?
I'm fabulous; it's awesome.
Do people give you a hard time for liking them?
They love me!
Do you pay attention to the various "Larry Stylinson" rumors?
I feel like it's not really true. I feel bad for them.
What if it was true?
They made so much history already. I'd probably like them just as equally.
Do you have anything to say to the 1D haters out there?
I'd rather not. My mom taught me not to curse.
TOM, 40, FLORIDA
So you're here with your kids?
Yes, I have two daughters and their friend, so we came from South Florida.
But you enjoy One Direction?
Yes. I'm Directioner Dad!
How did you get into the group?
Through the kids, so we've been stalking them ever since—we go to the hotels they're staying in...
Really?
Oh yes. And when they came to South Florida we went to all the shows.
Do you have a favorite member?
Harry, of course. He's the best member.
Why?
The hair, it's gotta be the hair.
We're you into similar groups when you were younger?
No, it's all because of the kids. They started a YouTube site, so we do a bunch of goofy stuff with One Direction.
Have you seen anything crazy happen in the line?
Not really, but it is kind of weird how they're directioning people the wrong way [sic].
What do your friends think about you coming to New York for this?
Oh they think it's a riot and they think I'm an idiot. A 40-year-old man taking them around on special trips to see One Direction?
There aren't many male fans here.
There's none.
Do you think it's OK for guys to like groups like One Direction?
Hey, whoever likes whatever is fine with me. I don't have any stereotypes. I see it's all girls; it's obvious. I'm sure if I had two boys I wouldn't be here right now.
But what if they liked One Direction?
Whatever floats their boat.
Have you met any of the guys?
We did, we went to Massapequa, New York for a CD signing, so [my kids] did. I took the pictures.
But if you could hang out with Harry...
Yeah, I'd like to buy him a beer!