MUSIC
The super-talented Gil Landau and Yael Cohen discuss their creative process and diverse inspirations.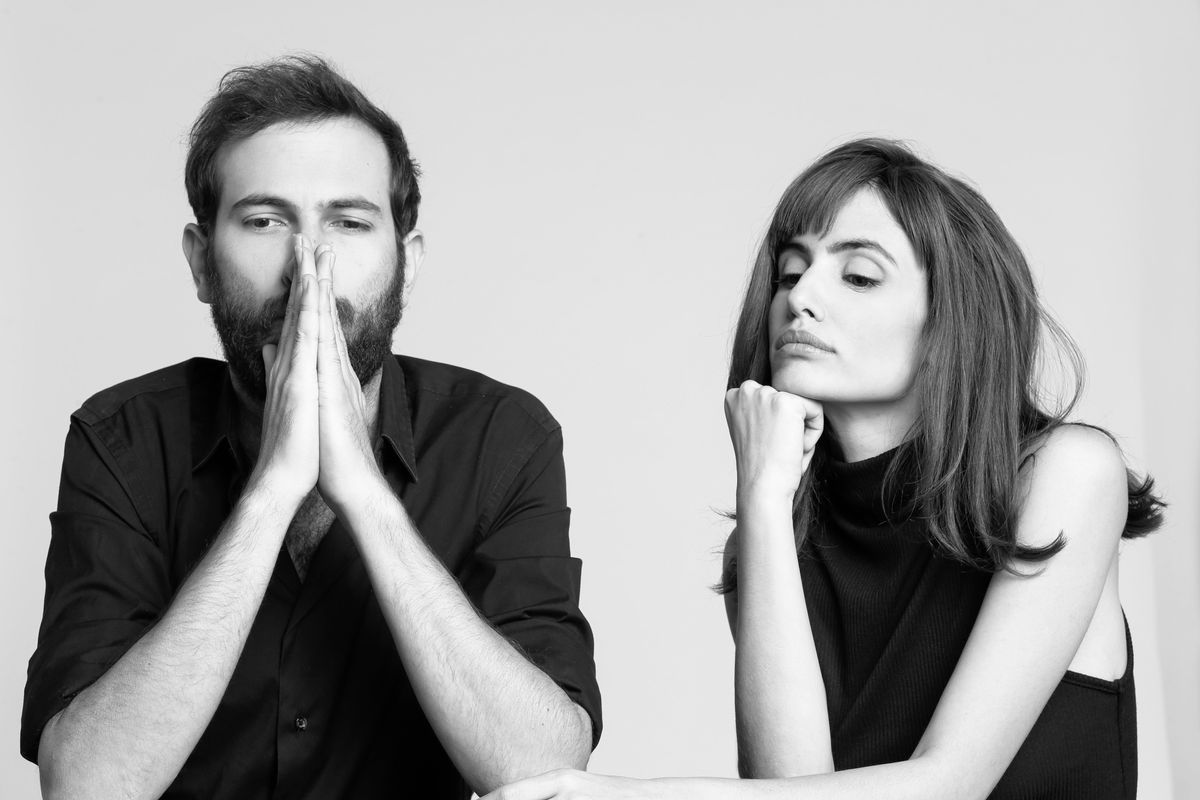 Lola Marsh's music exists in a world of its own.
With its cinematic influences and grungy production, it seems handmade for outdoor amphitheaters and long drives under endless skies. Through it all, there's a thoughtful depth underlying their danceable rhythms, perhaps stemming from their diverse influences and worldly upbringings.
When we sat down with the duo, in conversation, as in their music, their passion for their art and the worlds it creates shone through. The band has been through a lot in its short existence—Yael Cohen and Gil Landau were in a relationship for its first year and a half, then broke up and continued to perform together, Fleetwood Mac-style.
Both Cohen and Landau hail from Israel, a country that's a hotbed of both political turmoil and multicultural creativity. Their music offers a welcome escape from reality, inviting the listener into a world of vivid colors and high drama. At times, their work feels stormy and oceanic, at others it's electric and delicate, but it's always defined by their signature Lola Marsh sound: a blend of filmic, vintage, and modern pop influences that blend together to form something truly original.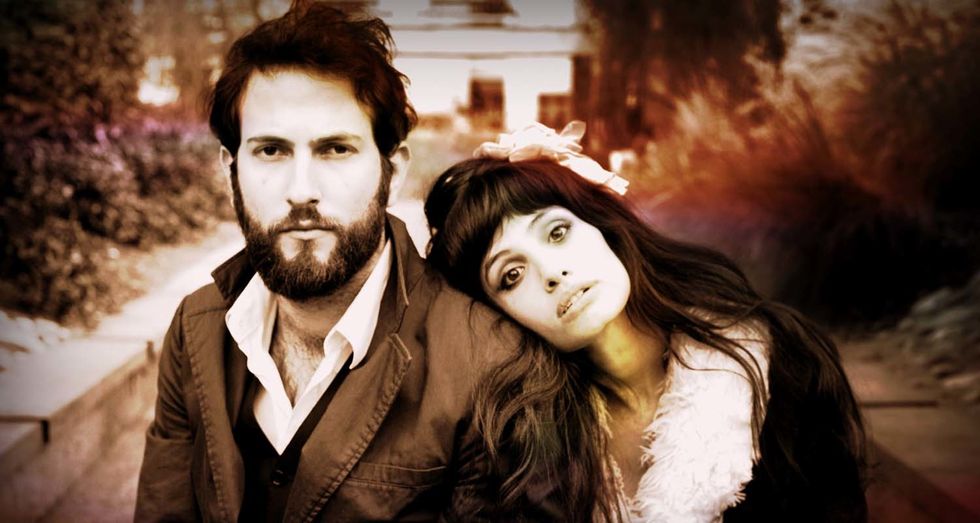 Image via Likevancouver.ca
Congrats on the release of your new single, "Echoes." How did you come up with that song and the idea for the video?
YAEL COHEN: Gil and me are really inspired by old Western movies and soundtracks, so that was part of it. When we wrote this song, it actually had a completely different tempo and different vibe.
GIL LANDAU: It started with a Casio keyboard, just a low-tempo beat and the melody. We messed around with it and tried these beats with these surf guitars, and it just fit.
YC: Sometimes we just let the melody lead us. In this case, the melody just took us to this beat; we started to dance. The video was very natural, with both of us dancing this stupid dance towards each other, never meeting. It's all kind of a metaphor. In a way, our doubles are our thoughts and the noises in our heads.
Lola Marsh - Echoeswww.youtube.com
That song, and a lot of your music, have this very noirish, dramatic, action-film undertone. Is writing these songs a dramatic experience?
YC: We are dramatic people, both of us—in our lives, and in the music, of course. We've been through a lot together, and separately, and that comes through. I think it's important for both of us to take the listeners to the different worlds, to make them feel like they're in these movie scenes.
Yael, you've said you were a fan of fantasy books in your childhood, and you've both traveled a lot in the real world. I was wondering if there are any specific places, fictional or real, that inspire your music?
YC: Our music is full of nostalgic moments. As a young girl, I lived in Africa and Singapore, and I traveled with my parents a lot. I think you can hear that in the songs—the landscapes of different places, always changing.
GL: When you said fictional places, I just thought of two moments from movies. First of all, there's the scene where Falkor in NeverEnding Story flies—you know, when the giant dog flies with Sebastian in the sky—that scene is with me sometimes when we write the songs. The second is the scene where Luke Skywalker in Star Wars is looking at the two suns in the desert.
Your music definitely has a filmic feel, and sometimes it evokes 50's or 70's movies and music. Do you feel connected to any particular era?
YC: Both of us love old movies and vintage sounds, like Elvis, Nina Simone, Edith Piaf...
GL: Until the age of 23, I didn't listen to anything made after 1979. Since then, I've developed my music taste, taking influence from the 80s and 90s. We both are just really nostalgic, retro creatures at heart, though. We love the sound of the guitars and the synths from those eras.
YC: It's more rough, less clean.
GL: When we record, let's say, piano or drums, we try to mess with the sound, so it doesn't sound good. We'll take piano and we'll put weird reverb on it or take it through a guitar amp, just to explore a bit.
Now that you mention it, a lot of your instruments sound like they were put through amps or messed with in some way. Do you have any particular musical sounds that you try to emulate?
GL: I think when we just began together, we tried to emulate artists we loved. Now, it's more about our own inspiration. When we wrote this second album, we asked ourselves… is it Lola Marsh, is it our sound?
YC: After a few years, we've developed this color, and we can say, this is Lola Marsh.
GL: When we were working on our next album, we'd take inspiration from house or techno tracks, too. We try to mix genres to create the Lola Marsh world.
I heard you mention the color of the sound, and I was wondering if there are any colors or images that you feel define the Lola Marsh style.
YC: Something very shady, maybe purple… Something unclear, you know, and not just one color. It's like a mix of different shades. It's very dynamic. The first album was like that, and now the new album will be also.
So what can we expect from this new album, and next from Lola Marsh?
GL: I hope that we will release another single in September or October. We'll tour a bit more in Europe, and maybe the U.S. Then, hopefully, we'll release the album early next year—no guarantees, but I have high hopes.
YC: We heard the new album with the master a few weeks ago on tour. We were in the van, watching the landscapes outside, and we got really emotional.
Do you feel like this upcoming album is a departure from your previous work, or a continuation?
GL: It's really different. We came to this album more mature, knowing our sh-t.
YC: The album still has a romantic, nostalgic feeling and those cinematic vibes, but we came in with a clear mind and more experience.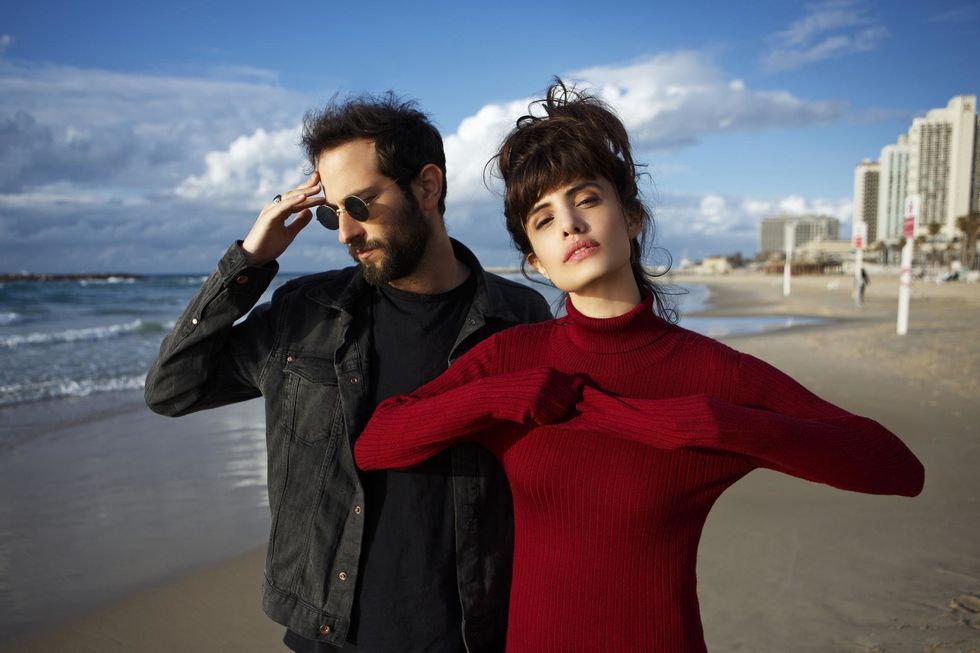 Image via Porgy.at
Can you tell me a little bit about how you got started playing music? Was it part of your childhood?
GL: I came from a family of music lovers. My dad used to sing and play, and I remember myself playing the piano since the age of six. It's what I've done all my life. There was a breakthrough in my 20's when I understood that I wanted to write and produce songs, and not just be an instrumentalist.
YC: Since I was really young, I loved to perform and entertain, and to sing and play in front of my parents and friends. I looked for the stage on any occasion. I was a waitress for a long time, and I used to sing and play guitar in the restaurant. Music was my life, since I can remember.
GL: You have the best story about your music teacher.
YC: I'm from a small town in Israel. We had one guitar teacher, and all the boys in my class went to study guitar in his house. I went, too, and one time, someone told him I could sing. I was a teenager, and I was really feeling awkward about singing at that time and that period of life. From then on, though, I started singing, but only at the guitar lesson. That teacher really helped me after high school, and took care of my musical education.
Actually, the person who told the teacher I could sing was this guy that I was kind of in love with. He studied guitar too, and actually he died, and it's a really sad story. But I owe everything to him. I was really shy, and he told my teacher, 'Man, you have to tell her to sing…' I've never told this story in English.
Thanks for sharing. Do you feel like your work is informed by your upbringing in Israel?
YC: Of course, I think everything affects the music—the sound, the place that we're coming from, our language, everything. We sing in English, but we totally have roots in Israel. It's a melting pot. We have so many people here, the music scene here is so diverse, and everything affects you.
GL: As a young kid, you're like a food processor, you just take everything in. I think we're combinations of everything we've been through.
Listening to your music, I can tell that so many different parts of your life and your passions have gone into each song. Anything else you want to share?
GL: We're really looking forward to releasing the next single. We just filmed a new video, and we're really excited about it, and we're just working on spreading our music.
YC: We're excited to come to the States again, too.
GL: The last time we were there, we were supporting Milky Chance, and we loved the crowds; they were so loving.
YC: They were angelic.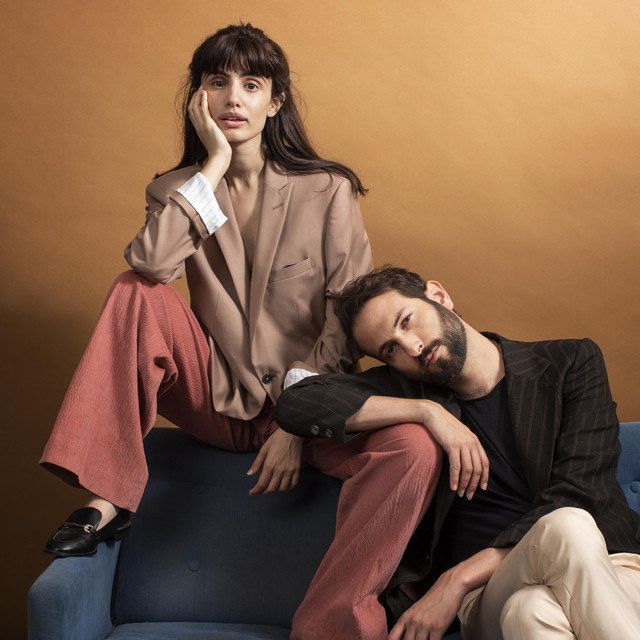 open.spotify.com