London O'Connor has put together an album of electronic bangers that are catchier and more beautiful than you'll at first believe. He's not interested in doing what's usual, or what's been done too many times. OΔ moves from song to song like moving from one landscape to another. The few songs currently available in the lead-up to the album's full rerelease are an expansive sample of his skill at crafting environments of sounds and devilishly catchy melodies.
"Nobody Hangs Out Anymore" exists as an "Official Lyric Video" on YouTube, but dissatisfied O'Connor has included the lyrics as emoji. The first line, "Outside my window there's a cave," appears like this: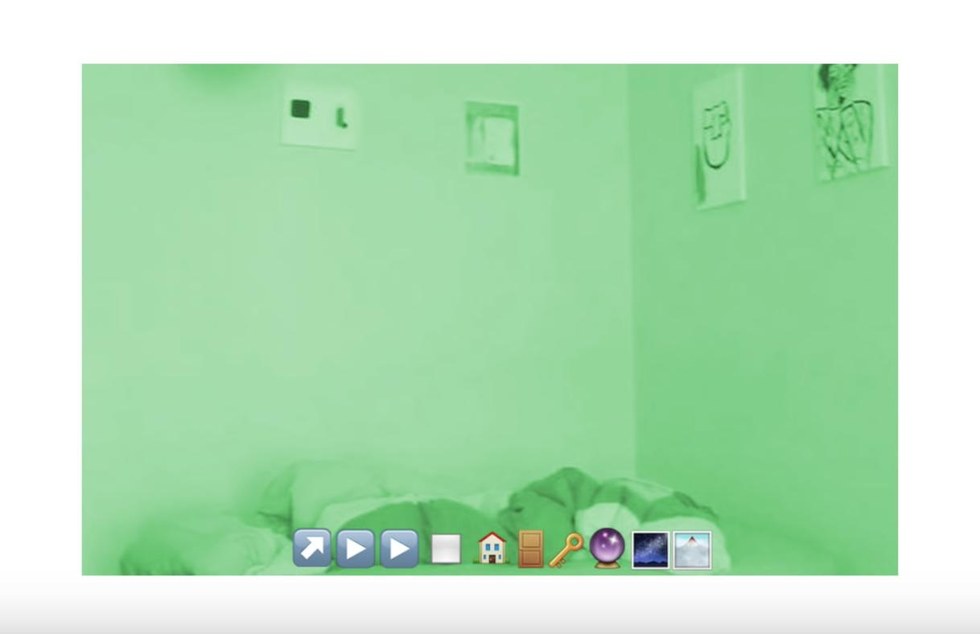 The song, listed as Track 5 on the 10-track LP, patiently explores the loss of physical connection caused by the unavoidable gravity of the internet and online interactions. "We sit inside and watch the tube," he sings, "All my friends are on the net." The title of the song is also the repeated phrase of O'Connor's atmospheric vocals in the chorus.
His other piece on YouTube is called "love song," retitled with capital letters on the album version. In the description to the video, he writes unabashedly, of his inspiration: "I was a virgin until about a couple months before I turned 21." The song exhibits youthful, innocent lyrics but ones that don't betray naiveté. The beat behind the words stays mellow and steady, while synth notes like drops of water mimic the vocal melody.
Late in the song, O'Connor's third verse takes on a Kanye rhythm:
People project all this
"This and that" shit
We just act based on
How others react shit.
While these two tracks are available on YouTube, two others have been pre-released to streaming services. "Oatmeal" is the first song after the puzzlingly titled, ten-second intro, "(Open) 00 00." Other songs reference coordinates in their titles, so expect an album-wide theme of location and home-versus-away.
This opening track introduces O'Connor's classic-synth instrumentation and his relaxed vocal delivery. The string-like synthesizers give him all the dexterity he needs to achieve the surprisingly complex melodies and movements that he practiced in his time at NYU's Clive Davis Institute of Recorded Music. He annotated one line of the song—"Steppin' from the staters, I got my soda"—writing, "Stater Bros. is the local grocery store in San Marcos. There is a loading dock in the back that we used to skate on. Most people don't have a grocery store they fuck with, they don't really care. But I fuck with Stater Bros. because they have a good loading dock."
His humor carries over into the hilariously catchy chorus of "GUTS" (now retitled, unfortunately, without the all-caps). "I hate your guts," he proclaims, dragging out the "u" sound in "guts" in a playful, childish kind of run. The rhythm of the verses is fantastic, too: "I hate your stupid looking, two-bit crooked, cheap ass ornaments, I hate your guts," he sings with every word's emphasis sounding like the tick-tock of a clock.

"GUTS" deserves immediate playtime on all waves for its ridiculously fun music and the cathartic attitude of its lyrics. You can shout its lines as loud as you want over the fuzzy bass until you inevitably feel better about everything. With a preview like this, there's little doubt that when OΔ officially drops, it will be one of 2017's biggest releases. It's coming February 17 but for the next few weeks you'll have everything you need in these four songs.
Or preorder the digital album on Bandcamp or iTunes.