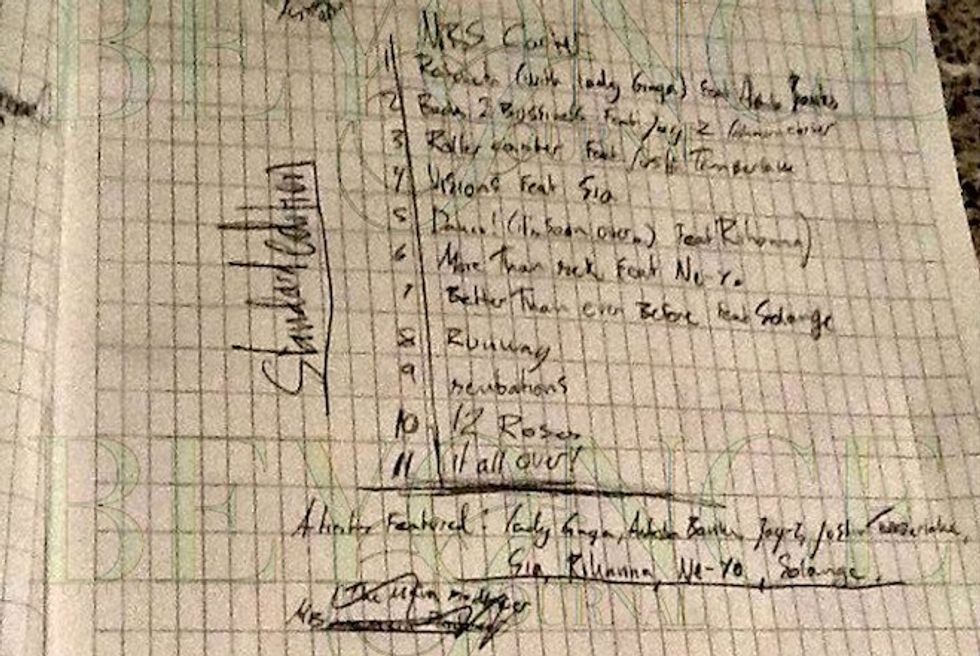 Let's get this out of the way: The track listing for Beyonce's fifth album, ostensibly titled Mrs. Carter, that's been going around social media this week is fake. Like "actual music sources telling Idolator it's fake" fake. But still, it's worth wondering what might have been, had this tracklist been a creation of the real world instead of the frenzied fever dreams of one creative Bey Hive member. Let's take a look:
01. Ratchet (ft. Lady Gaga & Azealia Banks)

02. Back 2 Business (ft. Jay-Z)

03. Roller Coaster (ft. Justin Timberlake)

04. Visions (ft. Sia)

05. Dance (I'm Soon Over) (ft. Rihanna)

06. More Than Sex (ft. Ne-Yo)

07. Better Than Ever Before (ft. Solange Knowles)

08. Runway

09. Sensations

10. 12 Roses

11. It's All Over
One easy way to tell this is fake without talking to any industry sources: there are way too many featured artists. Beyonce has only shared the spotlight nine times on her first four albums; suddenly on her fifth she's got seven collaborations?
But! Imagine for a second that this is not fake. Imagine that Beyonce really has recorded an album called Mrs. Carter and that it really does contain seven collaborations with the leading lights of the pop world, as well as four appealingly titled solo tracks? What would such an album sound like? Join us, and we'll tell you!
"Ratchet (ft. Lady Gaga and Azealia Banks)": Second single. A star-studded attempt at trend-hopping that won't quite live up to the hype, but the title and the Azealia Banks verse will give it a long tail as a "Hey, remember 2013?" reference for whatever the 2020s version of Buzzfeed will be.
"Back 2 Business (ft. Jay-Z)": Another classic Jay-and-Bey duet that becomes a hallmark their inevitable "Blue's old enough to spend the summer with her grandparents" tour. Beyonce brings it so hard that people don't care about Jay sleeping through his verse. Promo single only.
"Roller Coaster (ft. Justin Timberlake)": Making up for "The End of Time," "Roller Coaster" is a crazed retro jam that sounds like all the best parts of "Countdown," "Love on Top" and "Mirrors." Its weirdness means it's held back until B needs a fifth single. Not a smash hit, but unexpectedly successful.
"Visions (ft. Sia)": Beyonce tries to go dark on this ballad and ends up sounding like Florence and the Machine covering "Diamonds." Third single.
"Dance (I'm Soon Over) (ft. Rihanna)": First single. An ecstatic EDM track that somehow manages to give the genre some hips. Minor disagreements during the video shoot get blown up in the tabloids. When Bey and Rih perform together at an awards show, their post-song embrace is treated as proof the feud rumors were overblown.
"More Than Sex (ft. Ne-Yo)": A languid R&B slinker about the pleasures of commitment. Critics love it.
"Better Than Ever Before (ft. Solange)": The source of endless "Beyonce goes Brooklyn!" blog posts, which obscure the fact that the song brings Solange into Bey's orbit more than vice versa. For the next few years, Solange's live shows are filled with whispers: "What if she does 'Better Than Ever Before' and brings Beyonce out?" This dream comes true at Coachella.
"Runway": A female empowerment barnstormer that sounds like Beyonce remixed "Liftoff" to take out Jay and Kanye. Fourth single, and the most frequently licensed song on the album.
"Sensations": The album's sex jam, with breathy vocals that critics compare favorably to Donna Summer's. Sixth single.
"12 Roses": A tender Valentine's Day anthem. Its lyrics about romantic subservience are eventually block-quoted in the Tiger Beatdown post "Is Beyonce a Feminist?"
"It's All Over": A mournful breakup song, and one of the album's few misfires. Regret and confusion are not part of the Beyonce brand.
We're not experts, but we would definitely love an album like that. Would you?
[HuffPo]