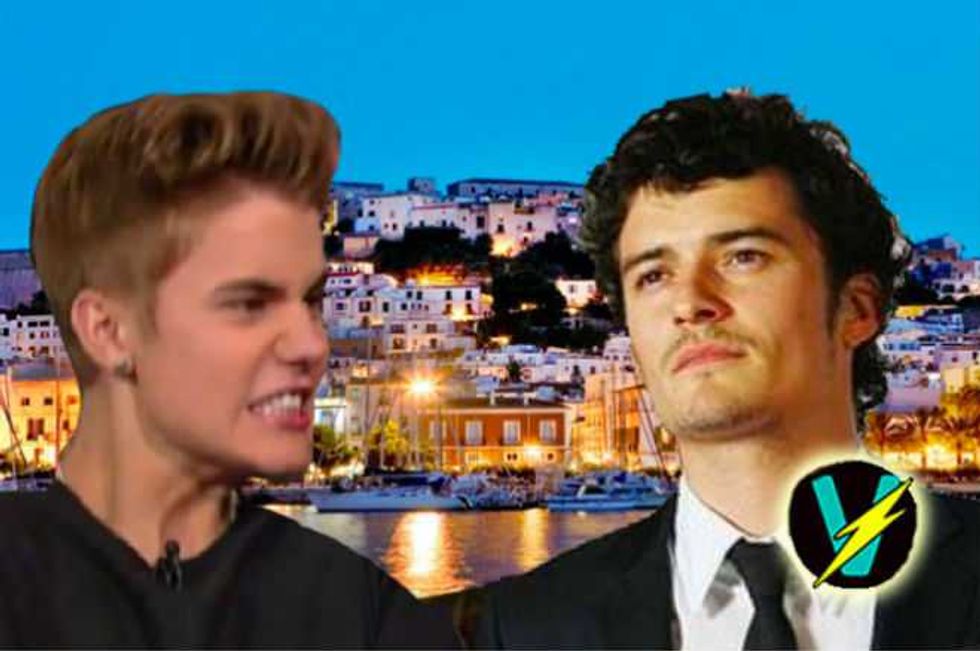 If the acting thing doesn't work out for Orlando Bloom he could always try a career in the boxing ring.
An eyewitness has revealed that the Brit landed more than one punch on moody teen Justin Bieber earlier this week…and she has the video footage to prove it!
Former Spanish journalist Anastasia Skolkova was at the Ibiza restaurant when the Wednesday night scuffle between the two stars took place.
And she just happened to have a cell phone on hand to film the fight between Orlando, 37, and Justin, 20.
Anastasia told Britain's Daily Mirror newspaper:
"There were actually two moments when it turned violent, it wasn't just the one punch thrown."
She also revealed that Orlando isn't the only celebrity who isn't a fan of the Canadian brat, saying that a host of other A-listers had front row seats and allegedly cheered The Lord of the Rings star on.
She says: "I went there with friends for dinner. We were on the table next to Orlando Bloom and Leonardo DiCaprio.
"There was also Lindsay Lohan, Puff Daddy and Erick Morillo at the restaurant. "Justin said something when he came in, which was aimed at Orlando, who then jumped onto a sofa to try and get at Justin.
"It was amazing. Everyone stood up and started watching it like it was a show and clapping."

She added: "DiCaprio was flipping out and Lindsay Lohan was trying to call them. Justin's face was amazing.
"I posted the video on Facebook so people would know about it and it's a very crazy video."
The fight between the "Baby" singer and the Pirates of the Caribbean actor was rumored to be about Orlando's estranged wife Miranda Kerr, whom he is in the process of divorcing.
One of the actor's friends told the New York Post that the star "never looked at her the same" after she was spotted getting cozy with Justin at a Victoria's Secret show in 2012.
Check out the amazing video footage of Orlando and Justin's scuffle.
Thanks Anastasia!
Miranda Kerr Is Engaged To Her Billionaire Boyfriend—Snapchat Founder Evan Spiegel