MUSIC
"I don't know if you know this about me, but I'm a witch"
Andrew Karpan
Four years, as any student of American politics knows, is a long time. In the years since Pure Heroine introduced the world to a singer discovered by Universal Music Group's A&R squad at the age of 12, Ms. Ella Marija Lani Yelich-O'Connor has gone through a near-infinite loop of cool and uncool. She wore a Cramps shirt for her Rolling Stone cover shoot but loves Katy Perry. Her songs about suffering in suburbia came a decade and a half after American Beauty and three years after The Suburbs won a Grammy but had the tight, yet alt-informed, sheen of nothing the charts had seen since Butch Vig made million dollar records. Last March, when we heard from her for the first time in ages, it sounded nothing like any of that. "Green Light" was a disco banger, gobs of pure '80s sadness and pep loaded in four minutes of Jack Antonoff-produced magic. Helen Holmes, over at Death and Taxes, called it "her 'Dancing in the Dark.'"
The pummeling intro of "Green Light" was the first thing greeting festival goers, at last weekend's Governors Ball Music Festival, after Nancy Whang's opening DJ set had concluded. Whang, of LCD Soundsystem fame, had used her thirty minutes to set up further aesthetic cues Lorde would embellish on. It had closed, for instance, on Kate Bush's "Running Up That Hill," suggesting just what kind of '80s artist Lorde was keen on modeling after. Kate Bush, not Madonna. Siouxsie Sioux, not Cyndi Lauper. The entrapments of Bush's own genre, 'art,' were presented in sleekly brutal force. Emerging on stage, Lorde appeared wearing a silk veil that, in certain angles, looked more like the plastic bag caught in the updraft, the noise of our own expectations threatening to suffocate her. Before she could even speak, the crowd was already supplying the words to her banger about loneliness whist two men carrying large Gov Ball cameras, feeding into the jumbotron, circled her like vultures. It was both tease and not; the moment she cast off her protective veneer, she ripped right her hypercool anti-anthem "Tennis Court" instead. "Green Light," she saved for her closing number, its panting sadness rendered into festival euphoria, amid fireworks.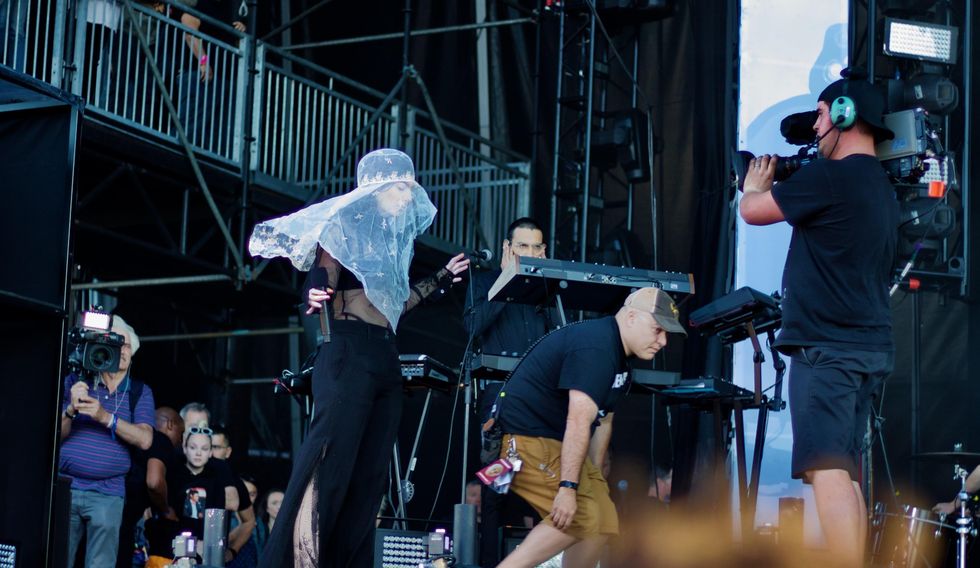 (Andrew Karpan)
But I was there for "Ribs," a song that contained some of the saddest moments that genre of suburban pop has ever produced and which she has, since, honed into something devoid of the awkward gestures toward robopop found on the recorded version. Lorde turned 20 last year and, she told the audience before performing "Homemade Dynamite," the Melodrama cut she debuted at Coachella earlier this year, explained that Melodrama was album about how fucked up our twenties really are. A gesture that would be greeted by embarrassed eyerolls coming from Justin Bieber scans as the genuine article from the face of alternative pop, our Lana Del Rey who still makes the charts. ("Green Light" narrowly made the top 20.) It was during "Ribs" that she entered the large rectangular prism erected above her, where throughout the show her dancers had been caged and engaged in a kind of slow-motion mime of passive rebellion; at some point they rhythmically smoked cigarettes. It, too, was vaguely 'art,' a bulky YBA-construction that vaguely reminded me of Damien Hirst's much-celebrated thing with the shark. But this was before Lorde entered it; her presence, like her voice, immediately giving life to all that surrounded it. Even awkward Jack Antonoff, still in his Mets shirt from his earlier go at Bruce Springsteen theatrics, could not help be be reduced to quivering smallness as Lorde implored he join her for a sparse piano man cover of Robyn's "Hang With Me." He stayed around to assist in her live debut of "Perfect Places," the single that she had dropped the day before.
The greater point to be made, however, is that, standing within a few feet of Lorde, even within a few feet of Lorde going through the motions of concert banter (the "thank you so much for being here" and "we weren't sure we were going to perform this but now we are"), made me aware of something else. Lorde is the most charismatic pop star of our time. Everything she says is felt by something heavy and unseen, the same weight that hangs over our communal sense of self. Every emotion she displayed was tenfold the real thing, a nod to the title of her upcoming effort, Melodrama. But in this tenfold performance of human emotion, in its pure earnesty, we find the space to contain our own feelings, small and self-ironized. As the sun begun to set and evening air became strangely cool, it had rained earlier, Lorde compared herself to a witch, affected with powers from the evening sky. And Lorde is powerful, her moniker is as fitting as that of Queen Latifah or Prince. Lorde exemplifies why the pop star exists, why we bother manufacturing devotion to figures who, inherently, have nothing to do with our lives. Because when she says it, we can feel it so much.
The many emotions contained by Ella Marija Lani Yelich-O'Connor, popularly known as Lorde, at the Goveners Ball Music Festival
(Andrew Karpan)

Melodrama will be out June 16th. Lorde will also be hitting Bonoroo this Sunday.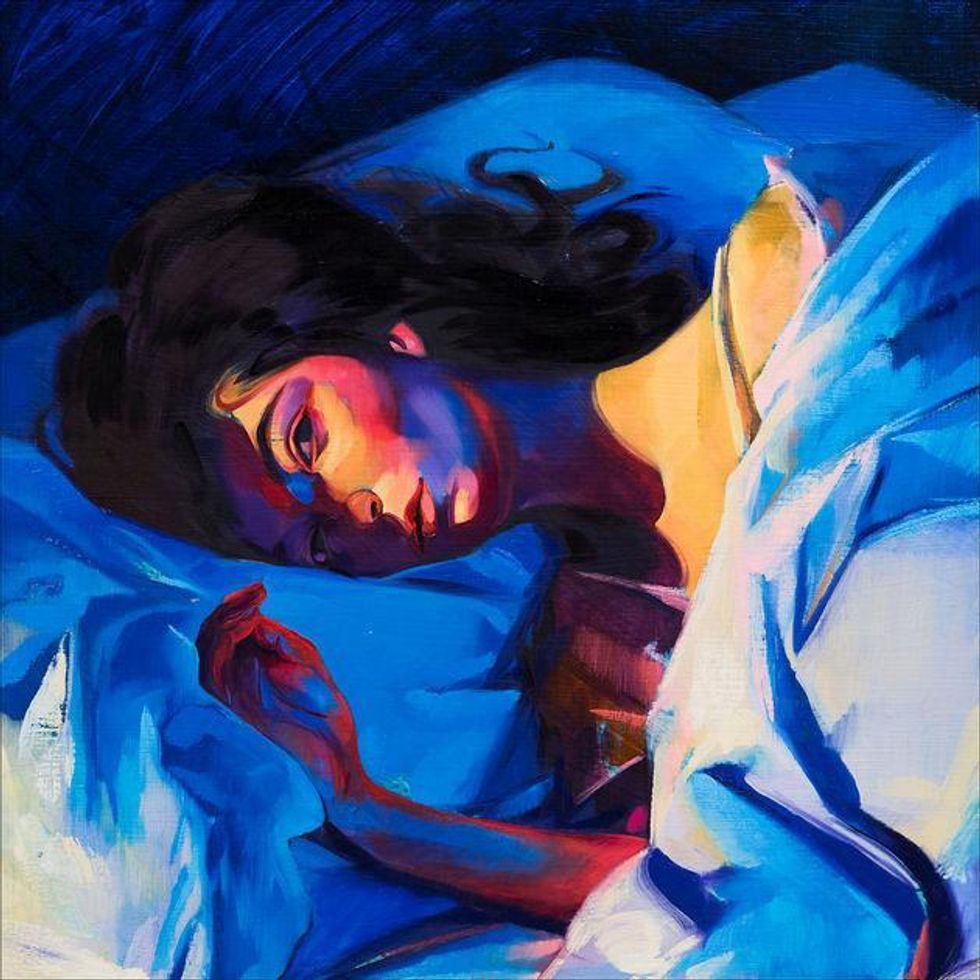 ---
Andrew Karpan is not a pop star. But he does have a Twitter. Even lowly you can follow it.
---
More Live Coverage:

GOV BALL | TOVE LO is our poet of imperfection