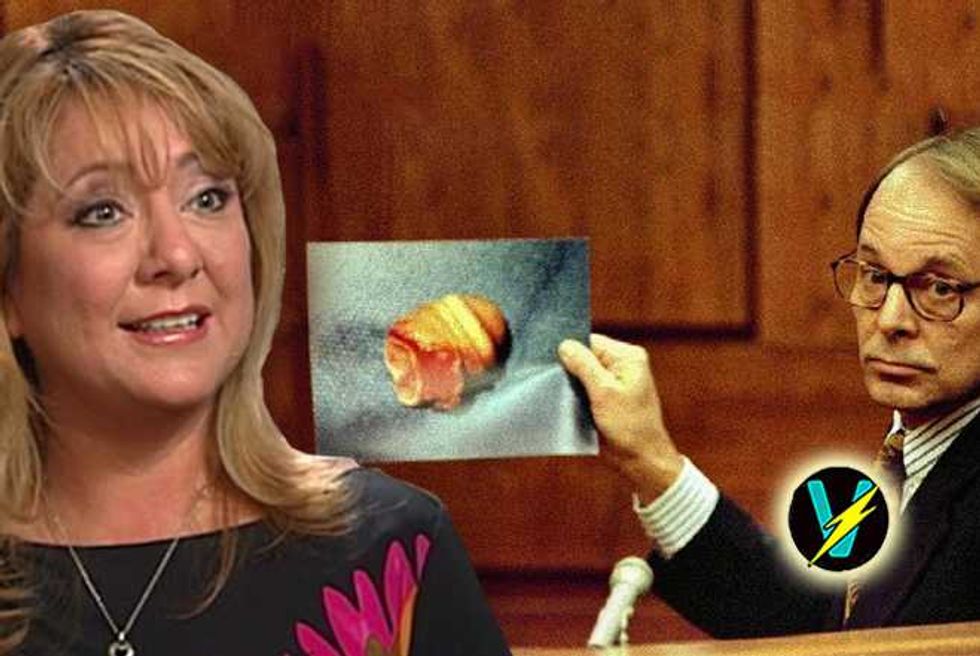 lorena bobbitt cut off dick
Nothing but nothing is as funny and awesome as someone castrating their sleeping husband, right?!!
Sadly, it appears there's a lot of women out there who would agree with that statement.
Jared Fogle's Lawyer Blames 'Mild Pedophilia' On Subway Diet
That's clearly evident when it comes to the standing ovation that Lorena Bobbitt received from a bunch of cheering, whooping and laughing women, as she sat down for an interview with Steve Harvey recently—you can watch video right here on Popdust.
For those of you who have been living under a rock for the past couple of decades and remain blissfully unaware of Lorena's story—the 22-year-old became a household name back in 1993, after she cut off then-husband, John Wayne Bobbitt's dick—his entire dick, from the base to the tip—with a kitchen knife, while he slept.
Jared Fogle Child Sex Abuse Scandal Is Even More Disgusting Than You Imagined
After the attack, Lorena fled the scene by car, along with her victim's severed appendage, which she subsequently tossed into a nearby field.
It didn't take long for the gravity of the situation to sink in however, and Lorena called 911—after an extensive search of the field, cops found the severed penis, and it was subsequently reattached to its owner during nine-and-a-half hours of surgery.
White Dude Shoots Himself In The Dick—Blames It On A Black Man
During her post-arrest interview, Lorena told cops, "[My husband] always have orgasm [sic], and he doesn't wait for me to have orgasm. He's selfish."
But, things took a darker turn when it came to trial, as Lorena's defense attorney claimed his client had been subjected to years of sexual and physical abuse, and that prior to the attack, John had raped her.
Jodi Arias Bikini Photos Worm Their Way Onto Family Guy Season 14 Premiere
The attorney also alleged that John had flaunted various infidelities throughout their marriage, that he stole from Lorena and spent her money, and that he had forced her to undergo an abortion.
He argued that the constant abuse had eventually caused Lorena to "snap" and that she couldn't be held criminally responsible for her actions as she was suffering from clinical depression at the time, combined with a form of PTSD.
Ode To Florida—Sunshine State's Very Best Criminal Nut Jobs And Wackos
There was no physical evidence to back up the claim of rape, but both defense and prosecution witnesses testified to the couple's relationship being totally toxic and highly volatile, that John had mentally and physically abused Lorena, and that the abuse had escalated to a level where she feared for her life.
Bobbitt denied abusing his wife, but the jury believed Lorena's version of events, and, after deliberating for seven hours, they delivered a verdict of not guilty due to reason of insanity.
Mug Shot Hall Of Shame! 20 Hilarious Tragic And Beyond Bizarre Booking Photos
The judge ordered Lorena to undergo a 45-day psych evaluation, after which she would be free and clear.
Now, we happen to believe Lorena's version of events too—we're sure that John did physically and emotionally abuse her, and he's certainly proved what a violent asshole and douchebag he is on several occasions following the trial—however, Lorena's actions are most certainly not something to be celebrated and applauded, and there's really absolutely nothing funny about castrating a man.
The Good, The Bad And the Very Very Ugly Celebrity Mugshots
Let's imagine that the tables were turned, and John was on a talk show after having butchered his sleeping wife 12 years ago—let's say he carved off both her breasts while she was sleeping—would anybody in their right mind find that funny, or laudable, in any way shape or form?
But, because he's a dude and he had his cock chopped off by his wife, apparently we're supposed to find it all rather amusing and humorous.
Kate Major And Michael Lohan Lose Custody Of Kids — Anyone Surprised?
The fact that John Bobbitt was a violent and abusive asshole definitely helps mitigate Lorena's actions, to a degree, but, it certainly doesn't turn her into some kind of Dirty Harriett that we should all celebrate and applaud.
Someone needs to tell that to Steve Harvey's all-female audience however, who greeted Lorena as if she's a fearless and just hero, deserving of our praise and admiration.
Shia LaBeouf Pens Tell-All About His Arrest Record
The interview, which airs this Monday, is part of an episode titled, "Lovers Who Lost It" and during the sit down, the now 45-year-old talks about her life since the attack.
Lorena reveals that she's now happily remarried, to a "gentleman" who treats her "like he's supposed to", and that the couple have a daughter together.
Harvey treats the subject matter pretty much as a joke throughout, with plenty of comedic wincing and leg crossing along with comments about how he probably wouldn't fall asleep too easily around her if he were her new husband.
Hilarious.
Not.
Don't Pet The Three-Legged Tiger, How Many Times Do You Need To Be Told?
Lorena giggles along throughout, and tells Harvey she's glad he still laughs about the attack, 22 years later—she gets serious however, when she talks about how "something good has come out of my negative."
"I have an organization called Lorena's Red Wagon, it's basically to help abused women and children through family oriented activates," she shares.
"What I do is I go to the shelters and talk to the coordinators and ask what the women, children need in each shelter, so I can provide for them. When a victim leaves the house, they don't have time to pack. They just have the first opportunity to leave. If any child in the shelter has a birthday, we bring cake, have a birthday party. Simple things like that put a smile on their faces. I wanted to bring hope to these children, women [victims] of domestic abuse."
Arkansas Woman Reportedly Arrested For Trying On Tampons In Walmart
Not surprisingly, Lorena and John divorced in 1995, after six years of marriage—he went on to make a series of ever-increasingly tragic attempts to cash in on his notoriety, including forming a band called The Severed Parts, and staring in two porn movies: John Wayne Bobbitt: Uncut and John Wayne Bobbitt's Frankenpenis.
He also fell foul of the law on several occasions—including a battery charge for beating up a Vegas stripper, a conviction for theft, and another three separate battery charges, stemming from assaults on his second wife,  Joanna Ferrell, whom he is now divorced from.
Starting to see a pattern here?!!
Meanwhile, Lorena admits she's no longer in contact with her first husband, who is now disabled after breaking his neck in a car crash last year.
Craziest American Sex Laws—Could Your Lasciviousness Land You In Jail?
"He tried. But I always deleted his number," she says. "I mean, you know, I have my life. I have a new life now and I just want to focus on what is positive and I surrounded myself with positive people."
To watch the full interview tune in to The Steve Harvey Show on Monday—check local listings for times.
For more entertainment, world, music and pop culture updates and news, follow Max Page on Twitter