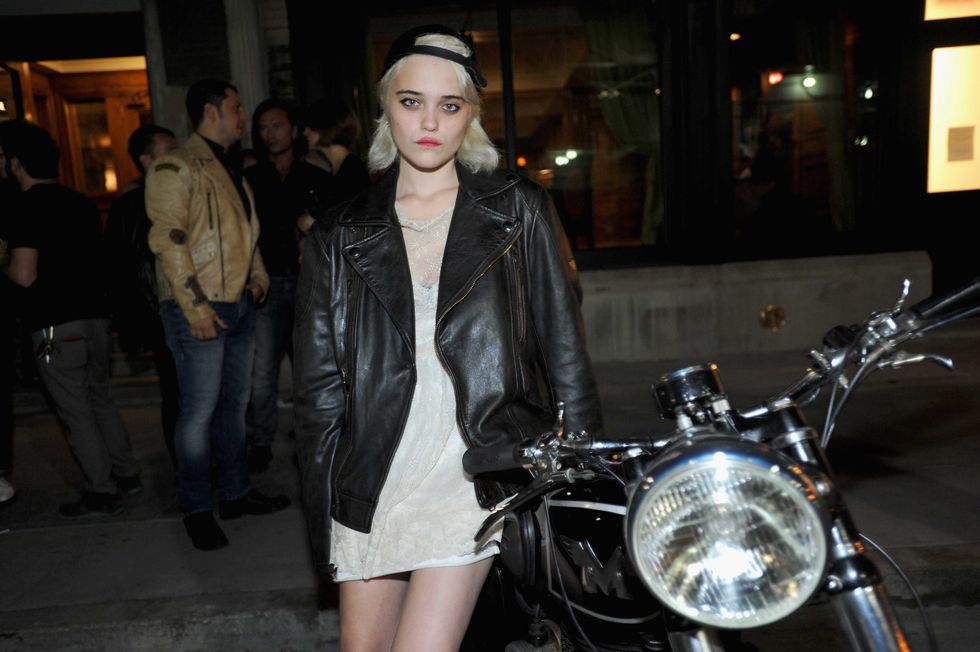 For nearly a half-decade now, Sky Ferreira has floated around the underground as one of pop's worst-kept (and most poorly-managed) secrets. Through a variety of singles, EPs, guest features and live appearances, Sky has proven herself one of the most talented singers, creative songwriters and savvy collaborators currently working in the genre—all before her 21st birthday just a couple months ago—but for a variety of reasons, including bad marketing, label disputes and her own perfectionism, she has still yet to release her debut full-length album, the record to really put her on the map for both the Pitchfork crowd and (possibly, hopefully) the Top 40 world as well.
Finally, it appears the wait will be coming to an end. With the release of her latest EP You're Not the One on the horizon for next week, Sky has finally committed to a release date for her proper LP debut, now titled Night Time, My Time. (Previously reported titles included I'm Not Alright and I Will, and the fact that Sky took so long to even settle on a title should give you some idea of the musical identity issues she's suffered over the years.) The album should be out on October 29th, and though the four tracks on You're Not the One all appear on the tracklist, none of her other previously released tracks will be there.
While we here at Popdust hope Night Time marks Ferreira's long-overdue mainstream breakthrough, we hope that her already excellent back catalog doesn't get lost in the shuffle. Here's a sampling of tracks you need to hear from Sky before she officially belongs to the whole world.
"17"
Sky's debut single, released when she was...well, take a guess, framed her as pop's new Wild Child, a parents' worst nightmare who goes out drinking and clubbing and hooks up with older guys—though of course, it's all mostly a front to hide "the pain behind the fun." Rather than serve as a "Can't Be Tamed"-style declaration of one's independence and irrepressible nature, "17" plays the girl-gone-wild tale as a near-horror story, clearly meant to shock and upset (with its soft, girl-group-like verses and loud, grungy chorus). Sky shows the self-awareness throughout of someone who clearly knows both the highs and lows of the lifestyle, and might not even have escaped them yet, but has enough distance to at least make a sort of third-person commentary on all of it.
By Sky's later standards, "17" is a little obvious and over-dramatic, but it was a striking enough debut to catch the attention of pop watchers, and even get her a little play on late-night MTV.
"ONE"
Ferreira's first real pop gem, "One" was produced by regular Britney Spears collaborators Bloodshy & Avant ("Toxic," "How I Roll," "Piece of Me"), and it sparkles with the same kind of synth-pop glisten that their best songs with Britney do. Less shocking or attention-grabbing than "17," "One" instead features a robo'd out Sky bemoaning the breakdown of connection in a relationship, and her own inability to feel anything as a result. Sky's looped and repeated vocals at the end of each line provide the strongest hook, but it works so well because the sense of repetition fits into the emotional content of the lyrics, making her plea sound like a final transmission.
"99 TEARS"
For reasons that are unclear, it seems that Capitol Records has tried to scrub the internet of all record of Sky's excellent 2011 debut EP As If!--it's not available on Spotify, and none of its tracks are streamable on YouTube or most other video services. (You can still listen to it on MySpace, at least.) In any event, it's well worth tracking down, containing such should-be smashes as the mostly spoken-word electro jam "Haters Anonymous," the gorgeous breakup ballad "Traces," and the Greg Kurstin-helmed dance-pop anthem embedded above. The five-song collection came and went with little to no fanfare, but can hold its own with not only any of Sky's other releases, but just about any underground pop EP of the decade.
"GHOST"
It's practically required by law that up-and-coming female pop musicians, particularly those based out of New York, cut their teeth with a synth-pop-based dance sound, and that's certainly what Sky Ferreira did for the majority of her initial releases. But with last year's Ghost EP, it was clear that Sky's musical interests were broader than that—in addition to the Goldfrappian shuffle of "Lost in My Bedroom," there was also the Fiona Apple-like intro ballad "Sad Dream" and the electo-rock scorcher "Red Lips." Perhaps most shocking of all, though, was the five-and-a-half minute title track, a twangy torch song that sounded like a cross between Neko Case and Girls' Broken Dreams Club EP.
To Sky's immense credit, she sounds just as comfortable (and shows just as much aptitude for) doing dusty heartbreak ballads as she does dancefloor rave-ups, demonstrating that she's far more than a good-looking mouthpiece for quality pop writers and producers, and that we really have no idea what her debut album is gonna sound like.
"EVERYTHING IS EMBARRASSING"
The song that brought Sky Ferreira to national attention—at least in certain circles—and justly so. "Embarrassing" was one of the most instantly hooking pop songs of last year, simultaneously blissful and devastating, with rich, note-perfect production from Dev Hynes and an absolutely enrapturing vocal performance from Ferreira. It was evocative of dozens of other pop stars, from early Madonna to later Solange (who would enlist Hynes for her similar-sounding True EP), but was also unquestionably Sky, and if you'd never heard of her before, one listen to "Embarrassing" and you'd certainly be paying attention to whatever she did next.
"YOU'RE NOT THE ONE"
The lead track and title cut from her upcoming EP, "You're Not the One" appears to be yet another musical change-of-pace for Sky, this time going for an anthemic '80s sort of pop-rock sound—the combination of sharp guitar lines and booming drums actually sounds more like Public Image Ltd.'s "Rise" than anything else—but still hitting the same sort of musical and emotional high notes that she has in any other genre. If the song is any indication, the best is still to come with Sky Ferreira, and hearing what she has in store for us in October will certainly be one of the most anticipated thrills of the rest of 2013.