Top Stories
His name is on a lot of good comedy, and that's hard to admit.
Photo by Nigel Parry
We are all disappointed in Louis C.K.
A few months ago I pitched an article about Louis C.K. that I planned to title "What Exactly Does a Male Feminist Look Like?" After reviewing C.K.'s work—including his early standup, FX's Louie, and all of his Netflix specials—I had argued in favor of C.K.'s comedy and what I perceived to be his support of liberalism and feminism. My personal favorite, Louie, is an absurdist comedy about a single dad navigating NYC with his two girls; a father who makes a comedy of his insecurities, fears, and worst inclinations as a man. Most of C.K.'s comedy is loosely inspired by his personal stories of fatherhood, so the recent news of his sexual misconduct with five women (brave enough to come forward), is shocking—and certainly eerie—and a stark reminder that a father of two girls is capable of abusing his power with other women and going home to tuck his babies in.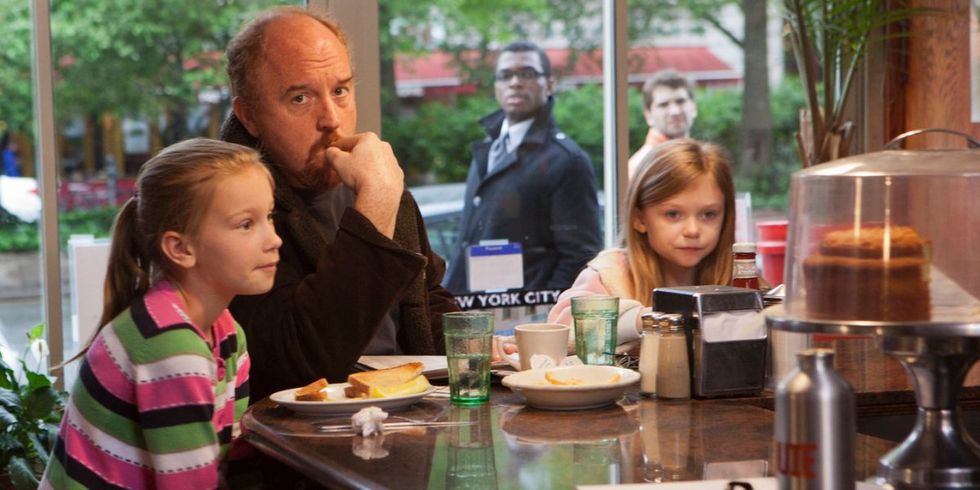 'Louie'Courtesy of Netflix
C.K. has writing and producer credits on Pamela Adlon's Better Things, another show about parenting and the weird grey areas of managing a love life after divorce. Lucky Louie on HBO ran for one season and was an adult sitcom with a typical PG-13 setup: a father trying to have sex with his exhausted wife, and an exhausted wife catering to her cute, little girl. I used to watch Louie in college on days where I needed a real laugh and when I wanted to see NYC in a sentimental light—and as bleak as C.K.'s comedy is, his admiration for NYC was always present. Friends and I would make inside jokes about Louis' therapist sessions, dates, gross eating habits, and even identify with his self-loathing. As a comic's comic, by the time I graduated, C.K. was a household name.
When news broke of Bill Cosby's sexual misconduct and accusations made by more than 50 women, I wanted justice for these women and media representation for their stories and the pain they endured in silence. When news broke of Harvey Weinstein sexually assaulting leading ladies in Hollywood, I wanted justice for these women, but again, I found myself disgusted that these women had to keep silent for years before speaking up. When news broke of Louis C.K., I felt numb. It's starting to feel like everyone's daughters, sisters, mothers, aunts, and friends keep quiet about sexual harassment and misconduct, scared that our experiences will define us, dirty, and ruin our ability to claim our own bodies, careers, and lives outside of the hands of men.
I'm not interested in think pieces arguing if we should stop watching Louie or The Cosby Show; I'm only interested in discussing how women can come together to protect one another, to build spaces where this type of sexual misconduct can no longer be silenced. But again, no one can police what successful father's feel like doing to their employees, peers, and friends in professional spaces; accountability is essential.
The Internet is disappointed. Tig Notaro is disappointed. My mom is disappointed. We are all disappointed in Louis C.K.
But what's most disappointing is that the year 2017 is nearing an end and women still don't feel safe enough to speak publicly about sexual mistreatment. We are still publicly discussing how to protect women's rights and bodies against men who wrongfully feel entitled to them. We are still deciding how to punish these men, how to publicly speak about their misconduct, and how to provide women with the tools needed to openly speak about sexism and inequality in the workplace. We are still primitively discussing why and how abusing power and authority can lead to manipulation, and harassment (as if women ever stopped being placed in positions where their livelihood depended on forced silence and cooperation).
I've since scrapped my piece on C.K.'s brand of feminism, slightly nauseated that I could have published an essay praising him while women silently held on to their experiences with him. Silence is no longer an option. Women should have the freedom to feel safe and supported when they decide to speak sooner than later. 2017 has proven that power is a hell of a drug, but our voices, even stronger.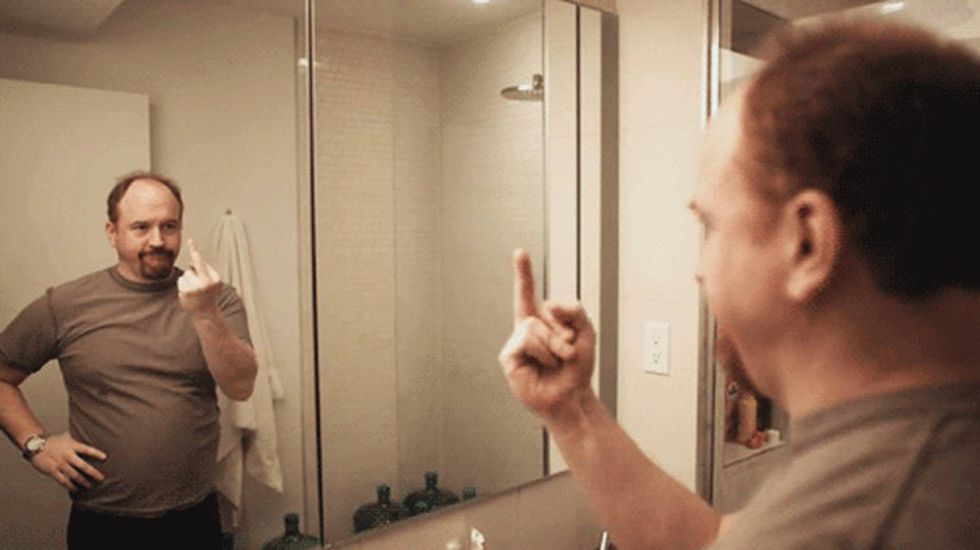 Louis C.K. (Courtesy of Netflix)
---
Shaun Harris is a poet, freelance writer, and editor published in avant-garde, feminist journals. Lover of warm-toned makeup palettes, psych-rock, and Hilton Als. Her work has allowed her to copyedit and curate content for various poetry organizations in the NYC area.
---
POP⚡ DUST | Read More About Film/TV...
Why White People Love To Watch NBC's 'This Is Us'
REVIEW | In 'The Florida Project' Women Break Down and Break Free
REVIEW | Why 'Room 104' Is The New 'Black Mirror'
WTWD? | What The Walking Dead: Episode 3
---