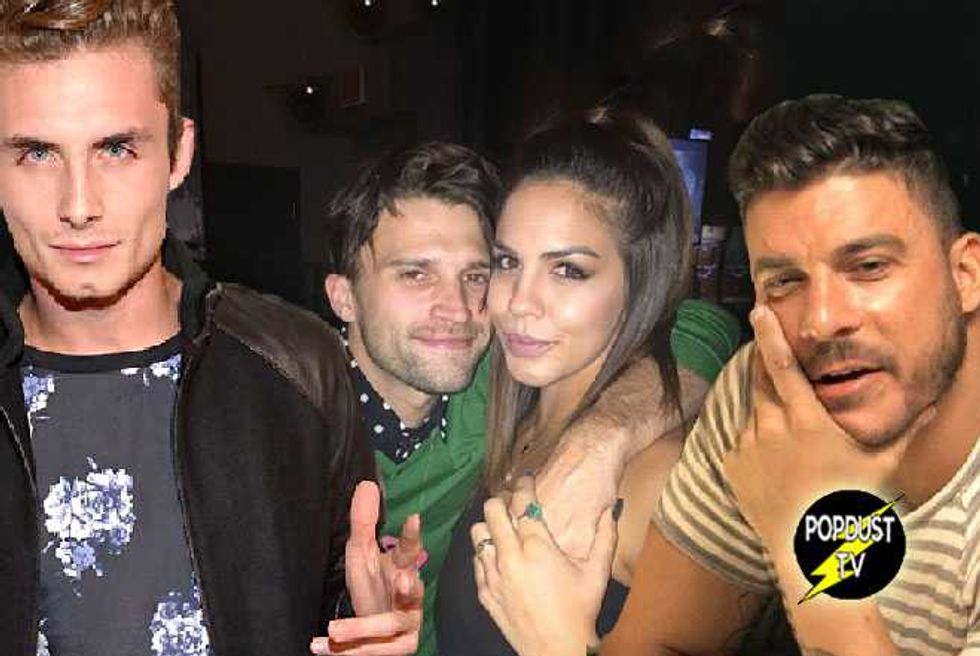 pump rules short dick man Love, Lies, A Short Dick Man—Just Business As Usual In PumpRules World
A short dick man, love, lies, grudges, a huge shit—it was just business as usual for PumpRules again this week.
Well, ladies and gentlemen, we officially said goodbye to the ring on the string:
As Popdust previously reported, last week, Tom Schwartz finally popped the question to his girlfriend Katie Maloney. The excitement was very much still in the air as the two continued to celebrate their engagement.
PumpRules—What Happens In Vegas, Stays In Vegas (And On Reality TV)
Katie's former best friend, Stassi Schroeder, even reached out to send her well wishes. This is just a hint at what's to come. It's been no secret that Stassi will be returning this season, but it's unsure as to her motives for coming back.
Katie acknowledged the text and thanked her for thinking of them. Katie has repeatedly said she has no desire to rekindle her friendship with Stassi, but she said the same thing about Kristen Doute, who she is now friends with again. You honestly need to keep a scorecard and a flow chart when it comes to this crew's friendships.
It's been weeks and we're still talking about the fucking guest list for the Hawaii trip.
They're acting like this is a very exclusive guest list when in reality you just need to be a delusional, borderline alcoholic, and certified psycho to be invited.
Kristen officially got the ax because Tom Sandoval and Ariana Madix refused to go on a birthday trip with her. Hey, fair enough. I mean who really wants to spend their birthday with their ex? However, Kristen is like a bad case of the Herp. She's hard to get to go away. They might just need to accept that homegirl ain't leaving.
James Kennedy, who literally needs to be put in a cage, has been spending a majority of his time finagling his way onto the guest list for this trip. How does he have the time when he's so busy being the biggest self-proclaimed DJ in the world (and when I say world, I mean a restaurant on Robertson Blvd)? He's trying his hardest to get invited because he so desperately wants to hook up with Lala Kent.
PumpRules—Like A Really Bad Car Wreck You Just Can't Turn Away From
Lisa Vanderpump's son, Max, who is also friendly with James (Lord knows why) is going to Hawaii, so James is trying to use him as an excuse to tag along. He decided to suck up to Jax Taylor in order to get invited. Jax agreed as long as James promised not to be a drunk slob. There's about a 0% chance of James being anything less than a sloppy asshole, so Jax is a certified moron. This is all a part of James' plan to bang Lala, who is equally next level disgusting as her little British boy toy.
Jax invited Ariana to his birthday lunch, but warned her that Kristen would also be in attendance. In typical Ariana "I don't give a flying fuck" fashion, she shrugged her shoulders and said she doesn't care about the guest list.
Scheana Shay has made no secret about the fact that she thinks Ariana has been difficult about the Kristen situation. She thinks she needs to let it go and move on. She confronted Ariana at SUR and basically told her she's being extremely negative and making a big deal about the littlest things. Scheana loves to get involved in everyone's issues except her own. She needs a hobby.
PumpRules—Basic Bitches And Glorious Trainwrecks
Scheana then went swimsuit shopping with Lala and Faith for Hawaii. Lala confessed that she loves making out with James. Why? Who the hell knows. She also dropped the best bomb of them all—his dick is too small for her liking. I think a blind kid could have figured that one out. He weighs approximately 14 lbs total and wears clothes that he probably got from Baby Gap. Nothing about that screams Magnum-worthy to anyone.
Lala also talked about how she can't stop flirting with Jax. Granted, Jax is a major sleaze ball and was trying to bang her in the middle of the bar. Lala said she would have never flirted with him if she knew his girlfriend, Brittany Cartwright, was driving from Kentucky to move in with him in LA. Long story short, Lala's cool with Jax having hoes in different area codes.
PumpRules—Sex And Drugs And Getting Jax'd—Oh My!
Over at Jax's place, Brittany was organizing her things while Jax sat on the toilet and took a massive shit. Scheana told Brittany everything that Lala said, which obviously didn't go over so well considering she just moved across the country to move into his studio apartment that could be featured on an episode of Hoarders.
Jax claimed he never led Lala on, even though Brittany knew they were touching each other all night. Brittany basically just gave him the death stare and told him she would have a nice little chat with Lala in Hawaii.
Kristen went over to Katie's house to celebrate her engagement. Because they just started talking again, Kristen wasn't there for the actual proposal. While there, she revealed that she and Stassi are now friends again. What the fuck? I thought Stassi slapped the shit out of her and called it a day. Apparently not.
PumpRules—Ubergate Scandal Shows Kristen's Level Of Desperation
It was finally Jax's birthday lunch.
The gang, including Kristen, were all in attendance. How many times must we celebrate this mother fucker's birthday? I'm getting Stassi vibes circa season 1.
Kristen decided she was going to talk to Tom and bury the hatchet. To her credit, she really does seem like she's mellowed out. Perhaps a shit ton of Xanax and a few bottles of wine have something to do with it, but I think she's gotten off the crazy train………..for now.
She followed Tom out of the restaurant like a bat out of hell. She basically threatened him to get the fuck over it because she's not going anywhere. She also told him that she was going to be around for Katie's ENTIRE wedding planning process because they've been friends again for five minutes and that's what five minute friends do. They went back and forth about this, that, and the next.
Tom Sandoval Dishes On 'Revamped, Reborn' PumpRules—Season 4 Is Best Yet!
Long story short, Tom thinks Kristen is a raging lunatic fit for a straight jacket and Kristen is ready to sing Kumbaya by the campfire. Tom looked slightly terrified, but the conversation didn't end in tears or fists being thrown so it was a success in that respect.
Back at the table, Scheana revealed that Max, Lisa's son, recently had an accident where he knocked out all his teeth. Scheana was like a pig in shit when she heard this because she also had a major teeth trauma incident and now thinks she is basically the best oral surgeon in the game. How can you forget the drama surrounding Scheana and her mother fucking tooth?
PumpRules—Love Is All Around As Fists Fly, Tears And Beers Flow
Anyway, she said that James actually did something good for once in his life and caught his fall, which prevented even worse damage. However, she then went on to tell the table that Lala said homeboy has a small dick. Casual dinner conversation. She then decided to take her talents into another room to have a chat with Katie and Ariana.
Katie and Scheana basically told her that they do not understand why she won't just accept that Kristen is a part of the group, but Ariana stood her ground. It's no surprise to anyone who's been watching the show that Ariana hasn't been herself this season. But hey, if your best friends were forcing you to be friends with your boyfriend's psychotic ex-girlfriend, would you be that nice?
PumpRules—Jax Drops Bisexual Bombshell And Tom Cries…..A Lot
Katie and Scheana's weird attempt at a heart to heart basically ended with them comparing her to Stassi for holding grudges and completely cutting people out of her life.
While the rest of the group is at Jax's birthday lunch, Lala, James, and Faith went to visit Max after his surgery. The visit started with the housekeeper bringing them tea in bed, but quickly turned wild when Lala decided to take her clothes off and go swimming. Ya know, because most people choose to swim naked in their boss' home swimming pool. Not to mention her boss is Queen Lisa Fucking Vanderpump.
PumpRules—18 Tulips And A Face Full Of Shame
I'm sorry, but Lala is the Queen Skank and she knows it. At least we know that the Vanderpumps have a pool boy on their payroll to disinfect that water immediately.
Things are definitely starting to heat up. With the Hawaii trip just around the corner and Stassi's much anticipated return, something tells us that the craziness has just begun.
Vanderpump Rules airs every Monday at 9pm on Bravo.