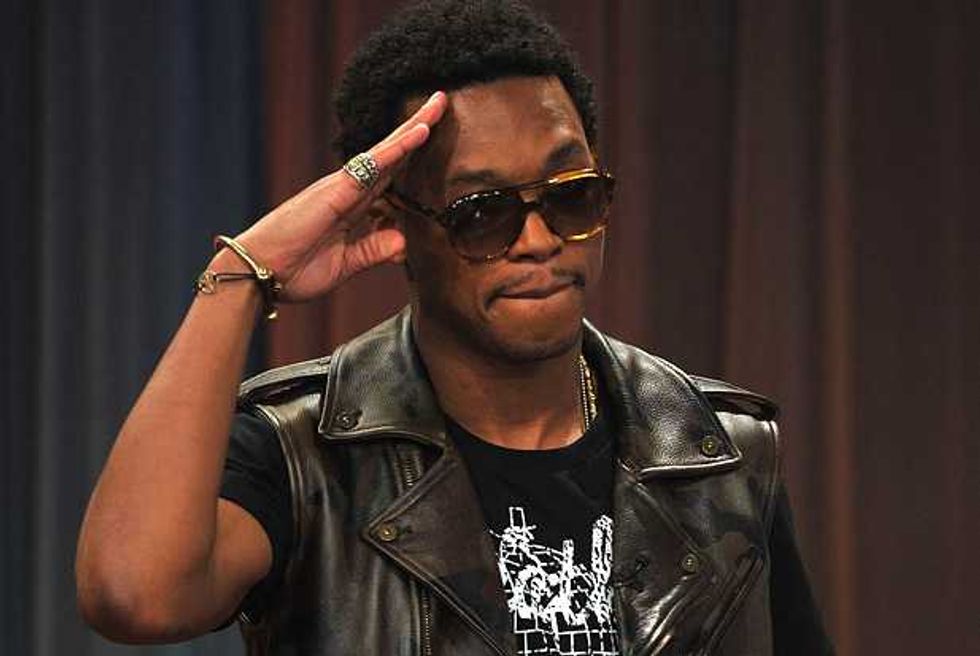 Recently embattled Chicago rapper Lupe Fiasco had been on a Twitter rampage earlier today praising his brother-in-arms Lil B for the guerilla release of his new album, I'm Gay, to iTunes. "one of the best rap albums I heard in a looooong time," Lupe tweeted. "Some MFDoom x Ghostface x Kanye flava to it..." He went on to call the album title "GENIUS & Revolutionary," and say that B's methodology "sounds like #winning to me." Eventually, Lupe got tired of tweeting his hosannas, and decided instead to collect his thoughts in an organized—well, more organized—article, entitled "Why I Like Lil B: A Review."
We don't necessarily recommend reading the entire article—it's long, rant-y, and only sporadically grammatical—so we've parsed it for some high points. Suffice to say, it appears that Fiasco's appearance on The O'Reilly Factor has not satisfied his lust for high-minded debate.
ON "LIBERATION ROCK," THE KIND OF MUSIC LUPE GRAVITATES TO: "It can be described as music that is subversive, revolutionary, political, challenges the status quo, mostly positive and even militaristic. A few examples of this would be "Know Your Rights" by The Clash, "Politik Kills" by Manu Chao, "Gentleman" by Fela Kuti, "Do It Like A G-O" by The Geto Boys, "Confrontation" by Damian Marley, "Rush Of Blood To The Head" by Coldplay, "Everyman For Himself" by Billy Blue, "In One Ear" by Cage The Elephant, "The Catalyst" by Linkin Park, "Strange Fruit" by Billie Holiday and the list goes on."
ON LUPE'S ADMITTED GEOGRAPHICAL BIAS: "I blindly and unconsciously love anything that comes out of the Bay Area of Northern California. It's part honest respect for the cultural products that emerge out of that region and part happiness and empathy that in the midst of the social turmoil and raw violence and despair that has plagued that area for decades that artists reppin' the Bay are capable to create and express themselves at all. I have the same appreciation for artists that carve out a name for themselves in Detroit and New Orleans."
ON LIL B TAKING THE NEXT STEP: "Some of Lil B's past works have been underwhelming to say the least and at moments I would seriously consider heading out for smoother pavement. But every now and again an absolute jewel would come to the surface and I'd find myself unable to fathom leaving this kids side for any reason. The vulgar lyrics, happy go lucky cooking dances and sometimes pointless stream of conscious style rambling started to give way to hints of a deadly serious revolutionary mentality lurking underneath....and seeing that this road has led to the promised land in the form of "I'm Gay (I'm Happy)" has been for me just as fulfilling as the new understandings that I'm sure Lil Bars has come upon if the content of his new album is anything to go by."
ON THE RISKS B IS TAKING WITH HIS ALBUM TITLE: "The title "I'm Gay (I'm Happy)" I think is absolute genius. Those two words together side by side in almost any format in the society we live in can be a cultural and social death sentence. And in many places in the world (even here in the good ole' US of A) they can mean an ACTUAL death sentence. I'm talking a shanked in the shower, beat with a bat, beheaded on Friday kinda death. The best and rarest of braveries is bravery in the face of death."
ON WHY THE LYRIC 'THE HOOD IS A LIE!' QUALIFIES B FOR 'LIBERATION ROCK' STATUS: "[The lyric] speaks louder to me than the best, most well-timed, Just Blaze produced and Hype Williams directed punchline any rapper can think of! You can't buy that type of provocative, chilling social commentary. You have to live that. Furthermore it commands respect, and not that phony ass "48 Laws Of Power" "saw it on Gangland" respect either. I mean that Malcolm Martin Luther Junior respect. And if the youths are making these types of statements in these times and in the midst of all that is against them I have no choice but to be Gay (Happy) too!!!"
Wow, Lupe. Not so into the skating anymore, huh? Shame.