Fashion
Celebrity hairstylist Vernon François has never met an occasion that did not call for curls, and he's giving all of the styling tips
When I was younger, I thought the Met Gala was a big costume party that celebrities have every year because they are rich, need a break, and they had the seamstresses, glam squad, and money to make any look possible. You are also talking to a girl who grew up with theme parties every year and whose mom hand-made every costume she ever wore because she was a trained seamstress. And not for nothing, I later found out that many adults did not know exactly what the Met Gala was, so be kind on your judgement of 10 year old Brittiany Cierra.
It wasn't until I was a teenager did I discover the Met Gala, officially called the Costume Institute Gala (hence why I thought it was a costume party but whatevs. I'm done defending myself) themes were not just randomly selected, but a fundraising effort used to honor and accompany an exhibition at New York's Metropolitan Museum of Art. The theme of the exhibition then becomes the theme of the ball.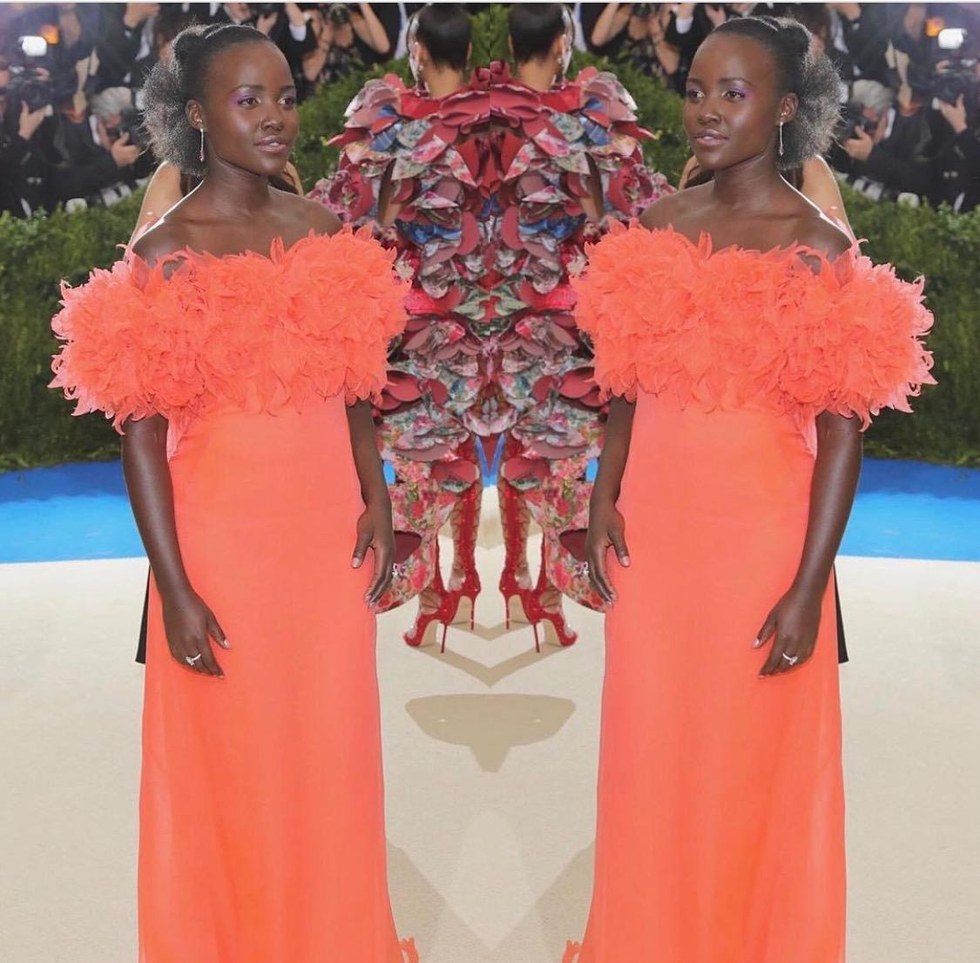 The theme for the 2017 Met Gala was Comme des Garçons, a tribute to the 74 year old designer and founder Rei Kawakubo. If ever there was a time to come to not obsess about the placement of your curves and be celebrated as a fashion disruptor turning anti-fashion into fashion, last night was the time. Trains juxtapose tailored fittings, wide curves are placed in areas you expect to see sleek silhouettes, and this year red was one of the staple colors, as it was featured prominently on the Fall 2017 Comme des Garçons Paris runway a few months prior to the gala. While it was clear some celebrities or their stylists really understood the theme (Rihanna aced it as always), it was also clear that some erred on strait-laced "elegant". What was universally missing, was the statement wielding hair.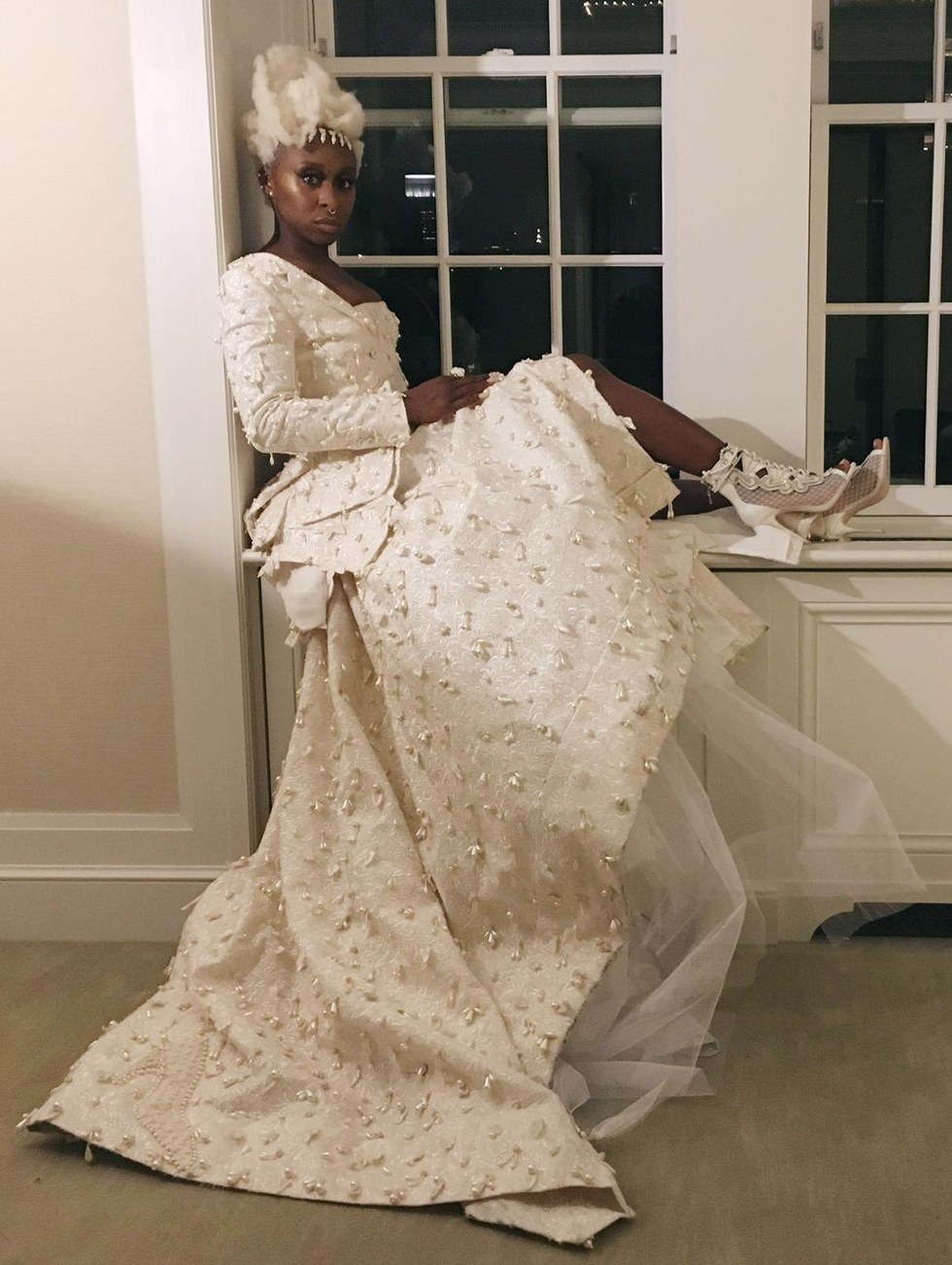 In the fall show during Paris fashion week hair was as part of the story as the fabric, textured tapestries further expanding the idea of individuality being the ultimate mark of confident beauty. Fringed bangs, tousled waves, finger coils, and soft but structured coiffed hair stormed the runway in bold whites, blues, browns, and silvers, breaking away from the golden rule of "if the outfit is demanding to the eye, keep the hair simple". Rei Kawakubo doesn't do simple, she does statements.

It is this hair story where actresses Lupita Nyong'o and Cynthia Erivo really stood out. Under one of Hollywood's undisputed curl gods, Vernon François, the two walked the red carpet being natural bad asses. While some of America are having hair wars to see whose curls have it the worst, these ladies took command of the red carpet to show they had it the best. And. I. Was. Here. For. It. I talked to the internationally acclaimed hairstylist to see how he was able to style the ladies' curls with such a narrow time frame and New York's heat and humidity as time barriers and these three themes reigned supreme in giving curls for the girls-prep, product, and patience. Find out the secrets (well some, because a hairgician never gives away all his tricks) to how Vernon kept these queens' crowns regal.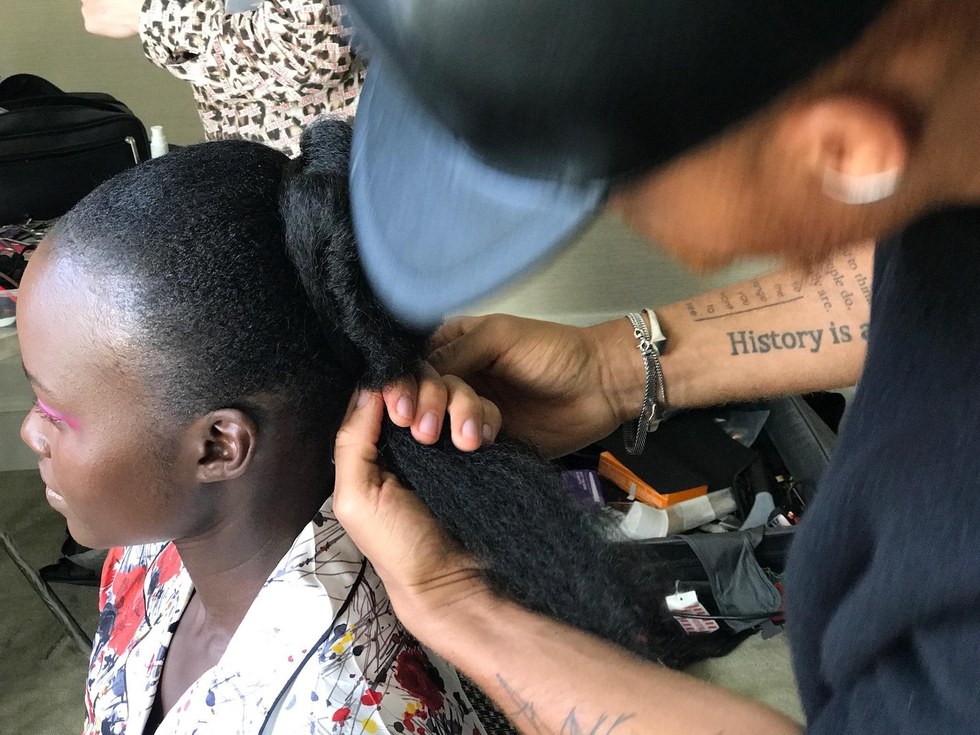 Lupita's Updated Chignon
"Lupita likes to wear her hair natural so we began by cleansing her hair with co-washing product from my Vernon Francois collection to protect her natural texture. Then I used some nourishing spray from my collection to relieve some of the stress her hair has been under while filming a movie. After a scalp massage, I began to craft her look and give it some shape using Paul Mitchell and Oribe texturizing spray. I used a hard bristled brush, rat-tailed comb and bobby pins to pull the look together and then finished it off with some hold with got2b gel for a sleek, polished look."

Cynthia's White Night
"I've been prepping to style Cynthia Erivo for over 48 hours. I was really excited to try something new with her. I handmade each of her hairpieces to really make sure that it matched her actual hair texture and color flawlessly. I used the Curl Moisture Spray from the Vernon Francois Collection to keep her natural hair moisturized before applying gel to hold the the style and some pins to keep it in place. The rest is magic, I can't give away all of my secrets!"
These hairstyles, along with those rocked by Tracy Ellis Ross, and Zendaya at last night's awards deviate from the modern conversations of "are you comfortable with", "do you think it's ok if", "should I straighten for this" . It's your hair! You can cut, perm, relax, fry, dye, and blow dry it as you please. There is a versatility in hair, especially strong, thick, healthy, hair that should be used as the wearer sees fit. To see that red carpet didn't automatically mean sleek and straight for these two Hollywood and Broadway power houses was just an added drop of magic to an already fantastical night. When I was younger, I thought the Met Gala was a big costume party that celebrities have every year because they are rich, need a break, and because they had the seamstresses, glam squad, and money to make any look possible. This year, I was reminded that "any look" can be the fun version of the look you always wear.