On her beautiful new album, Ainsworth both subverts and revives the romanticization of the natural world by presenting her own commentary on its disintegration.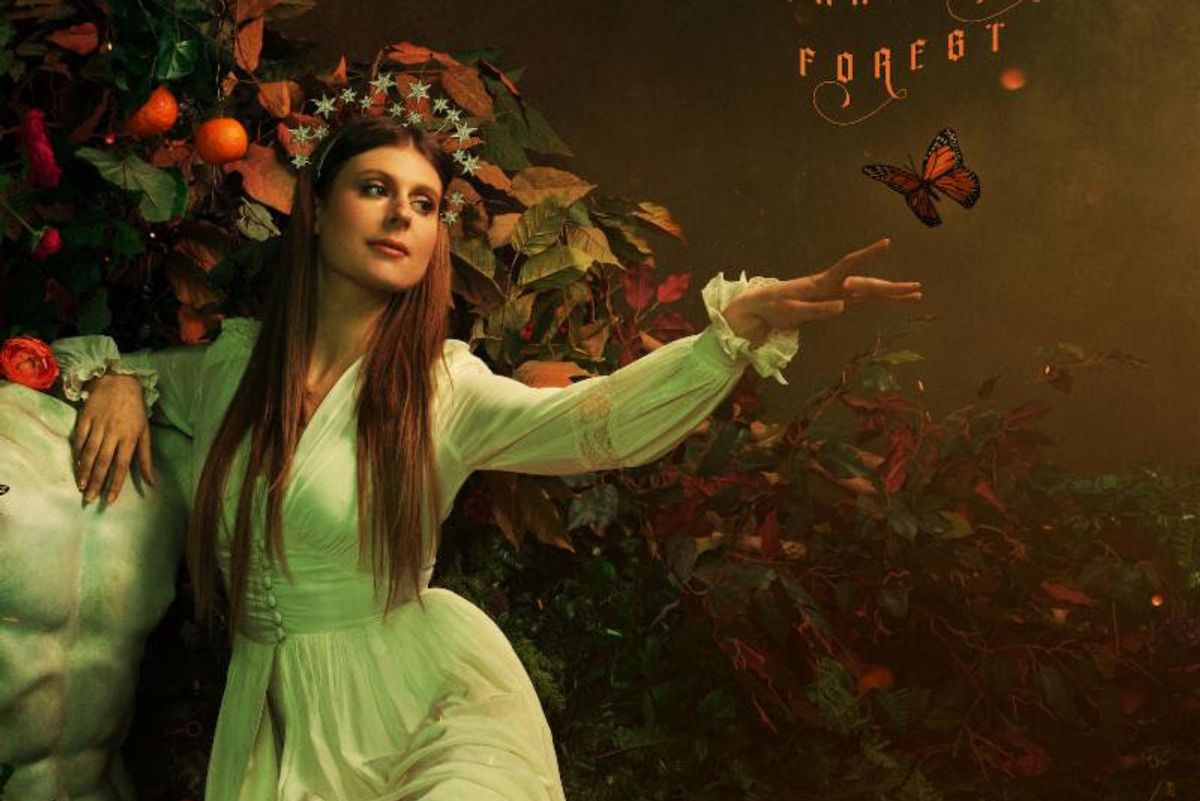 Lydia Ainsworth's third album, Phantom Forest, explores the vanishing natural world and searches for connection within it.
The LA via Toronto singer's newest collection of songs is told from the perspective of herself, mother earth, and a Greek chorus. Inspired by Italian Renaissance Art, Ainsworth both subverts and revives the romanticization of the natural world by presenting her own commentary on its disintegration.
"The Greek Chorus sets the scene, narrating and offering direction on how to enter Phantom Forest," says Ainsworth. "It's my hope that the listener will imagine the narration to be directed to them as well, as they begin the journey of the album."
Ainsworth's use of synthesizers paired with classically-minded arrangements reflects the clash of technology and nature. Yet, instead of pushing a cynical doomsday perspective, Ainsworth welcomes you into her enchanted universe through bubbly hooks and soaring harmonies. Despite the album's heady subject matter, none of the songs ever float too high above the listener's grasp.
Phantom Forest invites the listener onto the mythical dance floor with "Diamonds Cutting Diamonds," where angular arpeggiated synths reminiscent of a harpsichord are punctuated by spacey bass tones and bursts of choral vocals. The bubbly "Can You Find Her Place" is a standout amongst the album's more somber tracks, Ainsworth's vocal riffs weave over and under an upbeat groove, tinged by R&B textures.
Inspired by the Google arts app craze that used facial recognition to show people what classical painting they most resembled, "Tell Me I exist" reckons with the conflation of data and identity, and yearns to unravel the two. "Now it seems anonymity is luxury to own/ I fantasize the private life/ With my DNA's unsigned contracts."
Ainsworth wrote and performed every song on this self-released collection with the exception of her re-imagined cover of Pink Floyd's "Green is the Color" and two other tracks ("The Time," "Give It Back To You"), which started as instrumentals written by Survive's Kyle Dixon (who composed the Stranger Things soundtrack with his bandmate Michael Stein), to which Ainsworth wrote melodies and added lyrics.
Ainsworth punctures a hole in our conception of space on "The Time," where she envisions an eternal world beyond our own. "Through memories, your future self sees through you/ the agony the ecstasy it came too soon." She wades through hazy washes of sound (reminiscent of the eerily transfixing Twin Peaks theme) as she poses the question: "where do we go when we close our eyes––who do we dance within frozen time?"
Though none of the seven songs are no more than 4 minutes long and the album is easy to get through in one sitting, the listening experience is something of a time warp. At times, Ainsworth's intoxicating vocal harmonies entrance and transport the listener, like Odysseus entering the siren's island. But as our conception of time and texture is suspended, Ainsworth grounds her songs by reminding us of the present day's immediate realities. There's a sense of the other-wordly as much as there's an urgent call to pay attention to what's happening around us as we become increasingly entrenched in our devices and negligent of our ravaged earth. Through it all, she urges us to find connection and consider what we will have left when the limits of our reality are pushed towards an apocalyptic future.
Phantom Forest is out now. Listen here.
<hr color="red">
Sara is a music and culture writer.
<hr color="red">
POP⚡DUST | Read More...
All the Lyrics on Big Thief's U.F.O.F.
Leanne Tennant Releases Super-8 Inspired Music Video for "Cherry Cola"