Music Features
Listen to the beloved late rapper's breakthrough project.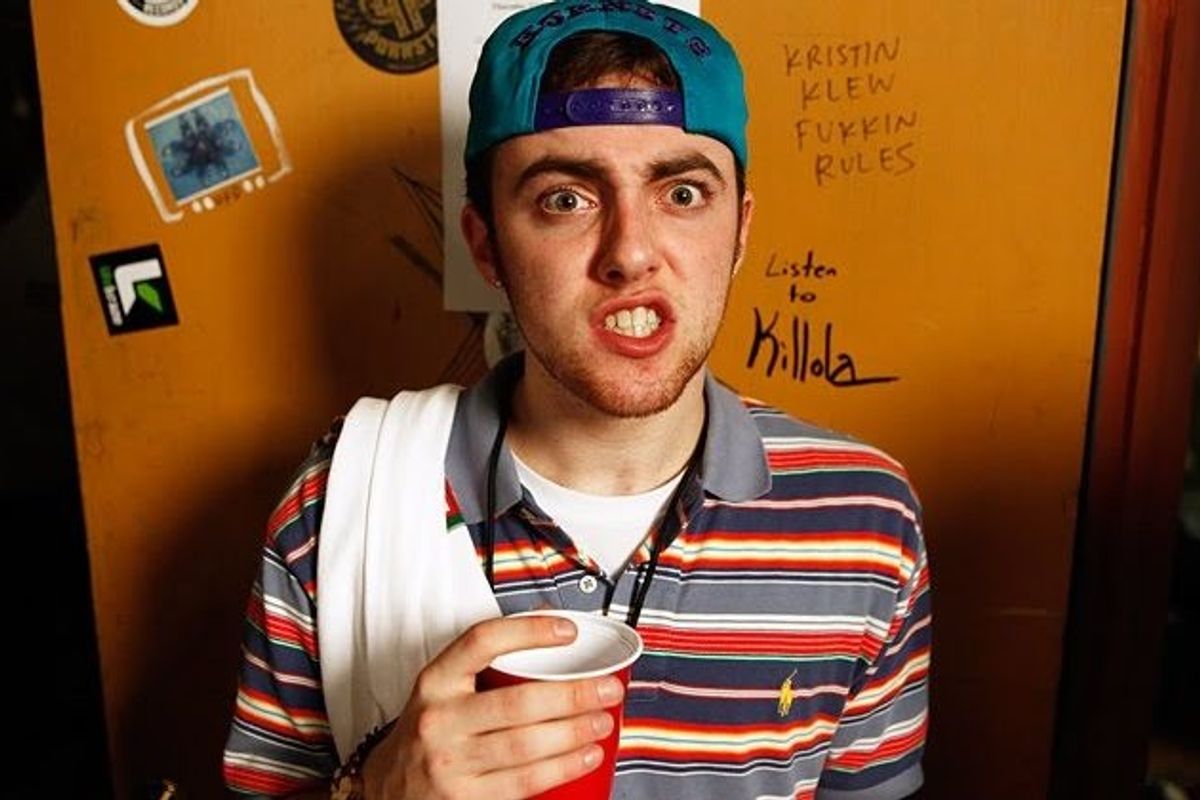 The late Mac Miller's breakthrough mixtape, K.I.D.S., is now finally available on streaming services for the first time.
Growing up in Pittsburgh, Miller released three mixtapes before he turned 18: But My Mackin' Ain't Easy, The Jukebox: Prelude to Class Clown, and The High Life. These caught the attention of independent hip-hop label Rostrum, then home to an up-and-coming Wiz Khalifa. Rostrum signed Miller and released K.I.D.S. in 2010 on the mixtape-sharing service DatPiff, transforming the relatively unknown rhymemaker into one of the decade's most inspiring underdog success stories.
---
Not everyone was on board with Miller's wide-eyed frat-rap, which was argued to be a product of white privilege on more than one occasion. But for like-minded, well-intended teens in pursuit of a good time, K.I.D.S.—both an acronym for "kickin' incredibly dope s--t" and a nod to the 1995 coming-of-age drama film Kids—was the introduction to an artist who would define their generation.
Hardly anyone at the time was making rap music that sounded so effortlessly fun. Songs like "Nikes on My Feet," "Knock Knock," and "Senior Skip Day" would each amass millions of YouTube views; "1-800-273-8255" hitmaker Logic credits K.I.D.S. highlight "Kool Aid & Frozen Pizza" for inspiring him to start rapping himself. Miller certainly hadn't yet reached his potential as the poignant lyricist he'd become later in his too-short career, but K.I.D.S. was the perfect soundtrack for teenagers who just wanted to enjoy themselves before they needed to start figuring life out.
Between K.I.D.S. and his untimely death in September 2018, Miller would release eight mixtapes and five studio albums (plus the posthumous Circles). His first LP, Blue Slide Park, became the first independently-distributed debut album to top the Billboard 200 since 1995. He was an early endorser of Chance the Rapper, who supported Miller on his 2013 tour. President Trump hilariously—and unsuccessfully—threatened Miller with a lawsuit in 2016.
But most importantly, despite early success, Miller never sold out. From the dark introspection of Watching Movies with the Sound Off to the glossy enchantment of The Divine Feminine, each of Miller's releases indicated he was constantly evolving, both emotionally and creatively. But for the young hopefuls whose only commitments were to "go to school, hang with friends, and play sports," K.I.D.S. is what started it all.
Listen to K.I.D.S. below.
K.I.D.S.