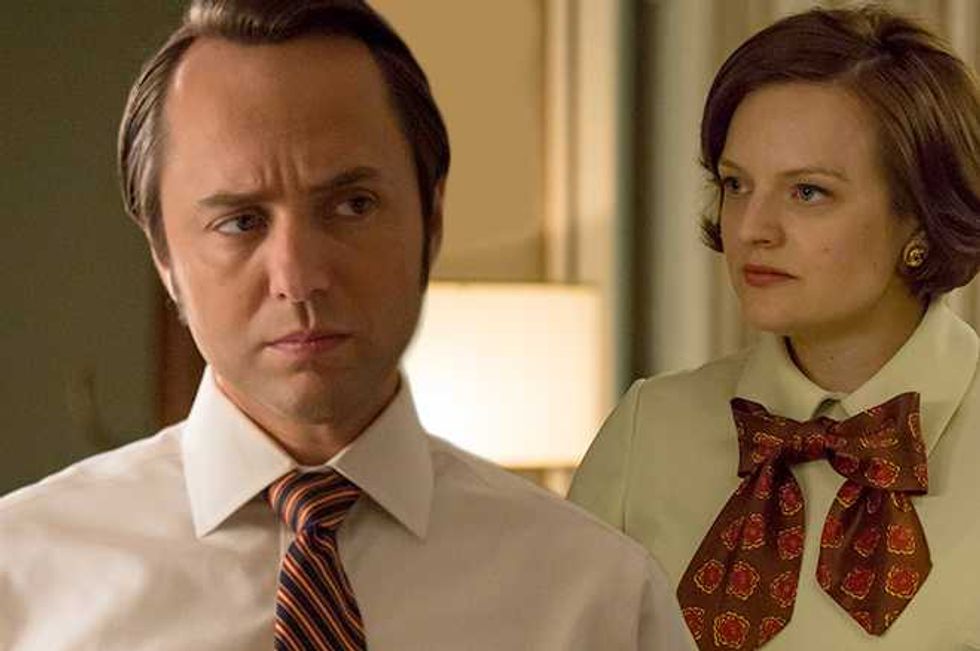 Everyone put down the Peeps and chocolate bunnies. It's time to settle down and get our Mad Men on.
Our main man Don Draper is one hot mess. Sleeping until noon, eating Ritz crackers for breakfast, not really giving a shit that his new roommate is a gigantic cockroach. He had lunch with an old colleague to feel like less of a loser because he's still on indefinite leave from work. Meanwhile, no one in his family knows that he got sacked temporarily. When his nosy daughter Sally showed up at his office, she caught on that something was up and that her dad was no longer working at SC&P. He of course lied about it,  Sally caught him in the lie, cue angsty  teenager/parent argument, blah blah blah. Don eventually confesses to Sally that they put him on hiatus because he has a breakdown over repressed memories of being raised in a whorehouse. True story.
And poor Peggy. Could she be more pathetic this season? She's bummed out that she has no date on Valentine's Day, because it's 1969 and if a woman doesn't have a Valentine, she should go directly to the bathroom and drink rat poison. To add insult to injury, she mistakes the secretary's flower delivery for her own. Of course she thinks they're from Ted, but eventually she's told that no one loves her and the flowers aren't hers.
Joan is turning out to be one bad ass bouffant. She's still head of personnel (i.e. shuffling secretaries around), but this week she actually got an office upstairs with the big boys because she's doing really well handling her accounts. Imagine that, beauty and brains…and boobs.
Other than that Pete's having a great time in California boning his blonde real estate agent. No sign of Megan Draper this week. Worse that that, no sign of Neve Campbell either! But it's early in the season and there are still many cat fights over Don to be had.
What did you think of the episode? Sound off in the comments below.