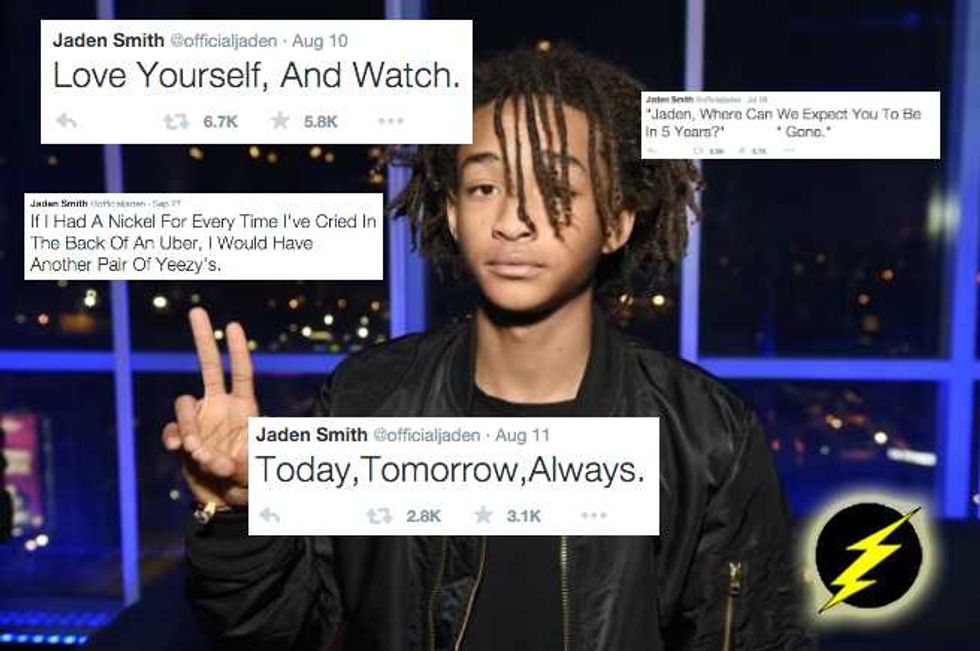 People have called Jaden Smith crazy, but now it appears that mad scientist Jaden Smith has fooled us all.
The 17-year-old actor/rapper/social media star/son of Will and Jada is known for cryptic posts on his twitter account, but in a recent interview with GQ's Zach Baron, Jaden admits that everything he does "is a scientific test on humanity." In a post earlier this year, Popdust's own quack psychiatrist Dr. Mick Coppin diagnosed Jaden with "metastasizing [narcissistic] douchebagitis," but it seems that the good doctor was fooled by Jaden just like the rest of us.
Jaden Smith's Tweets Analyzed—From A Jungian Perspective
Being a celebrity's child has had its advantages for Jaden, who has been in the spotlight since before he could walk. As Baron puts it, paparazzi photos make up "a flip-book of Jaden Smith slowly aging, as told by strangers' cameras." Jaden exploits that spotlight with a fervor, using his vast social media following to see how people react to him tweeting weird things from his account, @officialjaden.
In his GQ interview, Jaden reveals that his experiments have been going "really well," even confirming that one experiment he performed (during a magazine interview last year) led to his test subjects (us) "reacting exactly as we predicted beforehand."
Jaden Smith Throws Twitter Shade At Shia LaBeouf Over Grammys Snub
Jaden also compares his experiments to great ancient philosophers, scientists, and mathematicians, like Galileo, Plato, and Pythagoras.
"Me and my sister started this initiative called Mystery School. It dates back to like ancient Egypt, ancient Greece—like Plato, Pythagoras, all these students had mystery schools. And what they learned in there was sacred. They would learn the math and sciences of that generation, and then they would build the cities and give that energy and that knowledge to the other people. And a lot of stuff they would keep really, really to themselves. Like, you couldn't say the word dodecahedron, which is just a shape, outside of one of the mystery schools or they would, like, kill you or whatever. Because it was such a sacred shape."
Jaden also revealed he is building a 12.5-foot tall pyramid at Will and Jada's house, which is styled after the Great Pyramid of Giza (to scale, of course); the new pyramid is to go with the 3-foot tall pyramid that's already in his bedroom.
Jaden knows that people think he's crazy, and he doesn't care. He tells GQ that his plan for the next ten years is to disappear, popping up only occasionally to do things that will have social impact—"like Banksy," he says. He claims he's been planning that move since he was 13. When the interviewer asks him for some scientific advice, Jaden tells him "Love yourself, and watch." He then clarifies, "Don't watch Jaden."
Do you think Jaden Smith is a mad scientist who has been performing experiments on us all or do you think he's just another crazy celebrity spouting nonsense like Charlie Sheen?
Here, young Jaden unwittingly admits to suffering from compulsive counting—often a common symptom of obsessive-compulsive disorder. People with counting compulsions may feel the need to count because they feel certain numbers have a special significance, and therefore specific actions must be performed a certain number of times. For example, Jaden may feel like he needs to drive his Bentley around the circle drive 3 times. And since 3 is half of 6, and 6 is the devil's number, in my (totally ludicrous opinion) Jaden is obviously the spawn of Satan.
In my (totally ludicrous opinion) this tweet provides compelling evidence that Jaden has a Narcissistic personality disorder—which often leads to an inflated sense of own importance, craving admiration and a lack empathy for others. However, behind the seemingly cocky facade lies a broken spirit that cries like a bitch any time he runs low on Axe Body Spray. Or whatever rich douchebag kids use.
The narcissist is often vain and loves mirrors. In my (totally ludicrous opinion) this tweet is clearly an extension of Jaden's possible narcissism, and a sign that he has a creative imagination on par only with those who take hallucinogenic mushrooms.
Here, young Jaden champions introspection, saying that by looking inward one awakens to consciousness and collapses into a mirror through which he sees his own soul. Tweeting pretentious bull shit.
The precocious child echoes Jorge Luis Borges sentiments when he says that time, if we can intuitively grasp such an identity, is a delusion—the difference and inseparability of one moment belonging to its apparent past from another belonging to its apparent present is sufficient to disintegrate it… i.e. One day Jaden didn't have pubes, the next day he did. On a potentially grimmer note, in my (totally ludicrous opinion) time perception is affected in some psychiatric disorders such as schizophrenia, attention deficit/hyperactivity syndrome, depression, anxiety disorders.
Jaden is tickled to near hysteria, and given that he is likely a narcissist in my (totally ludicrous opinion), it is not surprising that his own authorship triggered the euphoria.
In this Tweet, Jaden cannot even bring himself to smile. In my (totally ludicrous opinion), his stark polarity could possibly (but probably not) hint at manic depression.
If rhyme was a drug Jaden would sell it by the gram, probably, although actually not, in reality, In my (totally ludicrous opinion).
On March 6, Jaden tweeted a message that he was falling in love with rapper Tyler the Creator and gay rumors erupted around the celebuspawn, who later insisted that he is not, in fact, gay. No further psychoanalysis required here.