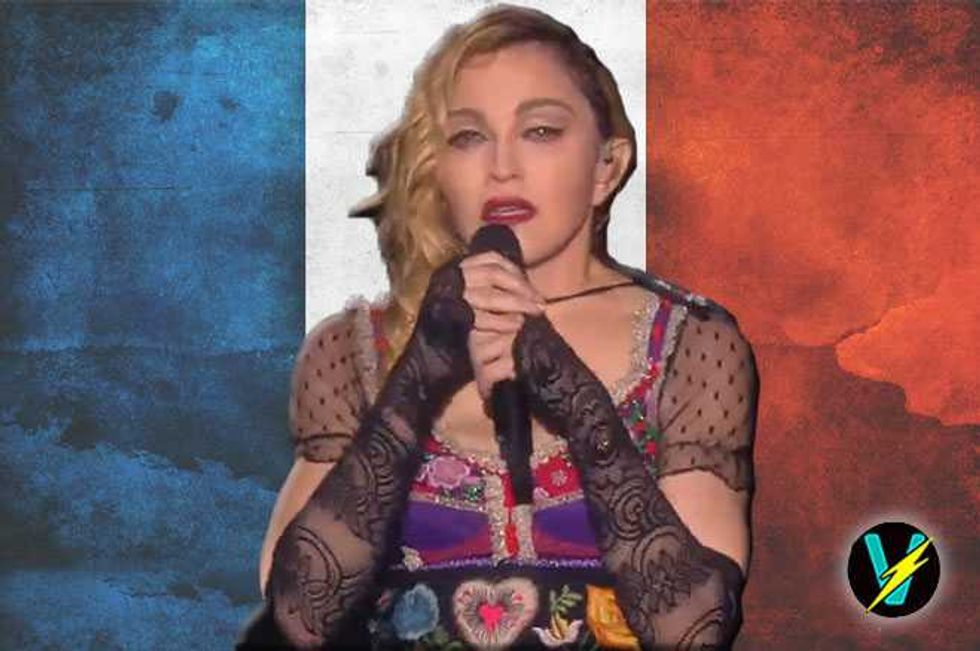 Madonna Breaks Down Onstage
Madonna was appearing in Stockholm, Sweden on Saturday night and couldn't hold back her tears as she paid tribute to the victims of the Paris terrorist attacks and their families.
At least 129 people were killed and more than 350 wounded when ISIS terrorists subjected the French capital to a series of shootings and suicide bombings on Friday evening.
Many musicians canceled tour dates, including U2 and the Foo Fighters, and Madonna had seriously considered cancelling the concert out of respect for the victims, however she would not give in to the hideous murderers.
She gave an impassioned explanation of her actions, wiping away her tears, before launching into an incredibly moving version of Like a Prayer, which was met by cheers;
"Actually I don't need my guitar for this 'cause it's been very hard for me to get through this show up to this point and not forget about what happened last night, so I need to take this moment to acknowledge the tragedy, the tragic killings, assassinations and the senseless endings of precious life that occurred last night in Paris.

"It's been really hard, actually to get through the show because in many ways, I feel, I feel  torn. Like, why am I up here dancing and having fun when people are crying over the loss of their loved ones. However, that is exactly what these people want to do. They want to shut us up. They want to silence us. And we won't let them."
Well said Madonna.
Madonna Breaks Down Onstage
Madonna Breaks Down Onstage