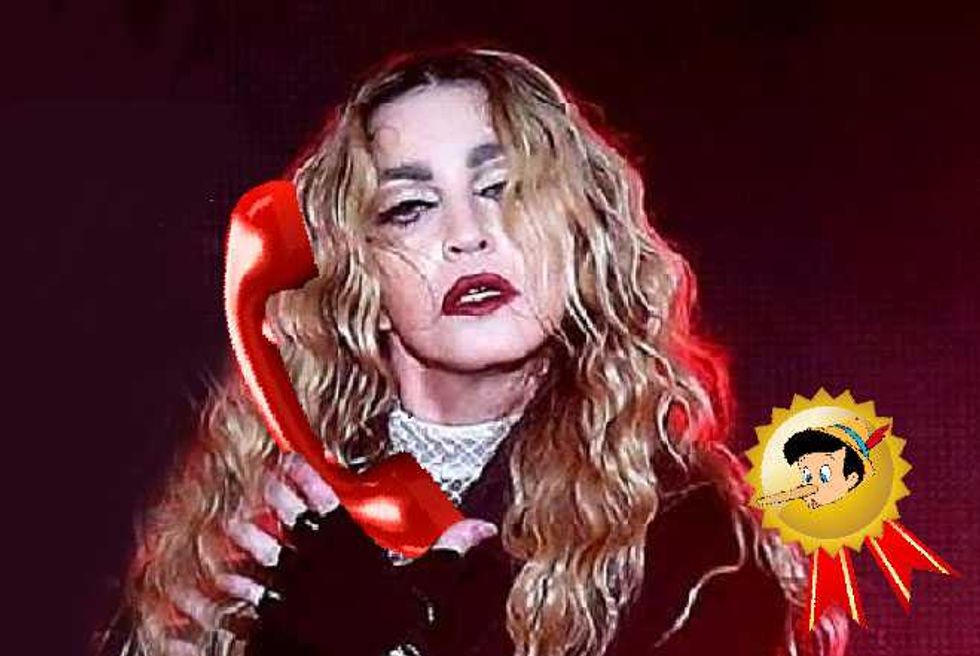 Madonna drunk dialing
Madonna drunk dialing 'everyone she knows' hands down wins the best fake story of the week award.
Good job National Enquirer …. good job!
As with most great stories, it's so great, because you soooo want it to be true!
We can picture this so perfectly
Madge, looking like some kind of Blanche "Baby Jane" DuBois, make-up smeared, swigging from a nearly empty bottle of vodka, gnarled hands leafing through her well thumbed, battered old little black book.
"Ha! Warren Beatty, let's give that old bastard a call," she slurs to herself, taking another swig.
Ring… ring…ring….ring….
"Hey Beatty, remember me? You think you're all that dontcha? Well let me tell you… you're nothing but a washed-up has-been you cock sucker you……"
Hangs-up, sniggering to herself.
Picks up well thumbed, battered old little black book…..gnarled hands leafing through….takes another swig…
"Ha! Guy fucking Ritchie…. let's call that arrogant British asshole….."
It's such a great visual
As Popdust previously reported, amid her ongoing custody battle with Ritchie over son Rocco, Madge has seemingly been losing the plot.
She's been turning up late for concerts, and riding around on a tricycle dressed as a clown.
She's sexually assaulted a teenager live on stage, has been accused of slurring her words and appearing to be drunk.
So, it's a no-brainer to spin and weave a Madonna drunk dialing story—and what a wondrous drunk dialing web the Enquirer has weaved!
Epic meltdown
The tabloid claims the 57-year-old is in the midst of an "epic meltdown" and hitting the bottle hard.
Madonna's in a terrible state…

She'll have a few too many drinks and start calling everyone from Guy to her daughter Lourdes, even her former hubby Sean Penn gets them!
And that's not it!
Gwyneth Paltrow, Demi Moore and ex-boyfriend Carlos Leon have also been on the receiving end of the Madonna drunk dialing rampage apparently.
Off the rails
But, what about Madonna drunk dialing Vladimir Putin? The Dalai Llama? Taylor Swift? Come on guys use your imagination here!
The "source" continues:
[Madonna's] relying on booze to help her sleep, and when she can't, she starts calling up people.

She's really going off the rails and no one around her is strong enough to put a stop to it.
Oh no! Poor Madge! Somebody do an intervention, STAT!
Paging Ellen Degeneres!
Perhaps she can step in when she's finished her completely made-up Justin Bieber intervention!
For more entertainment, music and pop culture updates and news, follow Max Page on Twitter
Is Madonna Finally Losing Her Mind?
Now Madonna Hires PI To Keep An Eye On Son Rocco!
Madonna Takes Rocco Ritchie Custody Drama To Instagram
Madonna Reveals Her Wig Collection—Is Nothing Sacred?
madonna drunk dialing