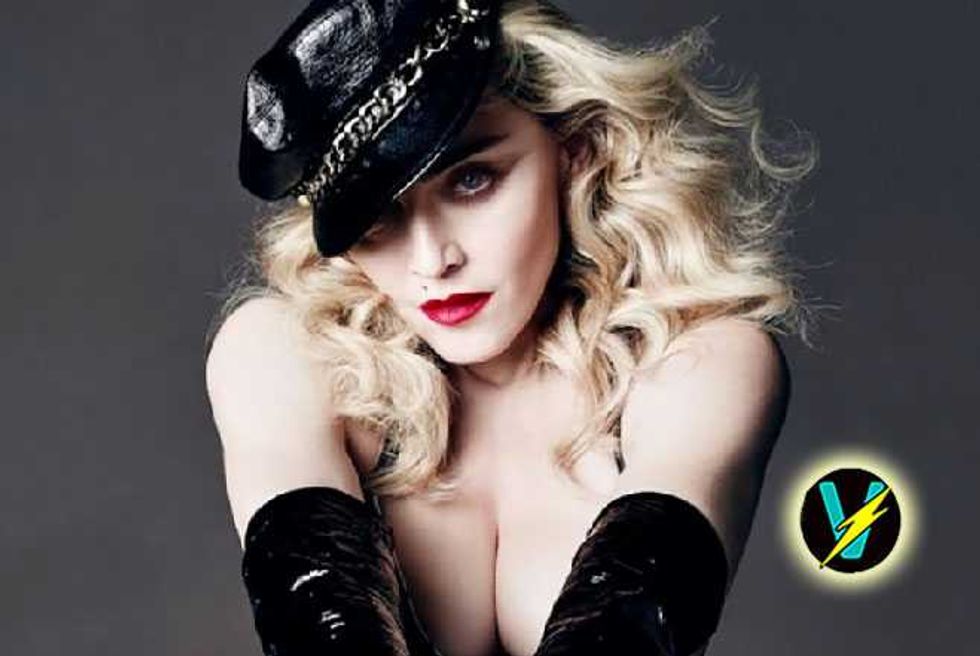 madonna indecent assault Madonna Indecently Assaults Woman On Stage—Because Madonna
For one female Madonna fan, it was good news/bad news last night in Australia.
The good news was that Madge managed to only be 20 minutes late for her most recent Brisbane concert—a vast improvement on the two-and-a-half hours tardiness of last week.
Now Madonna Hires PI To Keep An Eye On Son Rocco!
The bad news was she was indecently assaulted by the 57-year-old, on stage, in front of thousands of strangers—you can watch video right here on Popdust.
HILARIOUS Madge
madonna indecent assault
It all went down after Madge pulled the woman up on stage from the crowd, and then thought it would be just HILARIOUS to pull the woman's top down and expose her breasts.
Madonna Performs David Bowie Tribute—Look Away, Rocco!
Oh, how we laughed! That Madge, she's such a card!
"She's the kind of girl you just want to slap… on the ass," Madonna slurred into the mic. "And pull…" as she yanked the woman's top down.
"Oh shit!" Madge exclaimed. "Oh I'm sorry, sexual harassment."
Madonna Reveals Her Wig Collection—Is Nothing Sacred?
Wanna make my hole big
madonna indecent assault
"You can do the same to me. Good luck. Wanna make my hole big again?" She continued, gesturing to her crotch.
Oh, just give it a rest with the "outrageous" hijinks grandma, it's starting to wear really thin.
Madonna Takes Rocco Ritchie Custody Drama To Instagram
It's also starting to become criminal.
There's a law in Australia making it a crime to commit "indecent assault" -- touching someone indecently without their consent.
But, this is freakin' Madonna folks! Madge is above the law dontcha know?!!
Clowning around down under
madonna indecent assault
Being under the spotlight is becoming a regular thing for Madonna as she performs her Rebel Heart tour down under.
Madonna Breaks Down Onstage As She Pays Tribute To Paris Victims
As Popdust previously reported, she showed up 4 hours late for a show in Melbourne, dressed as a clown, adding to speculation that she is losing her mind over the protracted custody battle for her teenage son Rocco.
When she did finally take to the stage, she did so in full clown costume, riding a tricycle.
In addition to the outrageous lack of respect for fans when it comes to her timekeeping, she's also been accused of performing drunk or high.
Madonna Gives Sneak Peek Of Star-Studded New Video
Stop being sexist!
madonna indecent assault
There's no doubting that Madge has been stumbling around and appearing more than a little wobbly on her feet—and she definitely sounds like she's slurring her speech.
But, her peeps insist it's all part of the act, and Madge has branded her detractors as "sexist."
Ermmmm….. OK!
For more entertainment, world, music and pop culture updates and news, follow Max Page on Twitter