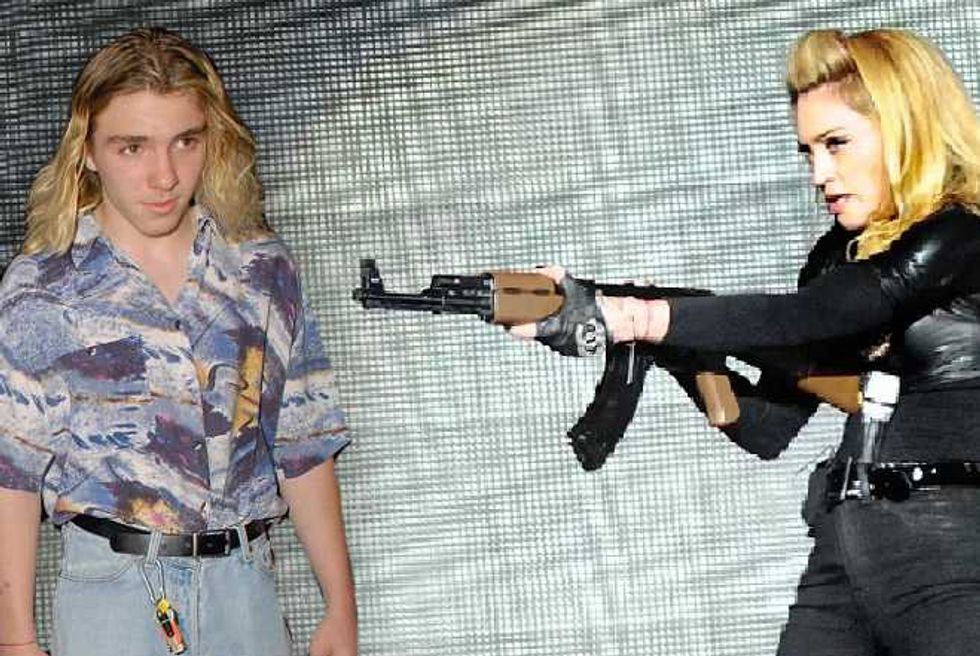 madonna force rocco live her
If there's one thing we all know by now, what Madonna wants, Madonna gets.
Let's face it, old Madge is used to getting her own way, and she's determined to do just that when it comes to her 15-year-old son, Rocco Ritchie—even if it means forcing the poor kid to live with her, completely against his will.
Madonna Takes Rocco Ritchie Custody Drama To Instagram
As Popdust previously reported, the 57-year-old has already gone to court once, in a bid to achieve her aim—resulting in Rocco being ordered by a judge to return back to NYC to spend Christmas with his mom, even though he wanted to remain in London with his dad, Guy Ritchie.
Rocco ignored the order though, staying firmly put with his dad and stepmom over the pond, after Guy went to a London court and won a reprieve.
Rocco Ritchie Wishes Madonna Would Be Less Rebel More Mom
Madonna responded the way any loving, heartbroken mother would, when they solely have their child's best interests at heart—by thoroughly humiliating her teenage son—posting a photo on her Instagram, of poor Rocco in swimming trunks, captioned #nosausage.
Yeah, nothing but nothing is likely to endear a teen boy to his mother more than a good old spot of social media penis shaming.
Nice one Madge!
Madonna Reveals Her Wig Collection—Is Nothing Sacred?
Not surprisingly, Madonna is not going to give up at the first failed hurdle, and just let her son be happy—Ha! As if bitches! She's vowed to fight on and get her boy back—by hook or by crook!
She's going to have one hell of a fight on her hands though—according to TMZ, Guy Ritchie has enlisted the services of a top attorney as he gears up for a bitter custody battle.
Watch U2′s The Edge Fall Off The Stage—Top That, Madonna!
TMZ claims that Rocco finds his mom "too controlling" and that she pretty much ignores him, in addition to dragging him around the world on her seemingly never-ending tour.
Both Rocco and his father believe he can be provided with a more stable and loving home back in London, and the teen is digging his heels in, and insisting he does NOT want to live with his mom anymore.
A New Madonna—Why The Long Face?
Meanwhile, Madonna's PR flack, a source close to the singer, is blaming Guy Ritchie for the situation—claiming to TMZ that the director has been trash talking her and has turned Rocco against her.
Of course, because God forbid Rocco would actually have his own mind, and feelings, and prefer to live with his dad rather than Queen Madge.
That's just insanity!
For more entertainment, world, music and pop culture updates and news, follow Max Page on Twitter