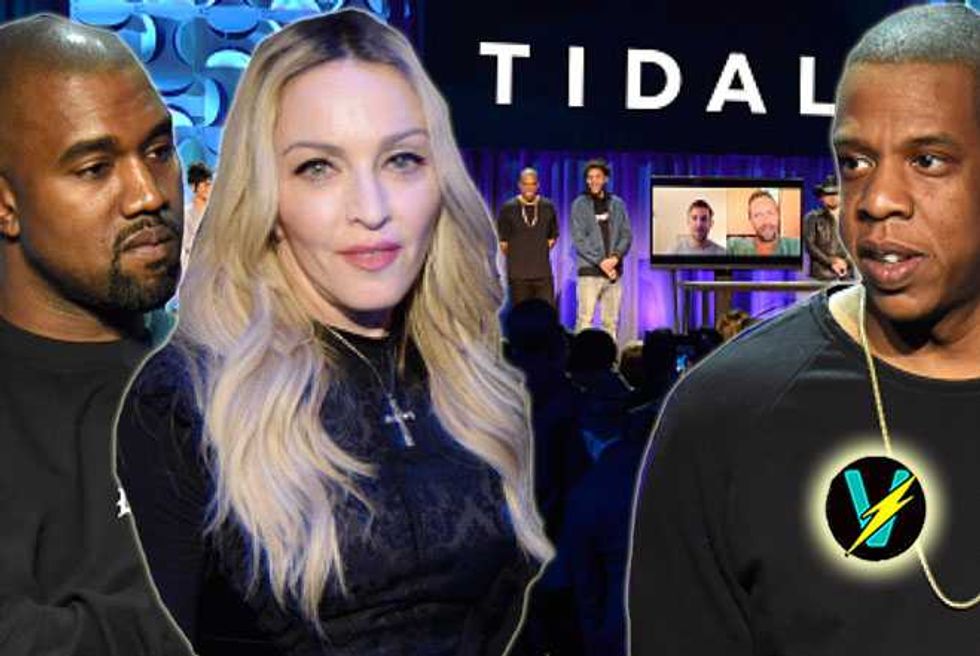 The last time this many members of the music world elite gathered together under one roof to promote a common cause (separate to stroking their award show egos) was probably back in the mid-eighties for Live Aid.
However, on Monday in New York, they rallied together not to help the starving masses, but rather, to line their own pockets yet further, as the who's who in music announced the launch of TidalForAll—the first artist-owned streaming service for music and video.
How so many egos managed to share the same stage at the same time, without at least one or two major meltdowns, is kind of mind boggling, but, manage they did, with Madonna, Beyonce, Jay-Z, Rihanna, Arcade Fire, Jack White, Kanye West, Daft Punk, Deadmau5, Nicki Minaj, Alicia Keys, and Usher all rubbing shoulders together in the name of "unity."
Keys gave an impassioned speech, saying the artists hope Tidal will "forever change the course of music history" and ensure they all earn yet a shit ton more money because they're all not rich enough already the future of the industry.
Calling the event "a graduation" Keys went on to proclaim, "So we come together before you on this day, March 30th, 2015, with one voice in unity in the hopes that today will be another one of those moments in time, a moment that will forever change the course of music history.
"For today we announce the launch of Tidal, the first ever artist-owned, global music and entertainment platform."
"Our mission goes beyond commerce, it goes beyond technology," Keys waxed lyrical—because, yes, of COURSE it's not about money. "Our intent is to preserve music's importance in our lives. Music is the language of love, of laughter, of heartbreak, of mystery. It's the world's true, true, without question, universal language."
"Think about how many times music has personally picked you up and reminded you that you can do it again," she continued. "Music speaks to all of us. Music brings us together, it connects us all. Music is so powerful—that is what Tidal will be. A place for connection between artists and fans. The place to discover the music that will become the soundtrack for the rest of our lives."
When it comes to Tidal's artist compensation structure, details have been kept vague—however, one thing has been made clear—unlike current streaming service rivals, Spotify, Pandora, Google Play, YouTube, and Apple's soon-to-be revamped music service involving Beats Music, the service will not offer a free tier.
Instead, Tidal will be offered at two separate price points to U.S. subscribers—at $9.95 for standard sound quality, and $19.99 for "lossless high fidelity sound quality."
According to reports, Tidal will offer artists double the amount of money they stand to earn from the current slew of streaming services by cutting out the middle man, ensuring maximum bank.
Tidal was the brainchild of Jay-Z, who, earlier this year, snapped up the Swedish music streaming tech giant, Aspiro, for $56 million.
According to Showbiz411, just prior to buying Aspiro, Jay-Z gathered his A-list musician pals for a summit at LA's The Fig House.
During the great meeting of the music industry minds, Jay-Z—whose net worth is estimated to be around $520 million—reportedly rallied his creative comrades to join arms together and form Tidal after a spirited discussion about videos, artists rights, and how music has been diminished by crass commercialism.
Without even a hint of irony one imagines.