Arts
And Piers Morgan swiftly attacks her.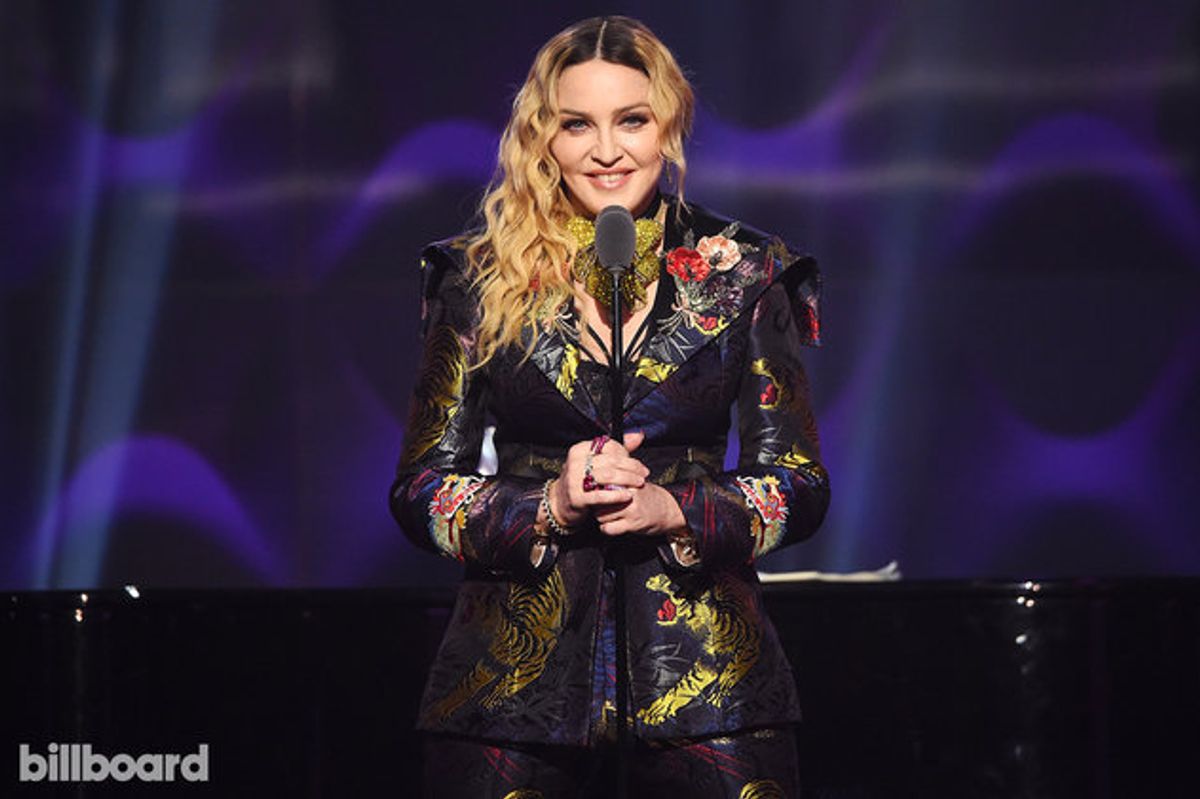 Madonna has always been a decisive figure in the music industry. Her storied career has been built on expanding the boundaries of female sexuality and chipping away at America's puritanical set of beliefs. Let's face it-- we would not have bold, controversial female pop stars like Rihanna and Lady Gaga today without Madonna's iconic "Like A Virgin" VMAs performance. But forget all the girl-on-girl kissing and cone bras. Because the current phase of Madonna's career might be her most groundbreaking. The 58-year-old appears persistent on undoing the industry's notion female pop stars have a limited batch of good years in them.
She's fighting a hard battle. Pop divas who came long after Madonna's rise have already been ushered off the main stage. Like, Britney Spears, 35, who has already entered her "legacy" phase and been delegated to a Las Vegas residency that primarily serves as a bittersweet ode to the mega-act the singer once was.
In an emotional speech Friday night, Madonna spoke bluntly and passionately on the misogyny and ageism she has faced-- and continues to face-- in the music industry. The powerful speech was during the singer's accepting the honor of "Woman of the Year" at Billboard's Women in Music ceremony.
"If you're a girl, you have to play the game. You're allowed to be pretty and cute and sexy. But don't act too smart. Don't have an opinion that's out of line with the status quo. You are allowed to be objectified by men and dress like a slut, but don't own your sluttiness. And do not, I repeat do not, share your own sexual fantasies with the world. Be what men want you to be, but more importantly, be what women feel comfortable with you being around other men. And finally, do not age. Because to age is a sin. You will be criticized and vilified and definitely not played on the radio."
It did not take long for Madonna's points to be proven true. During the speech, she talked on being held at knifepoint and raped on a rooftop during her early years in New York City. Piers Morgan quickly went on Twitter to criticize and question Madonna's claims, saying that post traumatic stress disorder appeared to be the new trend among pop stars.

I don't know who you are, let alone tell you that you weren't raped.
I remain sceptical about Madonna & Lady Gaga's claims. https://t.co/A8kmcBeJJI
— Piers Morgan (@piersmorgan) December 12, 2016
Yes. I would treat everything either of them says with a pinch of PR salt. https://t.co/39MwNQjVBo
— Piers Morgan (@piersmorgan) December 12, 2016

Just... sigh.