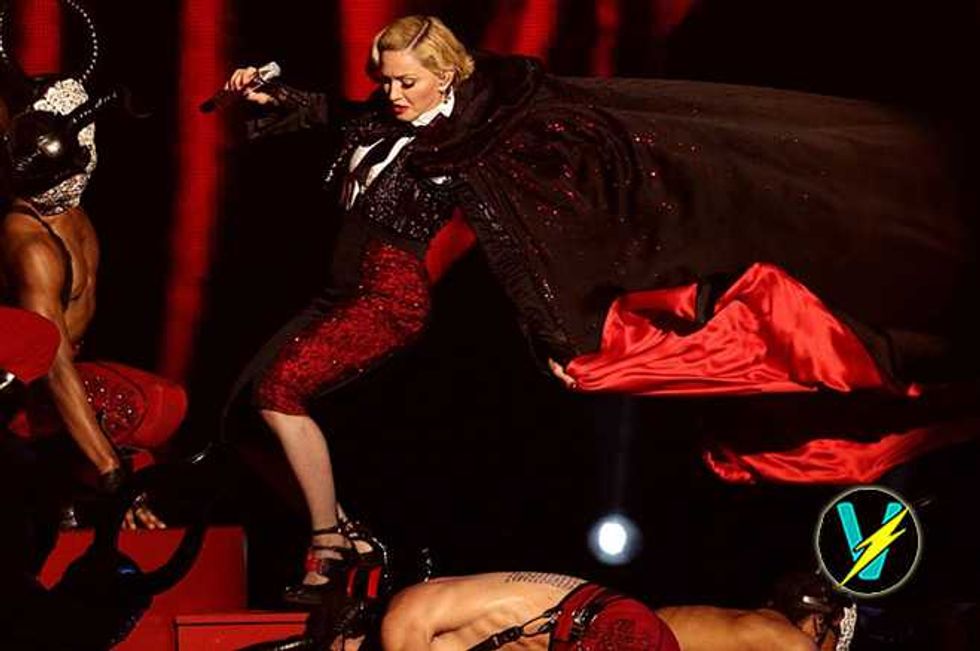 Madonna starred in her very own production of Cape Fear at last night's BRIT awards in London.
The 56 year old singer was performing her song I'm Going to Carry On (oh the irony) live on stage for the finale which, as we have come to expect involved an elaborate costume and dance routine.
During the song Madge mounted some steps and was supposed to untie her super long cape ready for one of the backing dancers to pull away behind her.
Unfortunately, the ribbon was tied too tight and she couldn't get it undone in time before the dancer yanked the Material (Girl) – pulling her backwards and causing her to tumble down the steps and land on her ass!
She recovered admirably and completed the performance, but OMG, that poor dancer is certainly going to get a blast from the legendary superbitch .
Nursing her bruises, Madonna later wrote on her Instagram account;
"Armani hooked me up! My beautiful cape was tied too tight!  But nothing can stop me and lover really lifted me up! Thanks for your good wishes! I'm fine! #livingforlove."