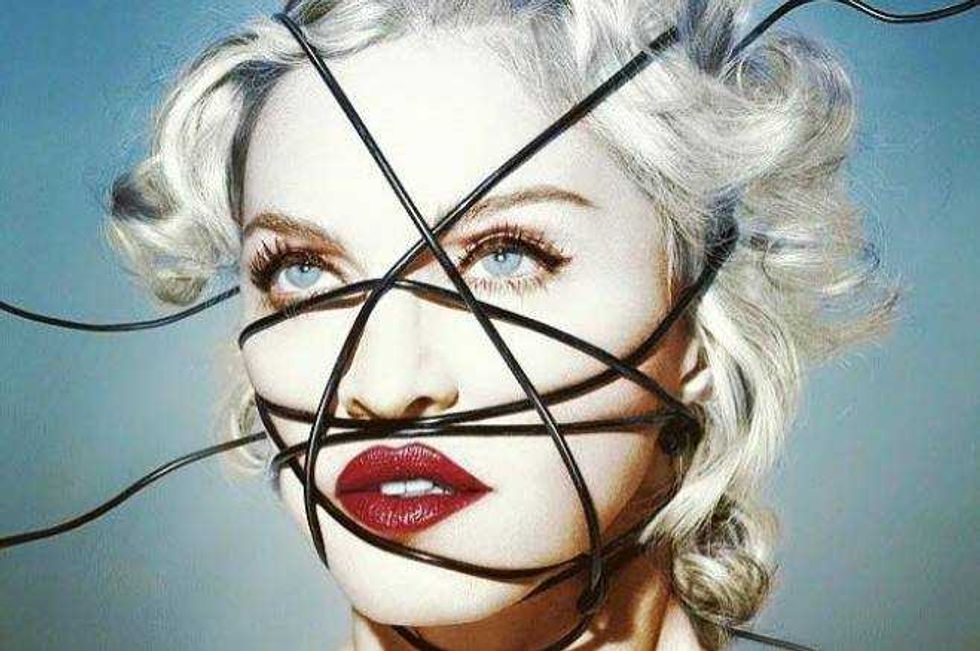 Once again, Madonna finds herself at the center of an unwanted music mess.
Following months of song leaks that eventually landed an Israeli man behind bars, the Material Girl's 13th studio album, Rebel Heart, has managed to find its way online almost a month before its reconfigured March 6 release date.
The singer attempted to step ahead of the unfinished sounds from the disc by releasing six of the completed tracks to iTunes in December, but now all 25 tracks of the "Super Deluxe Edition" are readily available to anyone with an internet connection.
The unplanned release is just the latest defeat in a strong attempt to circumvent the 30-something tracks that began to appear on the internet in late 2014. What started out as a minor issue with two songs popping up in November (Wash All Over Me and the album's title track) eventually became a deluge of incomplete recordings. By the end of December, most of the album's tracks were accessible in some form and the 56-year-old entertainer clearly wasn't happy about it.
"Obviously there is a person, or a group of people behind this that were essentially terrorizing me," she controversially stated to The Guardian. "I don't want to sound alarming, but certainly that's how I felt. It's one thing if someone comes into your house and steals a painting off your wall: that's also a violation, but, your work, as an artist, that's devastating."
Ultimately, the six songs legally released to downloading services, such as iTunes and Amazon, seemed to appease the singer, as well as her fans who steadfastly defended her by not listening to the leaked tracks. Unfortunately, the work that went into the unprecedented move is now all for naught. Where one leak becomes plugged, another will eventually spring forth -- and that's seemingly what's happened here.
The singer is currently preparing for an upcoming performance at next week's GRAMMY Awards, as well as filming the video for the first single from the disc, the Diplo-produced Living For Love.
Sorry about this, Madge. Happy hunting, y'all!
Jonathan Brown is a contributing writer for Popdust. Feel free to follow him on Twitter, Google or Facebook.