Maggie Rose Gains Clarity With 'The Variety Show' Series
Rose is in a very different place these days. She's sharp, confident and creatively reenergized. "I gained some clarity about what it means to create music you really love before you worry about anything else," she shares candidly.
Maggie Rose staked her claim as one of country music's finest rising females in 2013 with the release of her criminally underrated Cut to Impress studio album. But because of barriers faced by women at radio, singles like the gut-punching Better and the gritty story-song Looking Back Now failed to gain enough traction to make a significant dent. She later issued the one-off track Girl in Your Truck Song, which many perceived as her pandering for "bro-country" fans, but "[that song] really represents a time where I was trying to fit, and I was being pulled into so many different directions on what my personal desires were, what commercial viability at country radio was and the whole 'bro-country' debate," she tells Popdust recently.
"I didn't want to get into that shit to talk about which side of the fence I was on and definitely not to throw stones at people who are trying to make it, too. I don't want to talk about if it was derogatory one way or the other," she says. "I'm a bra-burning feminist, but I'm also not someone who is going to knock my peers, who are hard-working and singing about things that are resonating with fans. It's elitism to me. That's not what I'm about."
She continues, "I was glad to get out of that conversation and refocus on me and the music I loved making. I wasn't giving myself an opportunity to make that music until after all that happened."
Over the past several months, ballads have struck a notable chord more than ever with the country listening crowd. Cam's Burning House and Jana Kramer's I Got the Boy, especially, scored big numbers in sales and airplay. Rose considers Better's chart chances in today's radio climate. "There was a point where I used to think about that every day. It would tug at me. I would think 'why did I not just wait it out a little bit?'"
She shrugs it off, though, with new material that is forward-thinking and undeniably her. On The Variety Show, Vol. I (out now), she unapologetically mixes her country roots with more progressive pop. "I needed to make sure [the music] was honest. Getting to put this EP together and reexamine everything I've been writing and how I retain fans but lead them to this new place. That's what this whole project is really about," she says. With songs like Broken and Same Sky, she plays a siren, beckoning her listeners down a compelling pathway to her next musical life.
Rose discusses her musical muse (since we last talked in the thick of the "Salad Gate" debacle), the chances of a full-length album, Dallas Davidson collaboration and genre-less music-making. Dig into the Q&A session below.
As I recall, you had a huge well of songs from which to choose for this project. How did you narrow down to only five?
When I realized that this was going to be one of many EPs, that eliminated a little bit of stress for me. There will be a Vol. II and a full album later. I have never created this much in my life. It's readjusting my mentality about it, and being like 'you are writing every day, not every song is gonna end up being on a project.' I'm also trying to write songs for other artists. I don't want to be confined to one genre. Nashville is not that way at all anymore. I came up with this 'I"m a Nashville artist' idea. I'm not a pop artist. I'm not a country artist. I'm not claiming one genre. That is what helped me not freak out about the song selection process for each project. This first EP is me getting the people who have been following me for a while to dip their toes into the water and see what else is going on with me.
What kind of reaction have you seen from your fans so far?
Honestly, what I've seen is complete support and positivity. I'm not sure if someone changed the filters on my socials so I only see good things [laughs], but it has been really cool to see people rally around the cause and the music. Some people didn't know that when I went dark that I was creating. I was somewhat of an underdog; I mean, I don't want to call myself that. But at the time, maybe the perception was that I could have packed up and gone home, especially with the way some things blew up in my face with country radio. I didn't dry up and blow away. The lyrics are really based around confidence and self-love and discovery. The theme throughout supports where I am right now, too. People seem to be recognizing that, and it feels really good.
In the past several months, several women have broken out in various ways, including Kelsea Ballerini, Cam and Maren Morris. Do you think we are seeing this massive shift into more balance?
Absolutely. I do appreciate that the timing of what I was trying to do in that moment was super unfortunate for me before. I think the country format has turned a corner. There are people emerging who would never really had a shot or had to compromise. Cam's honesty with 'Burning House' (and the fact that it is a ballad) would probably not stood a chance when I was releasing 'Cut to Impress.' But that song is so beautiful. Maren Morris has this sass and edge to her that may have been tempered a little bit. I love that we are diversifying as a format and that there are sub-genres coming out. Even if you are a traditionalist, you have to appreciate the fact that people are spreading their wings. It's exciting, unscripted and it's a good time to be in Nashville. Right now, I'm firmly rooted in a bunch of things going on here that are not just country.
Will you save some of the other songs, like Super Cool and Emotional Vampire, for later projects?
Those songs are wacky. I've been singing 'Super Cool.' My band and I have gone through a bit of an evolution, too, in how we perform these songs. I want there to be consistency from the recordings to the live performance. It just means implementing sounds I didn't get to use before and then be able to strip it way down to just the acoustic sounds of 'Broken' or 'Love Me More.' It's making the show explode in how dynamic it is. That's a great way for me to work out what's on the next EP by playing songs like 'Super Cool' that are sounding like the recordings. It sounds more pop and aggressive. It's a good barometer to have an audience in front of me, even if they are more country-leaning or pop-leaning. A lot of people I am targeting right now and performing in front of are music lovers and listening to everything. I want to make sure everything is just of quality and not necessarily of certain characteristics belonging to one genre, in particular.
Getting to play in New York certainly helps with reaching a wide swath of fans.
You know, I've been watching all these Prince tributes on CNN and listening to NPR about people who have worked with him and his belief on artistry. It's been inspiring. I feel like it corroborates what I'm doing. He loved to blur the lines in everything. He could marry God and sex onstage. He could be pop and country and everything. Stevie Wonder listed every genre and said Prince would be that instead of identifying with a certain sound. His identity was his brand. It's cool to hear that. They talk about some resistance he had when he was a little ahead of the time in pushing the envelope on certain fronts.
People are really smart. I don't need tell my audience what they are about to hear by claiming a genre. People are way more astute than we give them credit for. They connect with what they connect with, regardless of how you label it. Prefacing your music with that is sometimes going to undermine the message. Yes, I understand there are marketability issues and you need to check that box. On iTunes, I gotta claim a genre when I release an album, but country fans are awesome right now. They love Sam Hunt and all these female artists and Chris Stapleton. Country fans are smart. Listenership is so discovery-based. People are devouring what you give them, if you really give them something to latch onto.
It is getting to a point where genre labels are an afterthought.
What I love about country, and I will always preserve these characteristics in my music, is substantive lyrics, storytelling and fully realizing the message of a song. I'm not saying every song needs to be heavy. 'Super Cool,' for example, is just me telling off a guy or a group of people that are 'too cool for school' and calling them out on it. That's not super heavy. It's substantial, but there are those songs that need to be worked out. I really thought about the melody on that song and the production. That was meant to entertain. Some songs are meant to make people feel comfortable or ask questions. Others are meant to make them sad or lustful or think about someone they love. All those feelings don't necessarily need to come together in one song.
One of the standouts on the new EP is Broken, which is a rather emotional moment.
I almost call 'Broken' the reprise of the EP. The project starts full-on hardcore pop with 'Inevitable.' Then, 'Same Sky' has a country-pop feel. Then 'Love Me More' is more R&B-ish. 'Heartbreak Radio' is closer to the kind of sound I made on my last album. We had a live band setting, and then I got to go in and work on the track and add samples here and there. Then, 'Broken' is just bass and fiddle and background vocals. Acoustic. There is so much restraint I had to show on that song. I didn't know if it was going to fit on the EP.
It was like saying hello to an old friend and really going the traditional route. It was about writing a song that's beautiful and finding acceptance in a journey, even if it didn't go in every direction as planned. There's something calming and peaceful about acknowledging those challenges and heartbreaks along the way and knowing you're the better for it. I wrote it with Patrick Davis and Corey Crowder, who are super talented. We've all had our struggles and had gripes with the music industry and how artistry is perceived. The song didn't take that much time to write. It seemed to just pour out of us. I felt that song was a good way to punctuate the EP.
The song certainly leaves a lasting impression on the listener.
There's certainly a feeling of melancholy when you hear it. I want it to stir emotions in a way that is reflective on where you've been and getting to that safe place to land. I'm not saying I fully have yet, but this is the most fun I've had in music and most content I've been with the process. When you hear that song, there is still a glimmer of hope.
'Broken' can mean so many things to so many different people. It's almost like 'Better' from my first album [2013's 'Cut to Impress']. I didn't even write that song. It was one that I found. I do believe a good song is a good song. That song meant one thing to me when I heard it, and then I heard stories from people who had a death in the family or lost a job or were sick or had struggles with depression. Music is potentially the biggest vessel for communication that there is. There is something about a song like 'Better' that makes you feel less alone. You know that the person singing it and the writers and everyone else that is hearing it is drawing back on that point of pain within them. It's good to not be alone and have that song to wallow in and move on. 'Broken' was my attempt to kind of recreate that feeling without over-specifying what the song's about. It's about the feeling. People seem to react to that pretty strongly.
You co-produced the EP. How did you settle on production choices?
I had a few tools at my disposal, with my co-producers on the first two songs. I wrote 'Inevitable' with Jason Walker and co-producer Riley Friesen. I wrote the second song, 'Same Sky,' with Alex Kline. Jason Fiennes [co-producer] played every instrument on that. He's a total badass. I produced the last three songs ['Love Me More,' 'Heartbreak Radio,' 'Broken'] on my own. I was super comfortable with the technique that went into those songs: live band, adding samples and doing vocal arrangements. The hardest part wasn't really the production, but the mixing was. 'How do I get a common thread throughout all these five songs? Yes, it is the Variety Show. But it needs to sound focused and have a vocal ID.' That was really dependent on vocal delivery. I'm not going to have some super twang on 'Broken' and then sing entirely differently on 'Inevitable.' There is inflection and other things you would do differently depending on the mix. It was trying to marry them all together.
I worked with the same engineer on all five songs. There was the same finish on all of it. I wasn't going to abandon the initial game plan, which was to go crazy and do every song justice. Each song deserves what it deserves. After it was all done, I thought 'well, shit, how do I get all these to fit together?' Aaron [Chmielewski ]is such a genius and has such a good ear. He and I had worked together for so long, he knew what vocal effects I really like to use. He got my mic ready to go. He knows my mind so well; he's totally a co-creator of these songs with me. I got lucky.
Have you continued writing the past 10 months?
I probably write four songs a week. I do a lot of co-writing in Nashville. The reason I do that is...I'm addicted to it. I'm of the belief there is always a better song ahead. You can get in your head 'maybe my best song has already been written.' But you have to show up and try to beat it.
What other projects/songs are you excited about?
[Dallas Davidson] had this yearning to do this project that really captured the hip-hop side of him and the Georgia country boy side. He got Mannie Fresh to produce. The song is called 'Laid Back' [listen here] and it corroborates the genre-less music-making. I don't know what that song is, but it's going to be awesome to see where people take it. The power is in the people's hands. It'll be interesting to see how people react to it. We wanted to stir some shit up a little bit. Big Boi talks about police brutality in the song, and there are weed references. Dallas sings about how he grew up on the farm and coming of age. It's all of our characters existing within one song without us bending to be what the others wanted us to be.
We didn't want to release a lot of press around it. We want it to be this cool, organic thing they discover. With Big Boi being such a big name and people knowing who Dallas is and my little following, we can just get these people talking about it. Like I said, the listenership is really smart. People will appreciate the nuances of three of us being on a track together. It blends a lot of things together and reflects a lot of what is going on in Nashville.
When do you expect to release the next EP? Is a full-length coming, too?
I think we are going to try to release an EP every season. I would like to release one late summer or early fall. It may be sooner. The second one will be a little more aggressive in the variety aspect. There will be more pop production and risks. I'm collaborating with a lot of really cool, interesting people in town who are teaching me a lot. I feel like I'm stretching so much. I'm considering these two EPs as stepping stones. While the second EP is more aggressive, there is, ultimately, a place I want to take people to on a full-length album. I've already started working on that. The new stuff is more dynamic. I'm trying not to make any rash decisions, even though I'm fast-tracking the release of a lot of music.
Grab a copy of Maggie Rose's The Variety Show, Vol. I now on iTunes.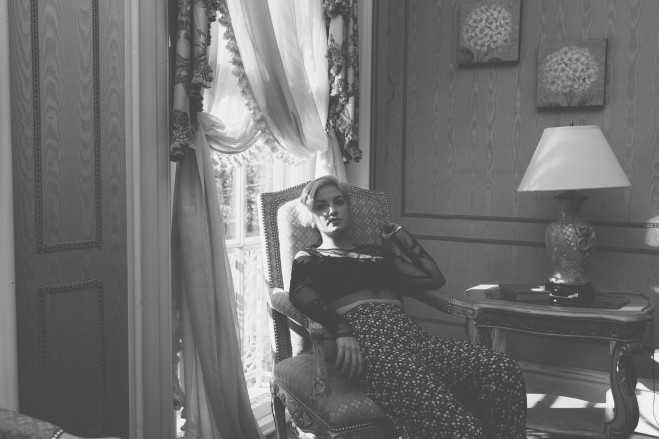 [PHOTO CREDIT: Rob Norris]
Stay tuned for Maggie Rose updates. Be sure to follow @Popdust and @JasonTheScott on Twitter!