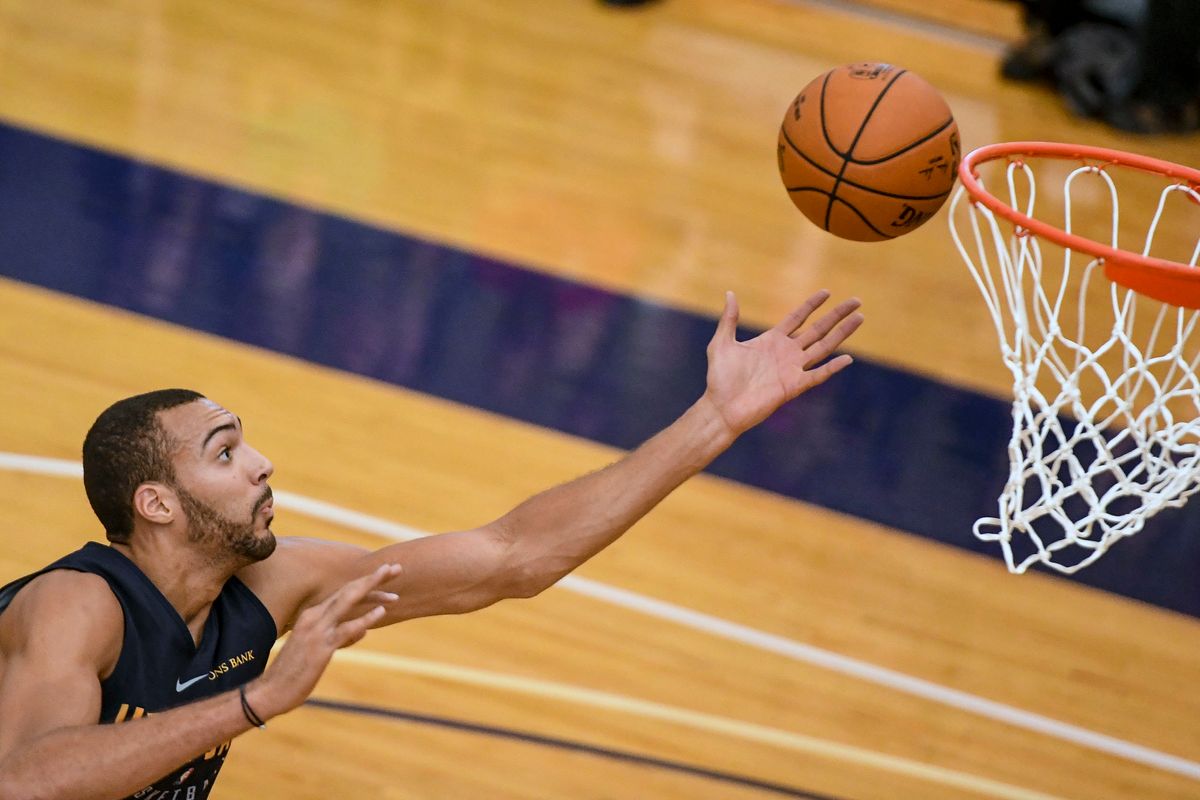 Photo by Paul Holcomb
Update:
The NCAA has canceled March Madness. Mark Emmert has wisely canceled 2020 basketball tournaments with the following statement:
"Today, NCAA President Mark Emmert and the Board of Governors canceled the Division I men's and women's 2020 basketball tournaments, as well as all remaining winter and spring NCAA championships. This decision is based on the evolving COVID-19 public health threat, our ability to ensure the events do not contribute to spread of the pandemic, and the impracticality of hosting such events at any time during this academic year given ongoing decisions by other entities."
COVID-19 disease, better known as the coronavirus, has now affected three high profile athletes in the past two days.
Yesterday Daniele Rugani, who plays for the Italian soccer club Juventus, became the first confirmed case of coronavirus among professional athletes. Later that day, NBA player Rudy Gobert of the Utah Jazz became the second confirmed case. This morning Gobert's teammate Donovan Mitchell also tested positive for coronavirus. Sources from within the Jazz organization had stated that Gobert acted inappropriately in the locker room by handling others' personal property and invading people's personal space. Gobert had even joked about the coronavirus prior to testing positive.
Jazz star Donovan Mitchell has tested positive for the coronavirus, league sources tell ESPN. Jazz players privatel… https://t.co/8O3FpQUhvD

— Adrian Wojnarowski (@Adrian Wojnarowski) 1584024540.0
NBA Commissioner, Adam Silver, was quick to act after learning of Gobert's positive test last night, making the decision to suspend all league play indefinitely following the conclusion of Wednesday night's schedule.

Prior to any players being diagnosed with the coronavirus, Silver and teams had considered other precautions amid the health scare, such as playing games to empty arenas. The Golden State Warriors had already announced that it would do so, but now, with the league suspended, we won't see what that would've looked or felt like as a viewer. The NCAA March Madness Tournament had previously decided to play in front of empty seats and still play games; however, all five of the major NCAA conferences (the Big Ten, SEC, PAC-12, Big 12, and ACC) have canceled their individual tournaments after the World Health Organization classified the coronavirus as a global pandemic.
Now, it would be surprising, if not inappropriate, for NCAA president, Mark Emmert, to move ahead with the March Madness tournament, as it would present a huge risk to the student athletes involved to contract the coronavirus. This will be a difficult decision for Emmert to make as the March Madness Tournament brings in revenue of around $1 billion and represents around 75% of the NCAA's annual revenue as a whole. Thus, without the tournament being played, there may be a trickle down effect to collegiate athletics as a whole as a result. The NCAA's revenue is a shared operating budget that funds all athletic programs across the country, and if the Men's Basketball tournament isn't able to earn close to what's projected, smaller programs are likely to take the hit, from water polo to bowling, before football and basketball funding gets cut.
Mark Cuban, Dallas Mavericks owner and Shark Tank star, was recorded at his team's game last night receiving the news about the decision to suspend the NBA season. His candid reaction likely mirrored most of our own, and the shock on players' faces as they learned the news mid-game was reiterated on social media by some of its biggest stars.
"This is crazy. This can't be true. ... It seemed more like out of a movie than reality." —Mark Cuban explains his… https://t.co/WdZMe3CAJd

— SportsCenter (@SportsCenter) 1583978697.0
Man we cancelling sporting events, school, office work, etc etc. What we really need to cancel is 2020! 🤦🏾‍♂️. Damn… https://t.co/mkLhsgQqUU

— LeBron James (@LeBron James) 1583990679.0
2020 aint it. Don't know what to compare this situation to…just gotta buckle up and take care of yourself and those… https://t.co/4MeeCmsNtD

— Stephen Curry (@Stephen Curry) 1583996071.0
In reality, Silver and the NBA made the right decision to suspend play and avoid facilitating environments where the coronavirus can be spread. Major events such as Coachella and SXSW have been canceled or postponed due to the coronavirus, as any large congregation of people can cause the disease to spread rapidly. The fact that the disease is dangerous and potentially deadly to small children and the elderly means that anyone who becomes a carrier is a danger to others. While I am an avid sports fan, especially of basketball, and was looking forward to the start of the NBA playoffs and March Madness tournament, I'm encouraged that the NBA has taken the necessary steps to do its part in attempting to limit the spread of coronavirus and do their part as an influential global ambassador.

With the start of the Major League Baseball season, NFL training camps, and the 2020 Tokyo Olympics all right around the corner, the NBA has set a high standard to how sports leagues and organizations can be proactive in protecting their players, coaches, and fans. Adam Silver has done his due diligence, collecting the significant information, having contingency plans in place, and acting swiftly and definitively before making a difficult decision to protect people first, rather than worrying about lost revenue.
From Your Site Articles
Related Articles Around the Web