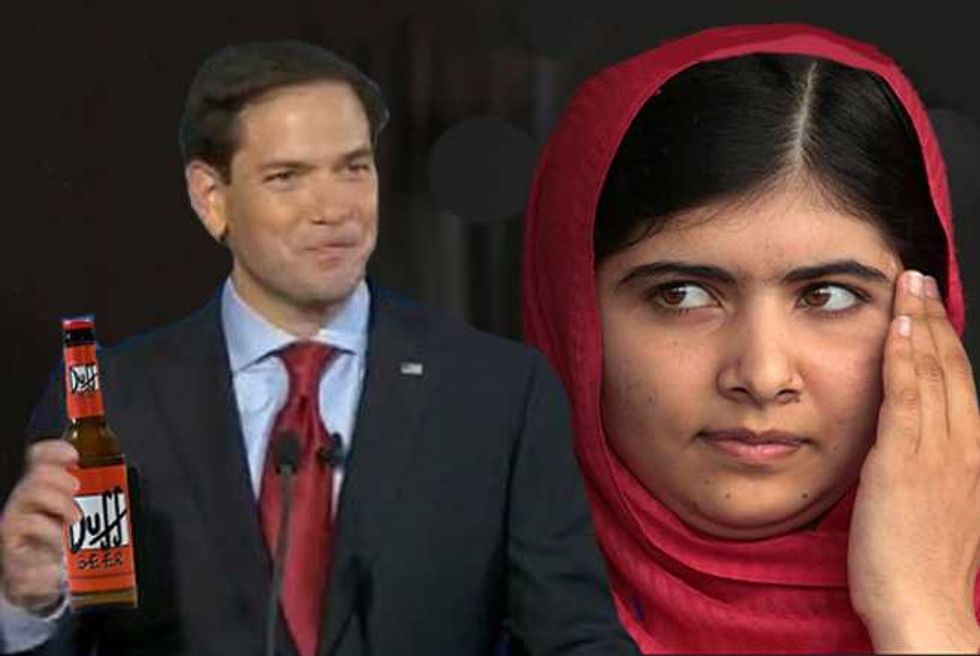 Ah, Marco Rubio!
The Junior United States Senator is just the gift that keeps on giving….. like Herpes, but even harder to shake off.
Rubio truly earned his Florida stripes and showcased his ignorance, all in one go, during a Q & A session for "young professionals" at St. Anselm College in New Hampshire—Popdust has all the glorious details.
Drunk Old Guy Mistakes Mindy Kaling For Malala Yousafzai
The 44-year-old went all Palin-esque on us today, after being asked "Who would you like to have a beer with who is not a politician?"
After pausing for just a beat, to adequately the ponder the question at hand, Rubio had no hesitation when it came to his choice of the perfect drinking buddy.
A teenage Muslim girl, of course!
"Malala Yousafzai," Rubio replied.
You couldn't make this shit up.
This Ben Carson Rap Ad Is Some Of The Craziest Shit You'll Ever Hear
Who better to booze it up with than someone who is legally not able, and let's not forget, religiously adverse, to imbibing alcohol?
Not to mention, what the fuck does he think they would talk about?!!
Malala is an amazing inspiration to us all, she urges everyone to be accepting of others, to love thy neighbor, she deplores violence and oppression, hates bigotry and misogyny, is an outspoken advocate for women's rights, espouses the importance of education for all, she has courage and backbone, moral fortitude and a never ending supply of love, empathy and compassion, she stands up for what she believes in and truly walks the walk—fuck, this kid had acid thrown in her face by the Taliban for speaking out against them…. she was awarded the freakin' Nobel Peace Prize!!!!
Wiz Khalifa Has Been Enshrined in the Congressional Record as a "Modern-Day Poet"
Marco? Not so much.
Rubio is a tea party wet dream, a mouthpiece for comprehensive immigration reform and kicking out illegal immigrants, despite both of his Cuban-born parents being illegal immigrants themselves in the U.S. at the time of his birth, he's vehemently pro-death penalty, he's all about increasing the military and bombing, bombing, bombing, very pro-war and anti-diplomacy, he wants to muscle in and get all up in the grill of Iran, Russia and North Korea, he's anti-gay marriage, he's anti-women's right to choose—even in cases of rape and incest, he's pro guns, he's anti-Obama care and wants to de-fund Medicare, he voted AGAINST re-authorizing the Violence Against Women Act!!!!
What we wouldn't give to be a fly on the wall during that drinking session.
For more entertainment, world, music and pop culture updates and news, follow Max Page on Twitter