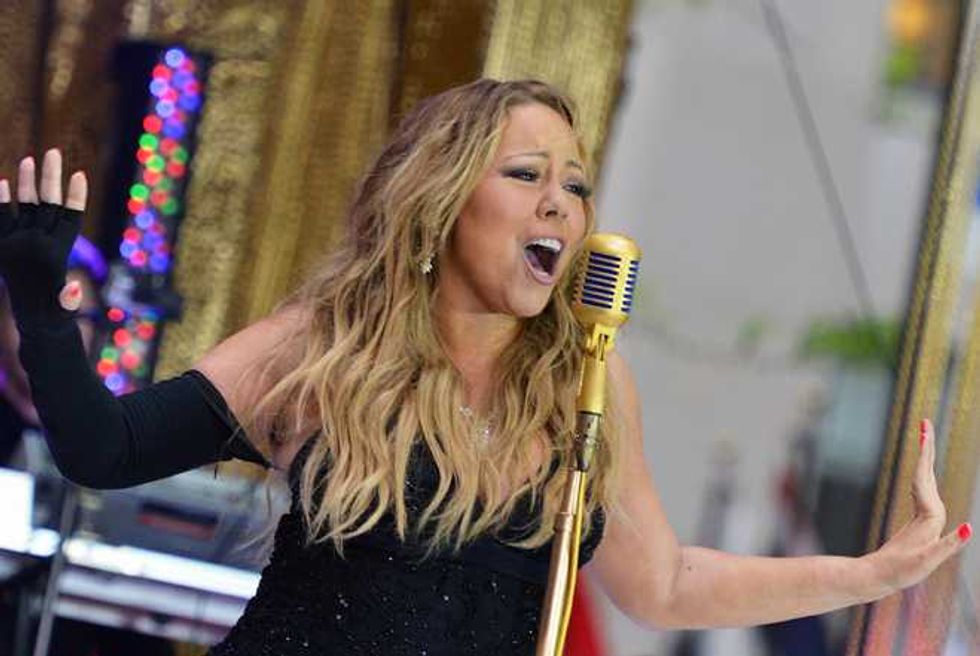 Every female pop singer owes, in part, their success to the work of Mariah Carey. It's not an opinion: it's fact. When the Queen of Modern Pop first hit the scene in the early '90s, she set the bar high for every wannabe-diva that came after. During Carey's appearance on The Today Show's Summer Concert Series on Friday (May 16), the curvy singer debuted a brand new song called "You Don't Know What To Do" (featuring Wale), co-written by Carey, Jermaine Dupri, Bryan Michael Cox, Wale, Patrick Adams and Terri Gonzalez.
The consummate diva also performed two of her most well-known hits, "Touch My Body" and "Always Be My Baby," during which she messed up the words."Messing up the words of my own song," Carey giggled, in place of the real words, "and I don't care."
No harm, no foul, Miss Elusive Chanteuse!
Carey's forthcoming album, Me. I Am Mariah... The Elusive Chanteuse, arrives May 27. Earlier this week, the Queen also debuted a bumpin' "Thirsty" track, a collaboration with Atlanta rapper Homie Quan. These smooth, jazz-infused tracks certainly have us all here at Popdust itching for the full album. How about you, Lambs?
Preorder your copy on iTunes now!
Thank you for having fun with me today! Thank you Wale! "You Don't Know What To Do" is on… http://t.co/IS9MHuI7CW

— Me. I Am Mariah (@MariahCarey) May 16, 2014
Check it out:
Visit NBCNews.com for breaking news, world news, and news about the economy
For more Mariah Carey updates, stay tuned to Popdust.com and follow @Popdust on Twitter!
For all things entertainment, feel free to follow JasonTheScott.