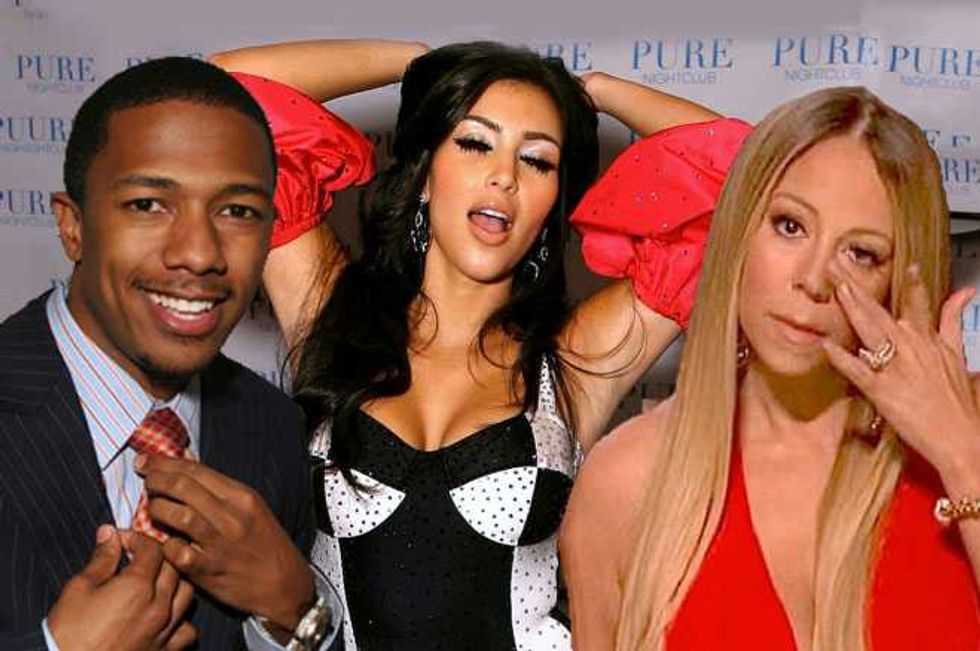 UPDATE: Nick Cannon just confirmed the split: "There is trouble in paradise," he told The Insider With Yahoo on Thursday. "We have been living in separate houses for a few months. My main focus is my kids."
Mariah Carey and Nick Cannon are (allegedly) getting divorced - and it looks like Kim Kardashian is to blame!
TMZ are reporting the couple quietly split in May and have been living apart for months, with attorneys putting together a property and custody agreement over their twins Moroccan and Monroe (aka DemBabies).
While there has been tension between Mariah and Nick over how much time he spends working away from their family, the straw that broke the camel's back was Nick's public admission he once slept with Kim.
The rapper and TV host appeared on Big Boy's radio show in March and played his 'name the 5 celebs you've slept with' game. one of them was America's favorite sex tape star, and Mariah apparently went ballistic about it, feeling completely humiliated (and who can blame her?).
Nick then made matters far, far worse when he told Howard Stern Mariah refused to sleep with him before their marriage, a little detail she did not appreciate him sharing. Nick is said to be sick and tired of her controlling ways and army of yes men, and says he made $75 million since 2011.
On a side note: are there any rappers left who Kim has NOT slept with? Seriously, now.