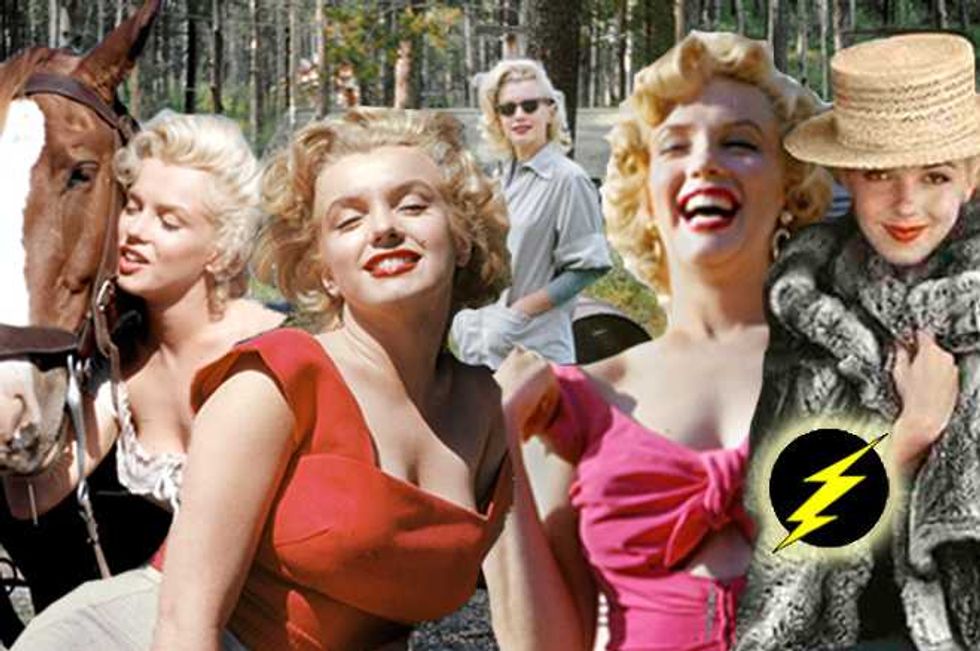 It's been 52 years since Marilyn Monroe died—August 5 1962, age 32, from a barbiturate overdose—but her light shines brighter than ever in a collection of never-before-seen pics.
From posing with baby black bears with barely any makeup, to balancing on crutches on a mountain side, the captivating 'lost photos' show a fresh side of the rising Hollywood star in her beautiful prime.
Titled MARILYN: The Lost Photographs of a Hollywood Star, the fine quality pics, collated by vintage art company Limited Runs,  were all previously unavailable or unpublished images of Norma Jean, dating from the dawning of her career in 1952 to its twilight, just eight years later.
Popdust spoke with the founder of Limited Runs, Pierre Vudrag, who revealed how the company launched the exhibit that has captured the hearts of both art lovers and lifelong Marilyn fans across the country.
"About three years ago, we heard about a number of unpublished photos taken by her makeup artist that were going up for auction along with the negatives and the copyrights," Vudrag told Popdust.
After acquiring about 60 photos from Marilyn's makeup artist Allan "Whitey" Snyder, Limited Runs gathered over 100 photos from five different photographers, many of which had been sitting in boxes or drawers for half a century.
"Photographer Milton Green had taken some of the most iconic photos of Marilyn and did about 75 sessions of her so he had literally 150,000 photos," Vudrag explained. "Many were published and the rest just got put away and forgotten."
While at the time the studios were trying to promote the image of the screen icon as both sexy and sophisticated, collectors now are more enamored by her as vulnerable and unblemished, as seen in the candid shots.
"I grew up with the image of Marilyn, watching her movies and always seeing her around," Vudrag went on to reveal. "That interest has never gone away even over 50 years.
"Having acquired the photos and preparing the collection, I have a new appreciation for her beyond what I thought I knew by being a fan. I connect with her as a person — she wasn't just a mediocre actress and a blonde bombshell."
The earliest images show Monroe when her career was beginning to take off, whilst she was making Niagara, which is the first film she had a starring role in."This was six years after coming to Hollywood, and everything she was working for was coming together," Vudrig explained.
"The last set was captured in 1960 and she was established and working in a serious role on The Misfits, which is one of her last films and starred Clark Gable and Montgomery Clift, who were then at the top of their game."
Reno, Nevada-based cinematographer Thomas "Doc" Kaminski was hired by United Artists to document the making of the movie and shot Marilyn natural and relaxed on the set, often kicking back and sitting in the dust between takes or going over lines with Clift.
"We get to see the arc of her life," said the collector. "Even in one of the last photos, she is sitting on the ground on the set and you see the same light as in 1952. It dispels the myth that her life was falling apart, as she still has that same vivacious smile."
Another fabulous photo, from 1953, documents the moment the actress came across a pair of playful black bears one morning and Snyder snapped her still fresh-faced on her way to get her hair and makeup done.
"He told her to pose by the bears and she is just wearing her normal clothes. She never let people shoot her without makeup but she trusted him and never thought anyone would see the photos."
How wrong she was …
The Lost Photographs Collection has been exhibited by Limited Runs in Hollywood, San Francisco and New York, and it will next be seen in Houston, Texas, and in Palm Springs for the annual Modernism week in February 2015.
Images are available to buy at LimitedRuns and range in price from $200-$8,000.
Click here to see the full collection.