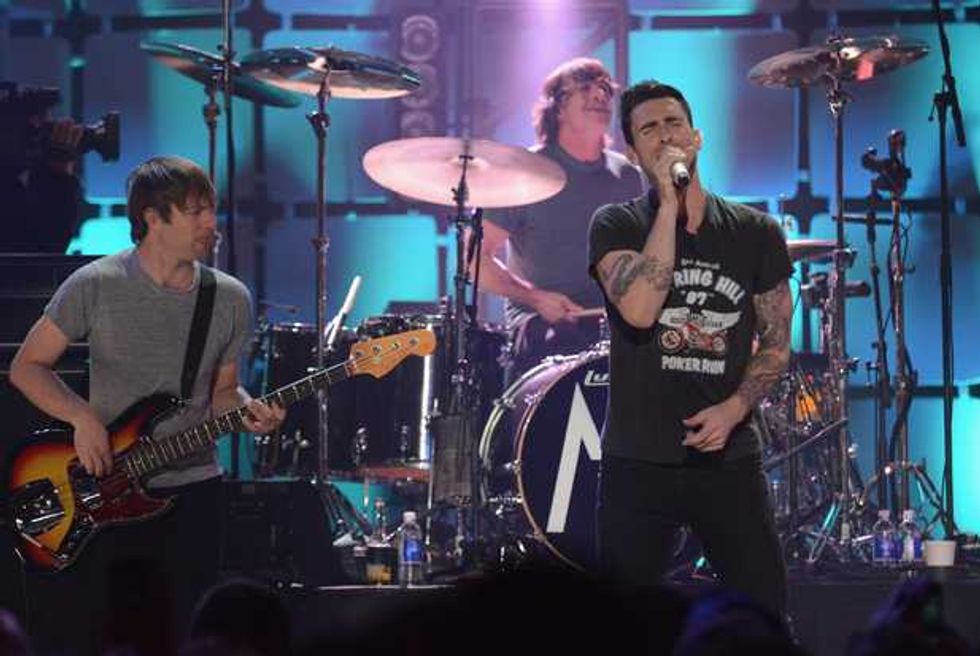 The story of "Moves Like Jagger," as told by the lyrics of "Moves Like Jagger": You wanted disco, so they made it, and they put on a Mick-alike show and Adam Levine got naked. The song was a hit, at least someone must've said that their egos got big, but they didn't give a shit (as one wouldn't when one has the No. 1 song in the country.) And the inevitable follow-up album goes like this: out in the summer (June 26), complete with on-the-nose title Overexposed.
Does all this sound like Maroon 5's pop move? Of course it does. Here's Adam Levine himself:
Moves Like Jagger' was the first time we ever worked with an outside writer, so we decided to try it some more on this record. ... We wanted to make something that sounded contemporary with the elements of a lot of early eras of pop music. This is our most 'pop' record ever and we weren't shy about really going for it.
Early eras? Got it. We'll be looking forward to all those Tin Pan Alley jams and folk reinterpretations. What we're almost certainly going to get, though, is reinterpretations of songs from these folks...
- Max Martin executive producing. Ryan Tedder and Benny Blanco also producing. In case these names still don't mean much to you, Max produces every other pop song, Ryan
produces every other pop ballad and/or crunchy song, and Benny Blanco produced "Moves Like Jagger." This is the least surprising thing ever--"Moves Like Jagger," partly thanks to its The Voice push, was the band's biggest hit in a while by far--and whether it's either fantastic or dismal news depends entirely on whether you glower at the radio/speakers/sound system when they play that song.
- There's a track called "Payphone" with Wiz Khalifa. So maybe the early eras of pop are actually the eras when people used pay phones.
- Finally, we should probably note that Adam Levine and Maroon 5 posed for a Terry Richardson photo shoot. Now that you've clicked it, surprise! Maroon 5 is a band with all guys! Nobody is exposed, not even Adam Levine! Why did we mention that? Because at least a third of you clicked that link in hopes that it would be like this link. It's fun to toy with your shameful crushes, and we fully intend to continue.