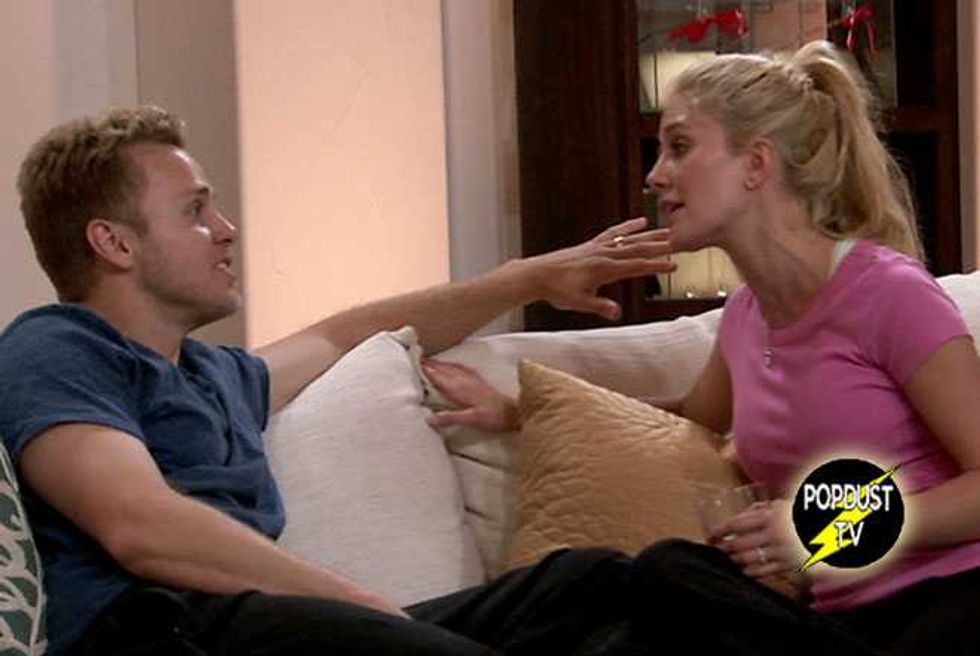 Are you ready for you weekly recap of the trainwreck that is Marriage Boot Camp: Reality Stars? Well buckle up because this train is choo-chooing all the way to Crazytown!
This week, the couples' objective is to try to break down the barriers that they have in the bedroom. Their first drill is to play a harmless game of spin the bottle. When the bottle lands on a person, they have to draw a card and truthfully answer the question on it. Most of the couples are honest with their answers, until the bottle gets to Reid and Aviva Drescher. Reid's question is 'What do you want more of in bed?' Bj's? Anal? Nope, Reid wants more cuddles. Cue mass ridicule. Seriously, Reid? Every other person in that circle is being honest and vulnerable, and you come at us with cuddles? You're full of shit.
As if that wasn't bad enough, Aviva gets the question 'What's your pet name for your partner in bed?' You would've thought the damn card asked her to blow her husband right there in front of everybody! After a good five minutes of pearl clutching, she finally answers the question. Are you ready for this? Monster…she calls Reid monster in bed. You, Aviva, are also full of shit. The only thing monstrous about Reid is his hairy ass chest. Period.
For the next drill, the couples are asked to make a sex tape…with puppets. #BonerKiller. The object of the drill is to get them to act out how their sex life actually is versus how they would like it to be.
Natalie Nunn and Jacob use the puppets to talk about the fact that Jacob is a 24 year old horndog who wants to bang all day, everyday.
Heidi Montag and Spencer Pratt, however, have the opposite problem. Apparently Heidi is the one who is always trying to initiate sex but Spencer rarely wants to. He says he's always being chased so therefore he never has to reciprocate the initiation. He's also deathly afraid of getting Heidi pregnant, so there's that.
Aviva and Reid are next, and their discomfort with the whole situation is so freaking satisfying as a viewer. Aviva wants no part of the puppet sex because she doesn't want her children to watch it on TV. Are you kidding me lady? You're a REALITY STAR. Oh, so it's okay for your kids to watch you chuck your fake leg at another woman's face? She just doesn't think that any of this is "for public consumption." Well then honey, you need a new career path.
After the therapists evaluate all the couples' progress, they ask Heidi and Spencer to stay after class. Here, Spencer comes clean about his utter disgust at the current state of their lives and careers.
"We were operating at such a euphoric high of life and it just crashed so hard," he said. "I invested most of our money in room service and high end hotels and clothes and bodyguards. I don't want to be a reality star but now I've been doing this so long I don't know what career I want to do."
Heidi is just as miserable. "It's hard to forgive yourself," she cries. "I thought I was to be the biggest pop star ever. Now, it's like I just don't feel like I have a purpose."
Well one thing's for damn sure. A baby is not going to fix your problems. Also, pop star?!? HA!
What did you think of this week's Marriage Boot Camp: Reality Stars? Sound off in the comments below!