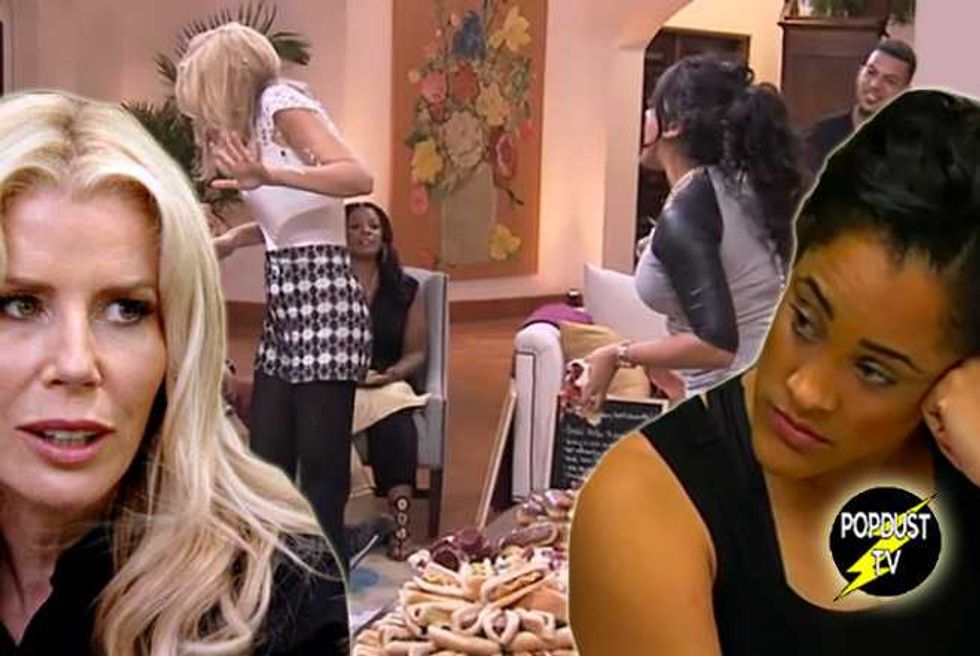 Marriage Boot Camp: Reality Stars may be winding down, but things in that crazy house are just heating up.
Aviva Drescher and her husband Reid have been getting on everyone's nerves pretty much since the beginning, but things escalated this weeks when yet again Aviva and Reid only half-ass participated with the group.
It just so happens that this particular drill included food…lots and lots of food. And the only natural thing for Natalie Nunn to do to vent her frustrations with Aviva is to start a food fight!
Hotdogs and cupcakes started flying between the two women, but in the end absolutely nothing got resolved.
"If you guys can't participate, we will all gladly help you pack you bags and leave," Natalie said.
Even the counselor Liz agreed that Aviva and Reid were being bullshit participants.
"As long as Aviva and Reid skirt the rules of our exercises, they wont only hurt their own development," she said. "They'll also be a distraction to the other couples."
Aviva of course took zero blame and had the nerve to accuse Natalie of hitting her.
"I tried in good fun actually to get them back on her, and at one point she came and actually her fist hit my face," Aviva said. "I mean that's assault. We're dealing with people here who are at best barbaric."
Shocking how in a room full of about 14 people, NO ONE saw this alleged assault. Later, Natalie went to sort things out with Aviva. When she heard that Aviva thought she hit her, Natalie actually apologized that Aviva felt afraid. This sent the entire group into a tailspin because literally no one saw Natalie hit Aviva and they were pissed that Natalie apologized to that nutcase.
For once, it was Tyson Apostol who had some words of wisdom.
"Aviva is just here to get a little bit more famous and Reid is here to support her getting a little more famous," he said.
But Tyson was in hot water later when in the final drill, the couples had to choose between two doors – the Selfless door or the Selfish door. Rachel Foulger (rightfully) chose the selfish door marked marriage because after 6 years of being pulled along on a string by Tyson, she deserves a real commitment. Tyson did what he does best…he chose the selfish door of Rachel with no marriage. Of course they choose opposite doors because they suck as a couple!
"You're still choosing Tyson's way," Rachel cried. "You just don't get it. We're not on the same path and I'm losing hope."
Tyson responds with, "I would prefer that you be maximum happy, even if it's not with me."
Aww, how romantic. Can we just stick a fork in them already?!?
What did you think of Marriage Boot Camp: Reality Stars? Sound off in the comments below!