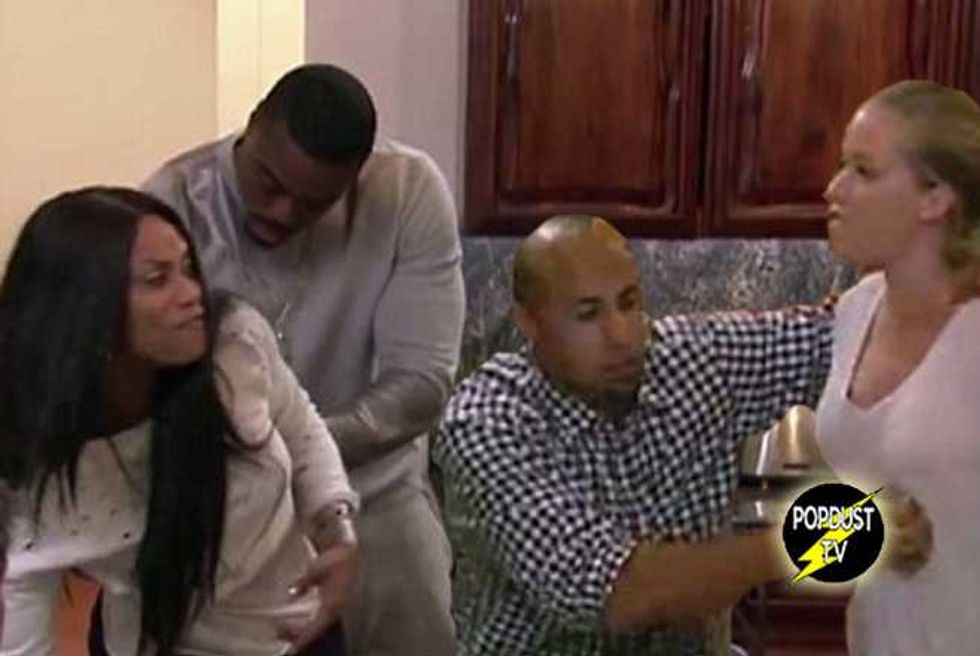 This week, Marriage Boot Camp: Reality Stars once again began with our resident train wreck couple, Kendra Wilkinson and Hank Baskett.
Hank had finally admitted to Jim Carroll exactly what happened with the whole cheating scandal, but naturally it was all said behind closed doors and we, along with Kendra, were left in the dark. This shit is getting old, Hank!
"The truth will set y'all free," Elizabeth Carroll told them. "And I want to make sure that you, Kendra, have heard every dirty detail that has been out there in the public. Hank, I want to hold you accountable."
Hank revealed that the main reason he's afraid to tell Kendra what happened, leading us to believe that something potentially marriage ending did in fact happen.
"The hardest thing about telling you the full truth is that I honestly feel like you're going to leave me," he admitted.
Kendra wanted to know the truth from Hank but she also expressed concern about wanting to protect him from the outside world and protect any legal action that they are going to take regarding the alleged affair. Hank said he needed to get answers from his lawyer before he told the world the truth about what happened. How convenient. Somebody hit the snooze button.
The first exercise that the couples had was to appear before the Divorce Court judge herself, Judge Lynn Toler. Be afraid, be very afraid.
All the couples discussed their same old problems, and it wasn't until Aubrey O'Day and her boyfriend Travis stepped forward that things got interesting.
Travis went on and on about how flirty and slutty Aubrey can be, and Judge Toler had had enough. She called Travis out on his constant criticism of his girlfriend and finally Aubrey came right out and said that she doesn't think Travis is the right person for her.
"She's hurt and she's vulnerable," Judge Toler said. "The person that you love shouldn't be the one person in your life that you make feel horrible. Be a better person!"
Later when some of the couples were sitting at the table eating, Tami Roman thought is was time to call Kendra and Hank out on their lack of sharing.
"Kendra, the story is out. The information is out," Tami said. "There's no need to be sensitive, it's just a desire to get the information. The question is was there transgender involvement? Because you know I would be okay with that, honey."
"Excuse me, be very careful what the fuck you say to him right now! Stop fucking judging him!" Kendra yelled.
"I would advise that you rethink that because I'm not that bitch that you do that to!" Tami replied.
Uh oh.
Kendra's feisty, but Tami would take her down hard if it came to hand to hand combat!
At that point, Hank and Reggie had to physically separate the two women so round one was a draw.
Booo!
What do you think about this season of Marriage Boot Camp: Reality Stars so far? Sound off in comments and check back in with Popdust every Friday to get your weekly fix.