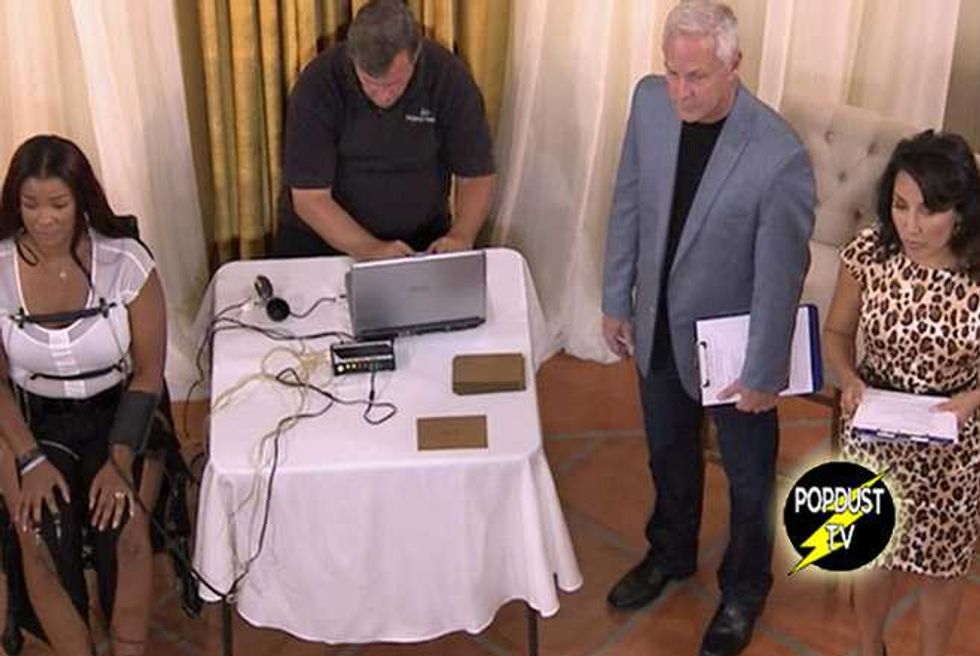 On this week's episode of Marriage Boot Camp: Reality Stars, everyone gets hooked up to a lie detector and asked questions not only about themselves and their relationships, but about other couples in the group. Yikes.
Everyone is extremely honest on the lie detector tests, even admitting their own faults and f*ck ups. Everyone, that is, except Aviva and Reid. The two of them literally are deceptive on every single question, which shocks no one.
When asked if she came to boot camp to work on her marriage, Aviva lies and said yes. Of course you didn't come to boot camp to work on your marriage! You came for an extra 15 minutes of fame. You don't even like your husband!
After the lie detector exercise, the couples were told that the have a hall pass for their last night in the house to reflect on their relationships and make their final decision of whether or not they still want to be with their significant others.
The guys and girls split up and go in different party buses to different clubs. The guys are actually having fun and being really good. That is until Reid's bright idea to invite a bunch of girls over do dance with them at the club. All the other guys are like WTF dude? Then he gets drunk and starts in with the LAMEST game you've ever heard in your life. He's even offering $60 to some random girl to give Tyson a blowjob and he thinks he's hilarious. No one's amused.
The girls are having a great time, especially Heidi who is dancing her surgically enhanced ass off at that club.
"Heidi has been lying to us," Syleena said. "Apparently she used to be a stripper."
Guys are hitting on Rachel left and right and Heidi is drunk dancing like a slore, yet tells every guys who comes over to watch to f*ck off! On the party bus ride home, Heidi and Aviva get into a screaming match that leaves Heidi crying in a corner. Aviva of course plays the victim, which makes everybody hate her even more.
When they get back to the house and meet back up with the guys, everyone gets filled in on what happened with their significant others. Rachel is pissed when she finds out that Reid tried to buy Tyson a blowjob. As the night winds down, Reid and Aviva are on everyone shit list and everyone goes to bed knowing that they all have to make a huge decision the next day.
Who's brilliant idea was this drunken hall pass?? Oh yeah, these quack TV counselors.
What did you think of Marriage Boot Camp: Reality Stars? Sound off in the comments below!