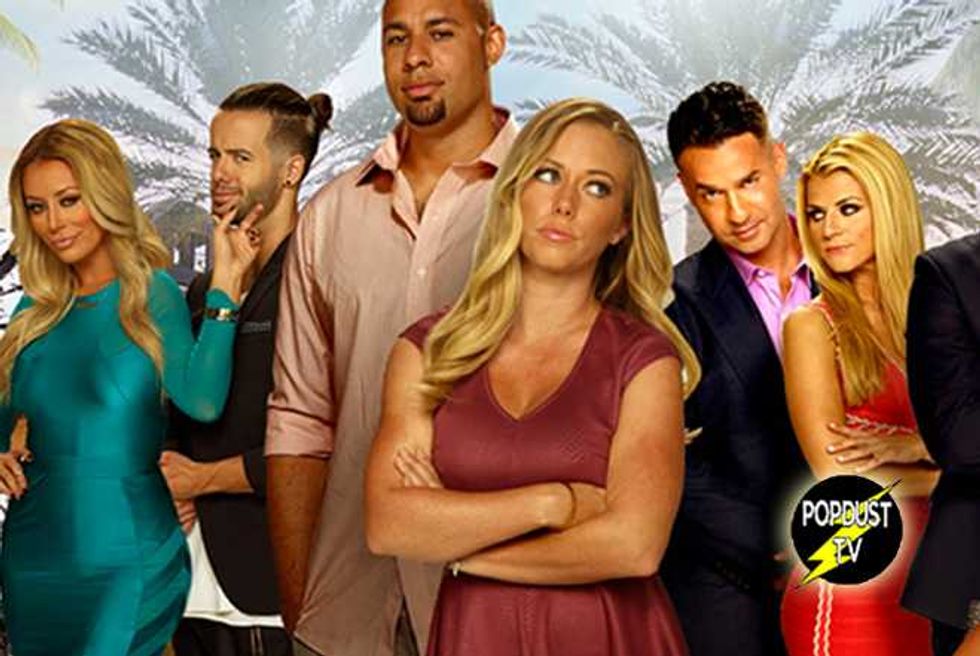 Marriage Boot Camp: Reality Stars is back! And this season is arguably the most insane season yet because Kendra Wilkinson and Hank Baskett are airing their dirty laundry (and we do mean DIRTY) out for all to see...again. And we, along with Kendra, are all waiting to hear from Hank's mouth exactly what happened between him and the transexual model that he allegedly had an affair with.
But before we get to Kendra and Hank, let's take a look at the other minions of this season...which is basically everyone else because really, who cares?
First we have Mike "The Situation" Sorrentino of Jersey Shore fame and his girlfriend Lauren. They used to date in college and now they're back together. Their problem is basically Mika and his addiction problems, along with the fact that he's facing some pretty serious jail time for something that they'd rather not speak about. *Cough* Tax evasion.
Next is Tami and Reggie. Tami was on Basketball Wives and is apparently cray cray, but she's also a big ol' cougar because she's at bootcamp with her boytoy who is 17 years her junior. Their problem is that she's already done the marriage and the kid thing with another dude and she think she's too old to do it all over again.
Then there's Aubrey O'day and her boyfriend Travis. Their major problem is Aubrey and her selfish ways, but she also argues that Travis is jealous and possessive.
"He's jealous and he creates conflict hour after hour," Aubrey said.
"It's not attractive when a woman tells you she's going to fuck someone else," he shot back. Touché.
Lastly there's Jordan and Jeff who met on Big Brother and are now engaged. They're pretty damn near perfect and it's kind of dumb that they're on this show, but hopefully there will be some deep seated issues that spring up for our entertainment.
Ok, back to Kendra and Hank. So the first exercise that the couples were faced with was a mock wedding. This was especially interesting considering only one of the five couples is married. When each couple went up to the altar in front of therapists Jim and Elizabeth Carroll, someone in the crowd objected to the marriage essentially giving them a dose of reality. For some people it was a friend, for others it was a concerned fan, but for Kendra and Hank it was Kendra's mom Patti! What a lunatic this woman is!
Kendra was shocked to see her mother standing there ready to give her objections and she immediately grabbed Hank's hands to show that they were putting up a united from against crazy Patti.
"She has written me off my whole life,"Kendra said. "I can't catch my breath. I feel like I'm about to have a panic attack. It's the same feeling as if you were being approached by a shark. A great white shark."
And Patti smelled blood.
"I get the impression that you hate me," Patti said condescendingly.
"She's said it from the start. She said the day she lost her daughter was the day he proposed to me," Kendra yelled. "You sell us out to the tabloids! The devil has eaten yout soul!!!"
"Awwwww, poor Kendra," Patti replied.
WHAT the actual fuck is going on here? Is this real life? All the other couples were witnessing all this go down with their jaws literally on the floor. Eventually Jim and Elizabeth separated Kendra, Hank, and her mother and the other couples all gathered to talk about the shit storm that just took place.
We are in for quite the season, and you don't want to miss any of it. So check back with Popdust every Friday night for a recap of the drama!
Stand By UK! Aubrey O'Day Rumored For Celebrity Big Brother Appearance