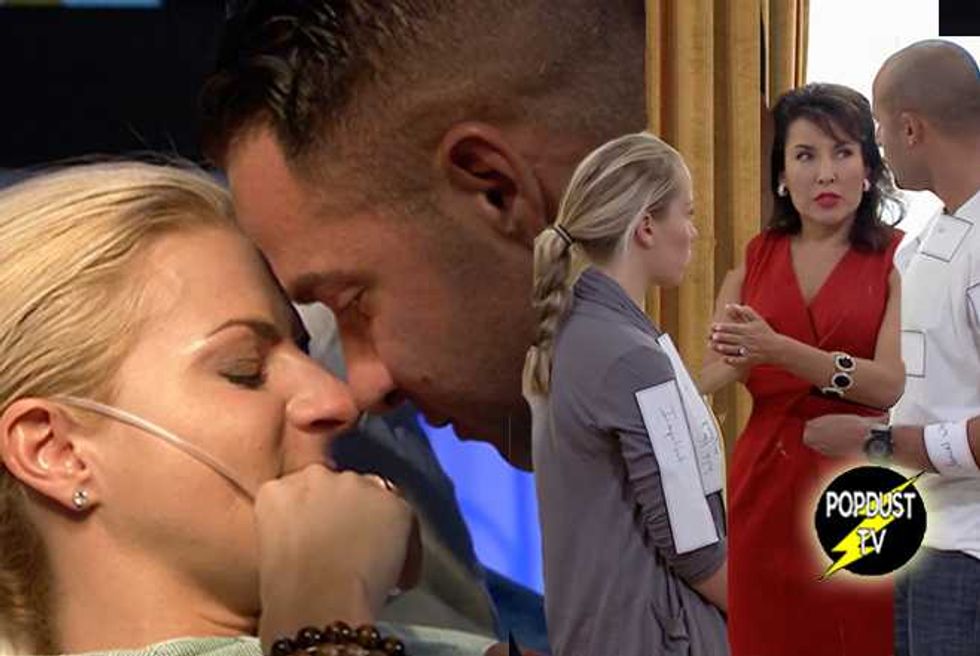 This week on Marriage Boot Camp: Reality Stars, the couples started off with the most perfect exercise in the world for them, called "It's not me, it's you."
This is going to be so fucking good.
Not surprisingly, Aubrey O'Day and her boyfriend Travis both find this drill hilariously appropriate for them.
"Me an' Aubrey got this," Travis said. "I could sit here all day and point out flaws about my girl and she could sit here all day and point out flaws about me." #RelationshipGoals
It didn't take long for them to rip into each other over what they hate about one another, basically boiling down to the fact that Aubrey is a crazy lunatic who doesn't respect Travis in the least.
Up next is our favorite dysfunctional couple Hank Baskett and Kendra Wilkinson. They both come up with bullshit issues like Hank wanting to be too perfect and Kendra not accepting love. Umm, these are not the issues we're tuning in to hear about you guys!
Even therapists Jim and Elizabeth are annoyed with their reluctance to open up about the cheating scandal and begin to devise a plan of attack.
After the first exercise Travis and Aubrey were both still revved up and clearly not done discussing what they hate about each other, and Aubrey goes after Travis for being a dick to her best friend.
"I've in the past said some unkind things about Aubrey's best friend," Travis admitted. "She's always going to want to be number on in your life because she's in love with you. I feel like I have to compete like I'm in a love triangle. Do you want me to bring up the situation where you were asleep and she was staring at your vagina naked?"
Say what?!
According to Aubrey, Travis is taking this all out of context. It was just a foot rub and her best friend is not in love with her. In fact, her friend is more like her mom. Okay, shit just got weird.
Later, all the couples were called to the boot camp room and split up. Half of them were taken and made up with bruises and cuts and put in a fake hospital bed on life support so their partner could experience the feeling of loss. Then the surviving partner have to read the last words they said to them in the previous "It's not me, it's you" exercise. As one might imagine, these were not kind words.
Kendra had a hard time seeing Hank on his death bed and it made her want to be kinder to her cheater, cheater pumpkin eater husband.
"I don't want you going with the worst things I've said to you," she said. "I want you to go with the best things I can say to you. And that opened my eyes so much and my heart because that could happen any minute."
Then Kendra got smart and quickly changed her tune.
"I could be [in the hospital bed] tomorrow," she cried. "You have to let me go knowing that I know everything about you! Don't let me go with questions Hank!"
We could ALL die tomorrow not knowing the truth, Hank! Do the right thing, dude. That's no way for us to go.
Check back in with Popdust next Friday when Kendra learns about an audio recording that Hank's transsexual model released. Hank is going to REALLY need some life support!