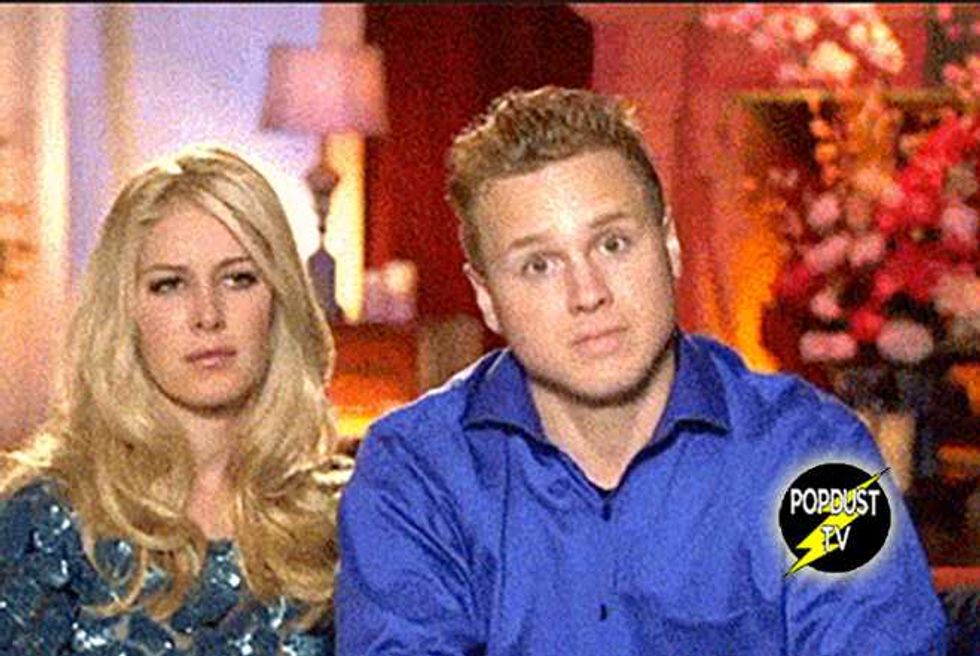 This week's episode of Marriage Boot Camp: Reality Stars is all about forgiving and forgetting, but that is much easier said than done for most of the trainwrecks in that house.
For the first drill, the boot campers have to identify traumatic moments from their past that have left them scarred and with baggage. Jim and Elizabeth Carroll use childhood photos of each of the celebrities to hopefully trigger the emotions and memories they need to heal.
Syleena Johnson admits that she was molested as a child, and that rather than protect her, her father was like a useless shadow living in her house. Heidi Montag opens up about being molested several times as a very young child and breaks down talking to the childhood photo of herself.
Aviva Drescher talks about the accident that occurred when she was six years old that resulted in her losing her leg. Her story is heartbreaking, but instead of feeling the raw emotion of her past like the others are doing, she is a stone cold robot that may as well be telling you a story about her last summer vacay in the Hamptons. She's SUCH a robot.
The other houseguests are understandably pissed that they were so open and so vulnerable, but Aviva refused to go there. In a therapeutic environment, they don't feel like Aviva is participating at all.
After that, Spencer Pratt sits down with Jim who has concerns that he's not fully committing to the process either. Spencer admits that he's not, and it's because he got so burned by a former reality TV producer who cast him as the "villain" in The Hills.
"I have to be extra guarded now because I got so played out and manipulated by reality TV producers," Spencer says.
"Do you think the producers here want to do that?" Jim asks.
"I have suspicions," Spencer replies.
For the final drill, the celebrities are forced to admit who in their life has hurt them the most and must choose between two doors, Forgive or Forget. Syleena chooses to forgive her father, and when she walks through the door he is standing on the other side. What a piece of shit this guy is. She cries her heart out to him, and he takes zero responsibility for anything. Why did you even go on the show then, dick?
Heidi admits that the person she's angriest at in her life is none other than Lauren Conrad. A therapist stands in to act as 'Lauren' and Heidi forgives her for treating her like an indentured servant and being a shitty friend.
Lastly, Spencer decides to forgive the reality TV producer that he says destroyed his life, past and future. Jim stands in as the 'Producer' and eggs Spencer on to get him to really deal with his hatred for this man. It's at this point we start feeling like Spencer has lost touch with reality and might actually knock Jim the f*ck out! It's just pretend Spencer! Security!!! He finally forgives the producer and everyone breathes a sigh of relief...especially Jim.
What did you think of this week's episode? Sound off in the comments below!