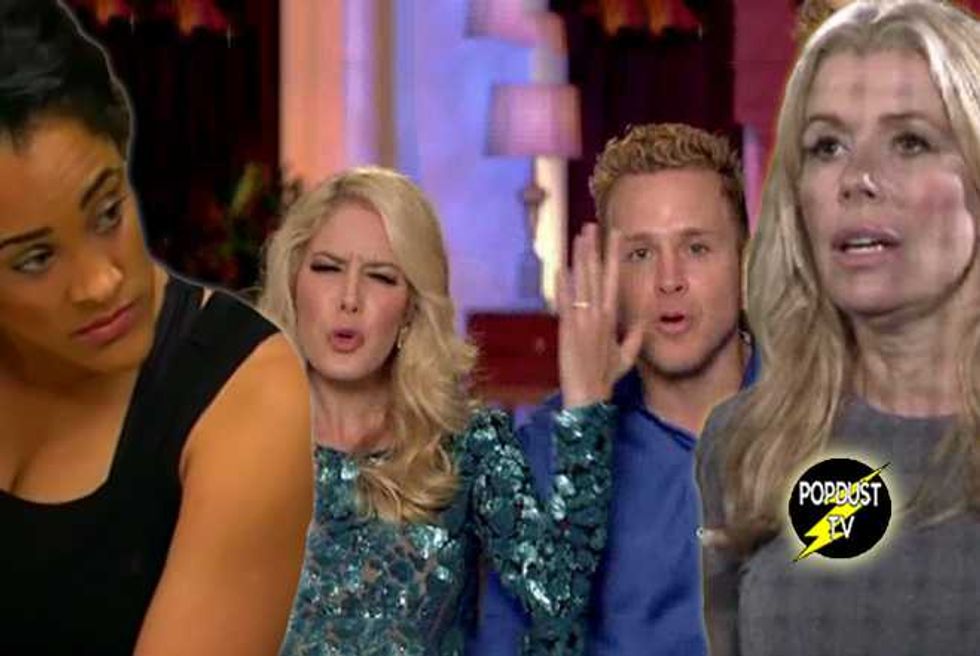 Marriage Boot Camp: Reality Stars—where married D-listers air their dirty laundry for a paycheck, and more importantly, for our Friday night entertainment.
The first drill the couples have is a blindfolded driving challenge. Absolutely brilliant. One person has to direct the other blindfolded person through an obstacle course…in other words, COMMUNICATE.
As you can probably imagine, the couple that is by far the worst here is Heidi Montag and Spencer Pratt. Heidi drives, Spencer navigates. WHAT a disaster! They literally hit every single obstacle and destroy everything in their path, essentially mirroring their shitty everyday life.
Believe it or not, the winners are actually Natalie Nunn and Jacob Payne. They communicate better than they have in a long time and got through the course without much damage.
The losers? Heidi and Spencer…shocking. That means Heidi and Spencer have to serve the winners lunch, which of course they purposely fuck up because they're childish, sore losers. That causes the shit to hit the fan and Natalie loses her mind, mainly because Spencer threw water at her and messed up her weave.  Oh, helllll no! "This ain't the fuckin' hills no mo'!"
In the final drill, the couples have to role play fighting in the Shock-tagon. Each person stands barefoot on electrically charged metal plates and when they start to fight dirty, they get shocked so that the couples feel how their words can hurt their partner. Basically aversion therapy for assholes.
Natalie and Jacob fight about their main problem, Instagram and social media. Rachel and Tyson fight about getting married and Syleena and Kiwane fight about business before family.
Things really get going when Aviva Drescher and her husband Reid enter the Shock-tagon with their fight about public opinion.
Reid (as Aviva) goes on and on about her need to be a role model. "I'm speaking to the amputees, they need me!" This guy is a piece of work. At one point, Reid (as Aviva) gets so frustrated he pulls off his fake prosthetic leg and throws it on the ground, clearly making fun of when Aviva did that on an episode of the Real Housewives of New York.
WHAT A DICK!
Heidi and Spencer get in the ring and fight about their baby issue, and this shit is hilarious. Heidi's impression of Spencer is whiny and pathetic and so spot on. But things go from funny to sad when Heidi (as Spencer) lets out how unhappy and miserable Spencer thinks his life is.
Later,  Spencer says that the only reason Heidi wants a baby is because Kristin Cavallari has one. "You should've married a quarterback if you want babies," he says. "Not a fucking loser with no job." That's probably true.
"The pressure Heidi puts on me to have kids is causing extra zits, acne, I'm gaining weight, I'm having heat rashes, I'm peeing in the bed…" Tell us how you really feel Spencer.
What did you think of this week's episode of Marriage Boot Camp: Reality Stars? Sound off in the comments below!
And tune in to WEtv Fridays at 9pm for all new train wreck episodes.