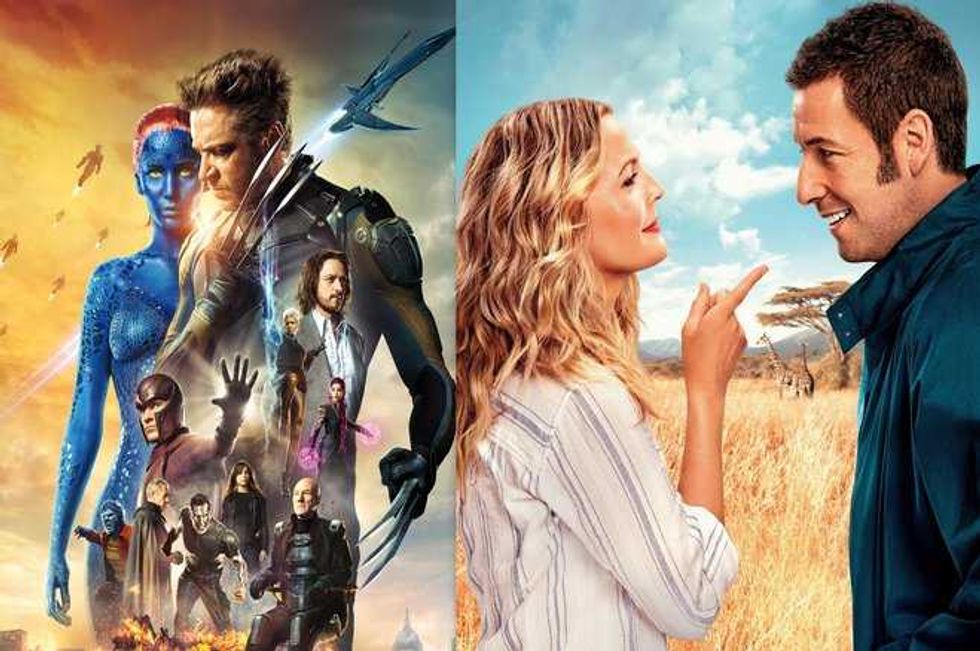 Movie Monday or Movie Tuesday? Because of the Memorial Day weekend, box office official numbers (also known as actuals), were released yesterday (May 27).  Let's get down to business and talk movies and numbers.
Leave it to Marvel to always claim the No. 1 spot at the box office with a new movie release.  On Friday (May 23), Marvel's X-Men Days of Future Past opened in theaters.  The movie starring Hugh Jackman and Jennifer Lawrence, shot right to the number one spot, pushing Godzilla to second place.
X-Men: Days of Future Past is another X-Men movie, but not considered or marked as X-Men 4.  The story line is based around X-Men bringing Wolverine (played by Jackman) back to the past, in hopes to change the future, for both mutants and humans.
X-Men takes $110.6 million home.  Let's see if the movie can hold the first place position for more than a week.
Adam Sandler and Drew Barrymore come together for a reunion in their new romantic comedy Blended.  The movie opened also on Friday.  By the sounds of title, you probably already know what's going to happen.  Jim (played by Sandler), and Lauren (played by Barrymore), end up on a blind date.  Things didn't turn out that great.  Jim and Lauren are both divorced and has kids.  They end up meeting again on their trip to a South Africa resort.  You can pretty much imagine what happens next between the two.  Their families come together, which makes them a blended family.
The romantic comedy scored third place at the box office with $17.7 million.
Box Office (Weekend of May 23 - May 26):
1. X-Men: Days of Future Past ($110.6M)
2. Godzilla ($38.4M)
3. Blended ($17.7M)
4. Neighbors ($17.1M)
5. The Amazing Spider-Man 2 ($10M)
6. Million Dollar Arm ($9.2M)
7. The Other Woman ($ 4.5M)
8. Rio 2 ($3.4M)
9. Chef ($3M)
10. Heaven is for Real ($2.8M)
[Listing Source: IMDb]
For more Movie updates and Box Office actuals, stay tuned to Popdust.com and follow @Popdust on Twitter.
For all updates pop culture, follow @vivianxo67 on Twitter.