"I can't change, even if I tried, even if I wanted to. My love, my love, my love, she keeps me warm." It was a powerful moment at the 2014 Grammy Awards: Flanked by collaborator Ryan Lewis, singer-songwriter Mary Lambert and later joined by equal rights champion Madonna—Macklemore stormed the stage with his "Same Love" empowerment track. Meanwhile, Queen Latifah officiated over 33 couples of all walks of life. Historically, nothing like it had ever been seen on prime time TV, much less on such a high-profile event witnessed by nearly 29 million Americans. For Lambert's part, she finds it hard to label that momentous occasion as a turning point in culture's wider view of acceptance, but looking back, she does consider it a trigger for change. "It's hard for me to say 'yes! I did something great! I did something revolutionary!' I think that's egotistical to say," she shares to Popdust (exclusively). "I realized that there are songs I've listened to that have impacted my life and changed my thought processes and the view of the world around me. Maybe, it's not that farfetched that we've done the same thing."
She continues, "The performance was a culmination of all of that. It's funny: I think everybody has these goals of 'I just wanna to get to this point' or 'I just wanna be on SNL' or 'I just wanna perform at the Grammys.' We have to remember that those things are just milestones. What is the rest of your career going to look like? How do you want to be shaped? It's beyond just winning a Grammy or performing at the show. You have to think about the deeper parts."
Lambert has closely shaped her career from her own personal story: a humble singer-songwriter who has a powerfully-charged story about body image, culture's perceptions of what that means and how the LGBT community is nearing worldwide acceptance. As her social media followers probably already know, she's proudly outspoken about these issues, especially on Twitter. In recent months, the heated cultural appropriation debate, lead by rapper Azealia Banks, came to a boiling explosion. And Lambert says that's not a bad thing."I think it's a scary for a lot of artists to speak out. I always think of the Dixie Chicks plight and their song 'Not Ready to Make Nice.' There's a lot of people that just want to hear your songwriting. They don't want to know you have to say about politics," she says. "They don't want to know how you feel about white privilege. But I think in this day and age, we're so closely tied not only just to the consumption of music but also the consumption of someone's person-hood."
She adds:
"Instagram, Twitter and Facebook provide this strong insight into someone's life. I think you can't have one without the other. It's important to talk about things that I care deeply about. I wrote a poem called 'I Can't Breathe,' and I posted it. It's also really important to think about how you speak about those things, in the same way you write about them. Be careful about what you say in the avenue in which you say it. That's more important than the topic.
When you listen to Lambert's recent album Heart on My Sleeve, you'll find exactly that. The powerhouse pours her heart out onto paper, subsequently leading to a dynamic, completely organic (yet grounded) collection of songs about her life. She's not careful about what she says, but how she says it. "There are things that you have to be really careful how you say," she says. "When you're talking about trauma or things that are more difficult, you have to think of two things, first off: is this going to trigger somebody else and potentially be harmful? I make sure I'm being conscience because this is a product. I'm a pop singer and I want that awareness to be constant. If you lose that awareness, you lose that connection to people."
"The second thing is: am I exploiting? Am I be exploitative of my trauma? I make sure I'm relating it in a genuine way that's also kind. I talk openly about sexual abuse and body image; I want to make sure I'm doing it in a way that's not potentially harmful or scarring to myself, as well."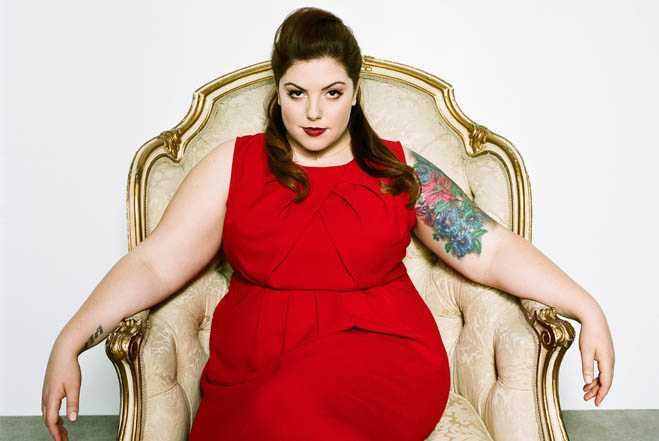 For her own journey, Lambert says this album's creative process was life-changing. "The whole process of making the record was really unorthodox. We were on such tight deadlines for a lot of things, and I was rushed. It was like 'hurry, we've gotta get this done now!' I spent all the time I possibly could in between four tours, flying out to LA every two or three days to write or record one song. It was a lot of flying back and forth."
She adds, "On top of that, the stress of co-writing: I had never co-written before. For me, writing has always been spawned by some great emotional turbulent thing. If anything, it taught me I'm capable of writing under many different circumstances. That was really comforting knowing that I could be durable in the music industry. I'm really excited to write for other people, but it taught me that I have what it takes."
And boy does she have what it takes. Her "Same Love" collaboration earned her a Grammy Award nomination last year, something she could have never dreamed in a hundred years. Plus, late last year, "Secrets" (featuring a remix with B.o.B.) went to No. 1 on the Hot Dance Club Songs chart. But how does she stay grounded amidst such success?
"It's important for me to...first of all, the location of where I live. I live in a regular place in Massachusetts. I've considered moving to LA or New York, but being home is what really is grounding. I'm living with my partner and my cat and trying to make time for that is really important. You have to have a balance. You have to find it or you're gonna make yourself crazy. I guess it depends on what you want to accomplish and what you're idea of success is. It's striking a balance and having both the Grammy nomination and feeding my cat. It's all of it. I think I can have it all. It's creating a time and space for that and asking your team for exactly what you need."
As she branched out on Heart, she admits she was afraid. She explains, "My biggest fear this year has been: am I losing my voice? Not physically. When you're independent and you maybe have a team of two or three people...going through that and then going through a really big machine like my label or anybody that starts hiring more personnel or has consultants or a producer that has a lot of opinions, your voice can get lost. You have to come to a point where nobody has any idea what they're talking. Everybody is running around with their heads cut off."
"You have trust your own instinct and your own voice. If you create exactly what you love and care about, you can't be wrong, even if the album is a 'failure' or doesn't sell as many copies," she says. "You were at least true to yourself rather than having a hundred people tell you what it should look like. Then, if it doesn't work, you failed because you weren't authentic to yourself. That's what has been important about it. That's the same way with co-writing."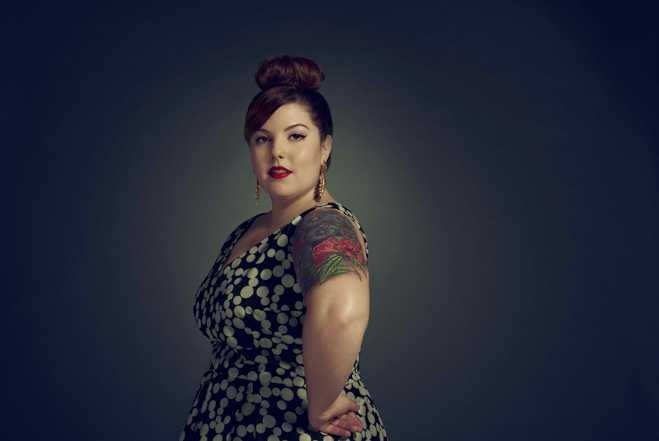 Lambert recently hit another anniversary, the two-year mark since the release of her book 500 Tips for Fat Girls. In it, she pens the honest truth about what it means to be curvier than what society dictates as "beautiful." The future is all about looking back to the things that came before it. Now, would she re-write any of the book's passages? "There are definitely things I look back on and cringe. Even though I released it two years ago, it was a project I had been working on for about three years prior. Some of those poems are six years old," she says. "I think that's the downfall of being an artist: your new stuff is always the best. You want to go back and superimpose new work into your old work. But I think, if anything, it's a milestone and a reflection of where I was at that time. I wouldn't want to take any of that away. The writing, though, is what I would want improved upon in the product itself. I'm happy for the way it turned out."
Speaking of writing, Lambert is already working on a new book. She teases, "I don't know when it's gonna come out. Doing four tours and releasing two records in a year, I'm a little burned out. Writing a book is actually a great solution for me. Then, I get to be home and feed my cat and work on this book. Hopefully, this book is gonna look like part poetry, part storytelling. I want it to be a real depiction of my life."
On the horizon, Lambert will be heading out on tour with The Script on a slew of dates all across the country this summer. Preparation hasn't even crossed her mind...yet. "Well...I toured so much this past year. My band and I are pretty polished now," she says. "I actually get to tour with my best friends. I feel really like for the friends that I have had for five years now. They're the nicest guys ever."
But, more to the point: "I learned a lot this year in terms of touring. I have a lot more lead time to prepare for this tour than I have the other tours I've been on. I have more time to think critically about how I want the show to go. Opening spot is always difficult because you 20-30 minutes to first of all, get your message across (and let the audience know who you are) and then, put on a good show. Also, you have to be a good support for the headlining act. I don't want to make someone cry the whole time, then say 'here's the Script, have fun!' [laughs] I want to be a good musical partner."
Oh, and what about a new single? "[It] should be coming out soon. I can't talk about it. I'm excited for people to hear it, though."
Today marks one of the most important days of my life. 'Heart on My Sleeve' is finally here for your ears to enjoy! https://t.co/cVvv0jRIxl

— Mary Lambert (@marylambertsing) October 14, 2014
Stay tuned for Mary Lambert updates. Be sure to follow @Popdust and @JasonTheScott on Twitter!