Jesse Hughes is as repulsive as ever but Mastodon remains the beast that will devour your heart.
The Hammerstein Ballroom, man. Just last year, Samsung used its cavernous walls to launch their infamous explodin' Galaxy Note 7s and one of those hip pentecostal megachurches begun holding their weekly prayer service in front of the mosh pit. And, last week, three of the biggest all-American guitar bands of our time stopped on by to flex muscle for the cameras and the thousand or so denim jackets, miskept beards and questionable tattoo choices gathered before them. The din of the air was littered with memories of Woodstock '99. One of the guards asked me, representative of my generation, about kids these days; once they grow out of EDM, where else are supposed to go?
Chicago's storied post-rock scene, would it ever fill an area? Could, I dunno, Tortoise ever hold together a thousand capacity crowd on their lonesome? Explosions in the Sky, performers of a poppier version of the many chord jumbo, once played Madison Square Garden on the behest of old sadbois Death Cab. What about Russian Circles, a band that always sounded like homework (coach would always tell the tough guys to give him ten Russian circles before even bothering), would their intense instrumental jamming hold the attention of a thinly packed crowd that were being sold neon-colored shots by women rolling around in what I assumed were roller skates?
Six albums in, Brian Cook, Mike Sullivan and Dave Turncrantz are as tight a trio as ever, issuing long and thudding devotionals that refuse sluggishness. Their latest, Guidance, is an organic beast: seven wild jams that begin and stop on their own accord, like an animal of indeterminate size and strength, who's roars you can only hear from far away. No less removed from a few feet away, they performed like a single celled organism of pure wailing noise, never sputtering or barely, it seemed, even pausing between movements of angular noise. Their pairing with Mastodon made a definitive kind of sense, beasts both, they roamed the same jungle.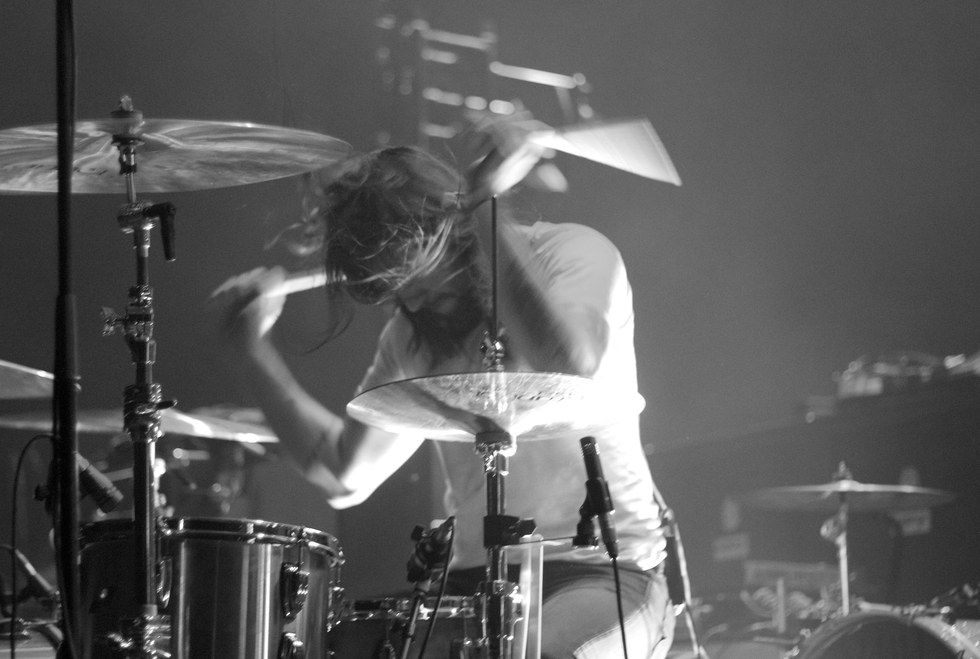 Dave Turncrantz of Russian Circles, firing off mighty salvos at the Hammerstein Ballroom
---
Less obvious in this metaphorical wilderness was the batman T-shirt-and-suspenders-wearing Jesse Hughes. His band, Eagles of Death Metal, forever known as that band that performed at Paris' Bataclan during a well-publicized shooting, bill themselves as "perched and ready to swoop in" on you and your proverbial ladyfriends. Yee-haw? He occasionally dolled out a cowboy and waved it at the audience, asking such important quandaries such as: are the ladies ready to rock? Are they having a good time? I can't hear you, are the ladies ready to rock?
Hughs, with touring guitarist Jennie Vee. She has been called, in some circles, "the new Courtney Love"
Dave Catching, another touring member of the Eagles of Death Metal, was doing some kind of ZZ Top thing with his face

Founded by Hughes and the far more famous Josh Homme back in '98, the band's name is some kind of uninteresting bong joke, their four records they have released are crunchy and salacious Nuggets-lite stuff that bear little resemblance to anything death or metal. Homme, I hear, uses the band the let his musical cogs get a little loose in between recording for the arena-playing Queens of the Stone Age or producing Arctic Monkeys albums. I doubt would be caught dead on stage with these folksy hucksters.
In Homme's place is a fellow by the name of Dave Catching, who is currently doing some kind of ZZ-Top thing with his face for some reason, adding to the general vibe that Hughes' band is some kind of elaborate joke. Midway through a set largely composed on songs with titles like "Whorehoppin' (Shit, Goddamn)" and "I Want You So Hard," Hughes gargled through a speech that I think was about New York. He was fond of these gestures, appearing on top of a forward-facing soundsystem and pontificating phrases that I could not translates from mere feet away. I promised myself, after some bad experiences in Times Square, that I would never pay attention to the ravings of a man wearing sarcastic suspenders. He followed the speech with an elongated fart through Bowie's "Moonage Daydream," somehow making the entire 70s feel like a long and bad headtrip. There was once a campaign, once, to make their cover of "Save a Prayer," a perfectly likable Duran Duran song also turned into vapid billows of hot air, into a UK number one in honor of something-Bataclan. It made it all the way to 53.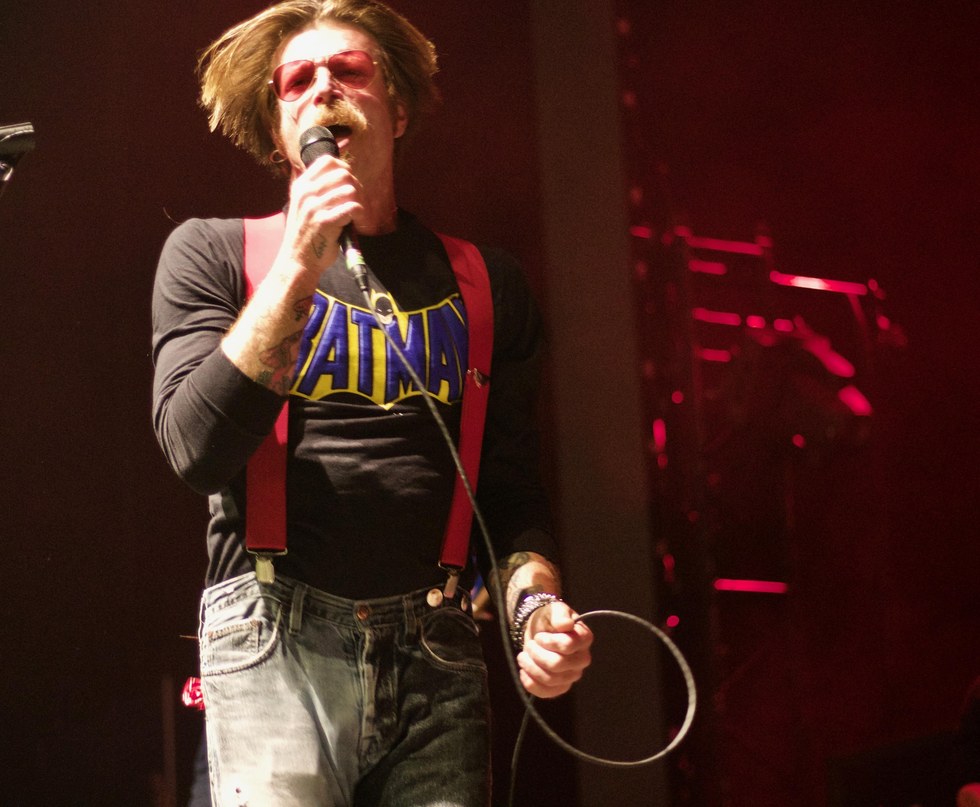 Hughes, frontman of Eagles of Death Metal, covered David Bowie
---
What does a metal band become, the kind of intense prog-metal band that records concept albums dedicated to Moby Dick, after they net a Grammy and worm into household shortspeak for what metal really is? Metallica? Whatever that is, Mastodon are and have become, and no amount of "Curl of the Burl" on hipster radio can change that.
But, okay. Mastodon are going to blow me away, anyone who isn't swept to their knees by their powerhouse meld of old metal with today's fashionable doom-and-gloom is lying to themselves. But what really blew me away was how much fun Brent Hinds can still have with the old catalog, with whirling solo and after solo on that Gibson Flying V. Turning "The Wolf is Loose" into the showstopping piece of contemporary metal history for over a decade is no feat to shrug at. Lights glow and theatrical solos are zigzagged for the benefit of the front rows. But if you close your eyes to a particular piece of a zonked out version of "Ancient Kingdom," from their latest full-length, Emperor of the Sand, it might as well be 2006 and metal is suddenly cool again and Seether are barely a speck on the smoky horizon. Good times.

More rawkin' times:
Bare-chested and Scottish, BIFFY CLYRO are back
Are Sleaford Mods the last punks standing?