When Vancouver-based singer-songwriter Mathew V presents a lyric, there is a certain command that booms from his velvety smooth register. Even on the giddy-up of "No Bad News," the opening cut from his Sounds EP, there is a level of urgency and release ever-present, as he caresses and sends the narrative up into the night sky like a flair. But his stunning balladry cuts deep; songs like "The Day I Die" cause the heart to erupt in a fire-red splashing across the stars. Elsewhere, "Love Song" is an Adele-sized ode, linked together with a smoldering guitar and his heart-rending spirit. That voice alone could crumble the mountains of Colorado, shatter the skyscrapers of New York City, in the blink of an eye. "I've tried writing formulaic pop songs of what could work and what would sell, blah blah blah. At the end of the day, I was calling my own bullshit," he reflects with Popdust, of the ballad-centricity of his EP.
"I feel like everyone knew, when I pitched these songs or when I proposed these songs, that people were just calling BS on it. I had that level of insecurity about it, and I went back to the drawing board," he continues. "I told myself 'you need to write about what you know and how you're feeling right now.' This was the first project where I kind of did that, and I dove into that. I just wrote about the insecurities that I had throughout this past year. It honestly brought down some big walls with me opening up to people, and things really started to flow from there. It was kind of a snowball effect in the writing process. It just seemed like there was a bunch of things that I had buried down that I had to get out. Tapping into that emotional fountain, to some extent, was a new process for me."
The piano ballad "Beautiful" is another one of the singer's rawest and purest moments on recording. He doesn't shy away from attacking the lyric and the melody with guts. And stylistically, the track feeds into Mathew's rich sonic template, which zips between electro-pop intoxication and Amy Winehouse-seared emotion. So, it seems appropriate the project is titled simply Sounds. "I titled it so people would wanna know what it's about. When I was going through the writing process and the production process and pulling together my references, the one common criticism I was getting is 'this is living in too many different areas. This song is too pop and this song is too folk – everything needs to be one sound. What is your distinct sound?' And what I just kept saying to people is 'I don't have just one sound, how boring would that be if every artist that I listened to had just one sound over and over again?' I said 'these are the sounds that I am identifying with right now at this point in my life.' There's more than one and I think that that's exciting. It keeps people listening and engaged. That's why I titled it that; I actually changed it last minute."
The seven-track collection--featuring the "When You Said You're Coming Home" weeper--was previously called Preface, as a way to signal the beginning. "I wanted to say, 'this was my debut EP, a bit of a sampler!' I wanted it to be known that there's so much more to come, there's so much more to me after this," he explains. "This is that little note at the start of my songbook. And then just last minute, I thought you know what? I don't need to feed my ego in the sense of letting people know that there's so much more to come. 'Sounds' just felt right at the end of the day, so I made that last minute call."
Sounds has been a work in progress for the better part of the past 12 months and is an ample primer for his forthcoming, yet-untitled, new project. "For the last month, I've been in the studio six days a week, just cranking out a bunch of new music and getting demos together. I foresee myself being in the studio for the next two to three months, finishing off this project," he teases of his next collection, tentatively projected to drop in 2017. "I think it'll move a little bit faster than the 'Sounds' EP just because I feel like I've learned from that process on how not to waste time. I'm just locking myself in a cave and making some music that I think is just miles better than what I've done before. The goal is just to improve every day. I'm making some new stuff that I'm really excited about, and we'll hopefully get that out."
In our exclusive Q&A session, Mathew V discusses his classical training, mastering music in the iconic Abbey Road studio and other things. Check it out below: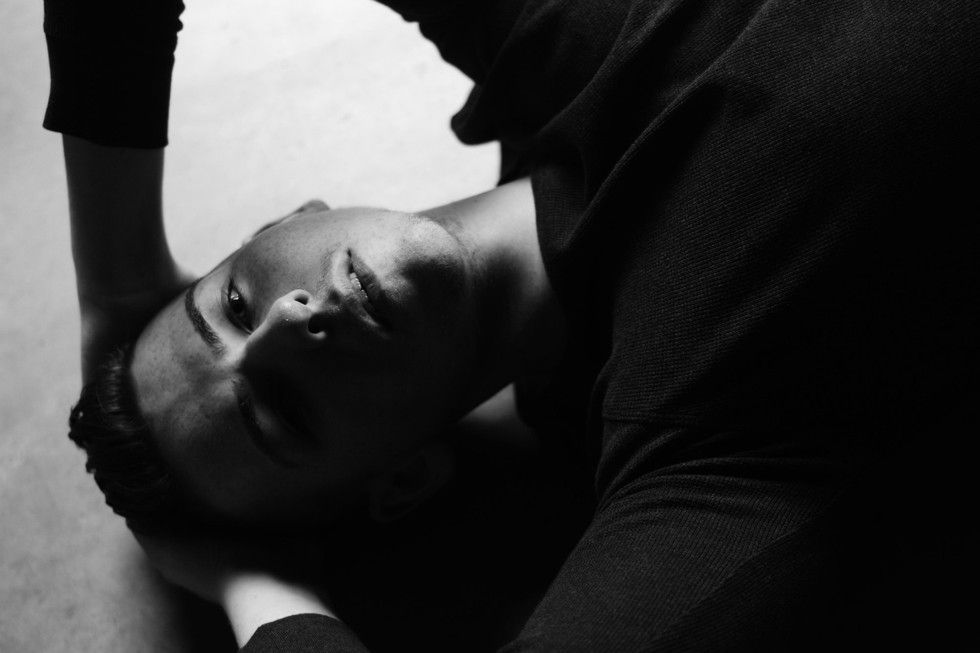 One of the EP's standouts is '"The Day I Die." How did that song come about?

When I thought the EP was finished, 'The Day I Die' wasn't on it, it didn't exist. It was just the six songs that are on the EP not including 'The Day I Die,' and I sat back and I listened to it through. I said 'oh shit, I feel like there's something else that I have to say.' And everything on the EP was produced by Matt Rogers except for 'The Day I Die.' I went to my really good friend and amazing artist Luca Fogale, and I sat down with him and I said 'let's just try writing a song today. Let's see what happens here, let's see what comes out of this.' Within like five or six hours, after a few nights of sending voice notes back and forth to each other, we just sat at the piano and came up with this song.
Then literally, within a day after that, we produced the track in his basement! [laughs] I'm huge – as you can probably see throughout the whole project – on vocal harmonies and on gospel influences. I think it really fits for me. We charted out some vocal choral arrangements with me going back to what I sang in choir in high school, and my knowledge of studying gospel music. Charted up some harmonies, tracked like eighteen of my voice, and balanced them out so it kinda sounded like a choir. It was a super cool process, and I feel like I've learned how to track choral harmonies, so I'm definitely starting to use that in some new stuff, as well.
What is your approach in terms of writing an uptempo song, as opposed to writing a ballad? Are those processes different for you?
It really depends on the day. I wish that I was the artist that could just sit down and be like 'oh, I'm gonna write a huge pop smash today,' and then just do it. Or 'I'm gonna write a huge ballad today,' and then just do it. What tends to happen with me is I'll have a week or two weeks or a month of just nothing--I'll just sit down and I'll try and I'll try and I'll try and I'll try. And nothing will come to me. And then I'll have a day where I'm walking on the street or I'm walking my dog, or I'm grocery shopping, and something pops into my head. In the middle of aisle 7, I'll have to put down the cereal and pick up my phone, and hum in my jacket into my phone, six or seven ideas over the course of ten minutes! Then, I'll go home that day and develop them all. It really depends on how I'm feeling, if those seven ideas come that day and I'm sparked emotionally and I'm super sad, or insecure or whatever it is, then those ballads are gonna come out. If I'm feeling uber sassy, or I don't know, F-U whatever, if I'm feeling pissed that day, then those big attitude-y singles like 'No Bad News' will come out. So it really depends on how I'm feeling that day, and what emotions are sparked when I'm at the grocery store. [laughs]
In terms of songwriting, who would you say are your heroes?
To be honest, I find a bunch of amazing new artists that I'm inspired by every day, through just Spotify playlists. In terms of artists that I look at – like, if they release a new album I would have to listen to it from start to finish, artists that have had a good track record for me – I always go back to Adele, always. Amy Winehouse, Paloma Faith is another big one. I would stick to those three as my commonalities, any day of the week I'll be able to drop those names.
Reflecting on your time at Abbey Road, what was that like?
Abbey Road was amazing. When I did have stuff mastered at Abbey Road, I was just following direction. I was like "if you guys take it and have it mastered, whatever way you see fit," and it ended up being at Abbey Road. That was honestly just insane. I didn't fathom that that would even be possible for me. It kinda took me back a bit; when anything has the Abbey Road stamp on it, there's a certain level of quality that's added onto it. It was a really really cool experience. I'd definitely love to dive back in there in the future, for sure.
You were classically trained. What lessons do you take into making pop music?
I was trained from seven to seventeen. I did ten years in opera and classical voice training. Although I didn't love singing opera, and singing in all these different languages as a ten year old it's not super fun to an extent – I always loved singing. I'm so grateful that I have those ten years because I feel like I built up vocal technique. Now, I can interpret and bend and call on my voice to go to different places that I wouldn't have been able to if I didn't have that training. So, I feel classical training gave me my firm foundation and tone, skill, agility, all that stuff. All those years of training classically, when I came home, I would just put on Britney Spears or whoever was on top 40 radio at that time. I think just neurotically listening to pop music over and over and over again was kind of – I spent my entire childhood just subconsciously studying it. To the point where when I wanted to make it myself, I could call on all of those influences that I had been listening to for years.
You mentioned that you were singing in other languages during your training. Can you still sing in other languages?
I haven't tried in a few years. I did a lot of singing in Italian, and I feel like I would be able to; my pronunciation would still be on point. I would have no clue what the hell I'm saying, so that would be an issue! I wouldn't go into the middle of Little Italy and start singing because I might offend people, but I feel like I could potentially still have that pronunciation there. It was drilled into my head.
Do you ever have any favorite arias or vocal pieces?
When I did classical training, my favorite stuff was when my teacher let me cross over into what's called "popera," I guess you could say. Sarah Brightman or Andrea Bocelli or Il Divo, this mainstream pop music where it would just be an '80s or a '90s ballad in Italian. So for me, I was able to go through my training, and do all my classical training but still sing pop melodies. That's when I was like "okay, this is clicking for me. These melodies are beautiful, these are reminiscent of the pop that I listen to when I'm at home, but I'm still doing my vocal training."
What are your prospects or ambitions to tour in the next year?
I would love to say that I'm just gonna go and perform this big North American and European worldwide tour, but I'm trying to hold back until it's really warranted. I'm doing a few headlining shows in my hometown of Vancouver, hoping to be opening up for a more established act on their tour--although no firm details on that yet. For me, I wanna wait until there's a bunch of people everywhere that are super, super, super loving it for me to go and share that music with them. I think we will be doing live stream shows, so if there are people out there that are really loving it, then they can tune into Facebook or anything like that to listen to me perform this 'Sounds' EP live. There's no confirmed tour, there's no not-confirmed tour, but I'm not jumping into it just yet.
Sounds is available now on iTunes.
Take a listen to his new EP Sounds below:
---
READ MORE ABOUT MUSIC...
Premiere: U4iA Make Splashy Debut With "20 Minutes" Video
Andrew Marks Has Nothing To Hide, Knows All About The "Seasons"