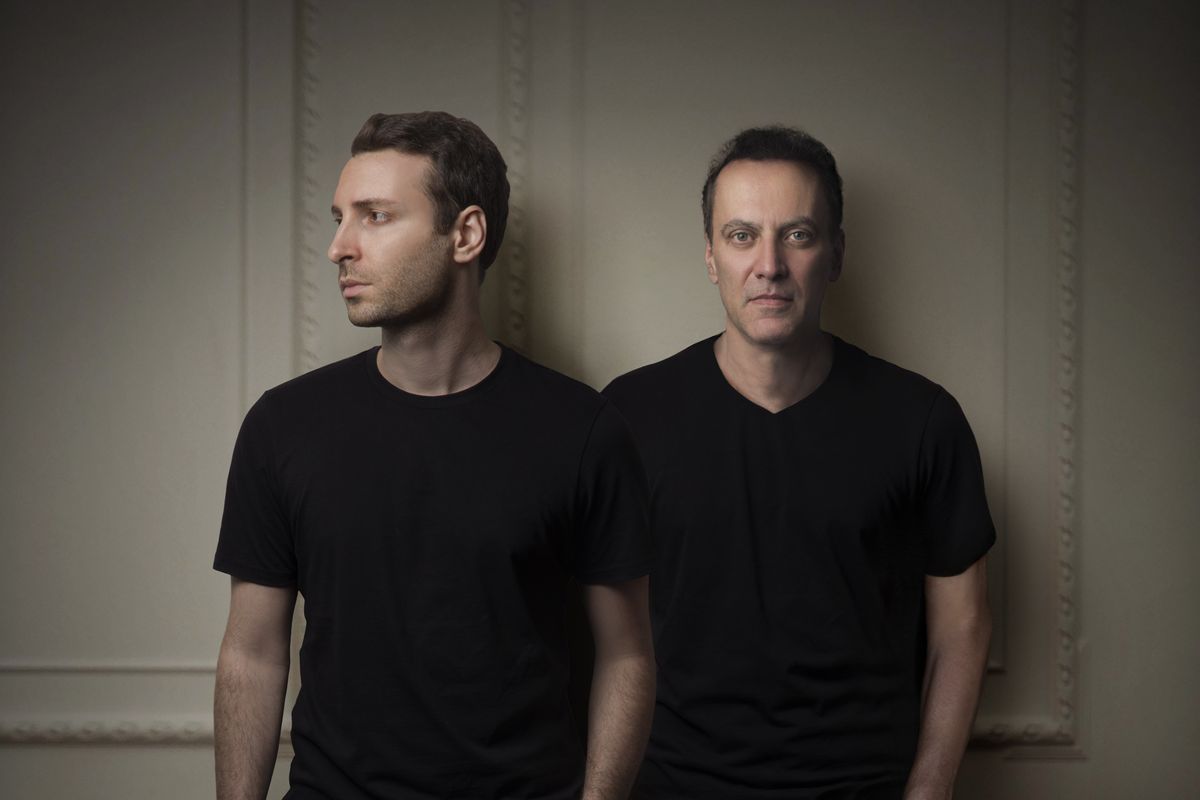 Photo Courtesy MaWayy
MaWayy is comprised of Brian Wayy and Masoud Fouladi Moghaddam.
Wayy lives in Los Angeles, while Masoud lives in Bandar-e Anzali. Prior to becoming a team, both were successful in their own right. Wayy is an Emmy Award winner who signed with MCA Records and then began composing for prime time television. Masoud worked as a music producer and remixer in Iran, and later signed with Teletunez Inc. to write music for television.
In 2015, the two joined together to create MaWayy, an EDM project. Their first single, "Wrong," hit the Top 50 on Billboard's Dance Club Songs chart in 2018, and accumulated more than 1.4 million views on YouTube, along with more than 1 million streams on Spotify.
Popdust sat down with the dynamic duo to find out how to keep the fire in a long-distance relationship.
MaWayy - Blame (Official Video) youtu.be
How would you describe yourself?

We are a Dance-Pop producer duo who make music, we're both in love with electronic dance music and we've been doing it for a long time in both of our individual careers and now we're doing it as a team.
How did you two get together?
Brian Wayy released a CD called XCultures and Masoud Fuladi got a hold of the CD in Iran and emailed Brian saying he was a huge fan of his music. Brian asked Masoud what he did and asked him to make music, which then grabbed his attention due to the quality and performance. Masoud started composing music for television with Brian. A year later, Brian asked him if he wanted to start a project together. They went out and found lyrics writers and singers that fit their brand, which then created MaWayy.
What is the most trouble you've ever gotten into?
Brian: Since we haven't met each other, as two partners, we haven't gotten into trouble just yet. BUT we will let you guys know when we start touring! Other than that, when I was just stepping foot in the Music Industry I remember going to Warner Bros and finding a way into the building even though I wasn't allowed. The back door was slightly open and I decided to open the door all the way, which set off the alarm. Instead of panicking, I walked in like I knew where I was going, while security was trying to "find" the person that just walked in. I was determined and sought out the Head of A&R at the time. As I walked into that office the Head of A&R told me to hand him my music. I left and thought nothing more of it. Two years later I ended up getting a job with Warner Bros, where I ended up remixing one of Madonna's projects. Next thing I knew I'm stepping foot into the same office of the Head of AR, that I had previously met two years ago. I had the chance to tell him the story of how I "walked" into Warner Bros just to hand him the music. Instead of reacting well, he said, "Warner bros does not allow this and you have to leave my office," which scared me and I felt helpless. But then shortly after making that comment he followed along with a, "just kidding! That was the best story I've ever heard!" This ended up giving me the chance to work on many other projects with him.
Masoud: Oh man, I've been keeping all life time projects plus samples packs, virtual instruments, pretty much everything digitally in my large size high speed hard drive. I remember even my upcoming song under Armada Music was there, too. So one night I've been working and suddenly my workstation crashed, I thought it was just a glitch, but god I can't forget that moment that was like I lost everything! I remember Brian asked me to compose for a TV show that week. But I didn't have anything to start the project, I couldn't even release my own song. Although I managed to produce that song again and compose for Brian's TV opportunity, I promised myself to always get an updated back-up of my important stuff. That was my nightmare!
What's your favorite song to belt out in the car or the shower?
Brian: My favorite song is 'One Kiss,' by Calvin Harris
Masoud: Late Night Alumni – "Epilogue and Moonwalking" (All-time favorite.
Vargas & Lagola – "Roads" (At the moment).
What musicians influenced you the most?
Definitely, these days Top 40 chart music and Spotify playlists, which are curated by music lovers, and help our career as a group. However, individually we stick to the old tunes that give us goosebumps!
Brian: I'm influenced by any great music.
Masoud: Vangelis, Pink Floyd, Late Night Alumni.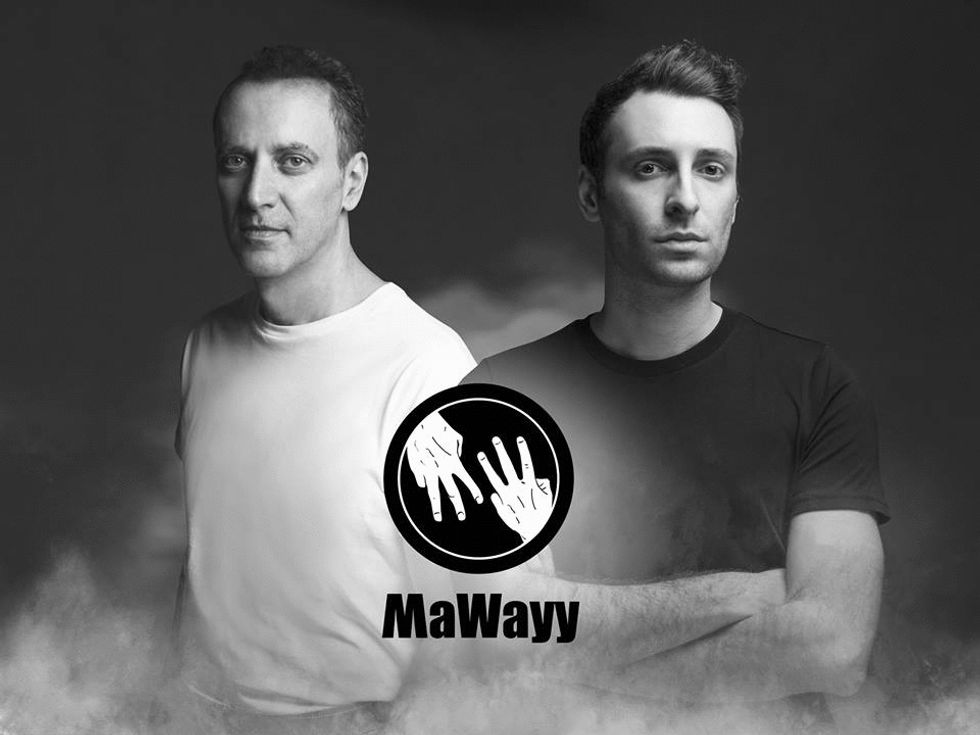 MaWayyCourtesy MaWayy
How, if at all, do your musical influences shape and impact your music?
Brian: It's a combination: what we listen to and what we play — and today, with the experience of EDM music and being able to combine all of that together. For example if I produced pop-rock in my past, I may put some of that sound into our future music.

Masoud: I think "Vangelis - To The Unknown Man" gave me lifetime goosebumps; whenever I need to get out of a situation I just listen to it! The atmosphere he made in all his songs had a huge impact on my music, especially when I am creating a chill out song.
You're tagged as "electro-pop." How would you describe your style of music?
It's always a good idea to tag your style so people can find you in that category, but we're not specifically an electro-pop duo, we're more like Dance-Pop or EDM in general. Sometimes we go on a faster BPM or maybe slow like a ballad! We don't limit our music in this genre; we just look for great top-liners and start writing with them. Working with different writers gives us the opportunity to explore different style and if possible mix it with Dance-Electro-Pop flavor.
Is it difficult to collaborate on a song long-distance?
It can make it a little difficult because we cannot sit together and play some chords and have fun with it till we find the magical chord progression. Since there is a big latency in communication, between two sides of the world, we can't play live behind our computers and even FaceTime gets boring after a while, so it has to be sent by email to get the stems. It isn't a bad thing, because when we get up in the morning we're always expecting an exciting email or text from each other since the other party was working while this one's sleeping. Sometimes it is a solid instrumental and sometimes it's a new playlist placement! We understand what the dynamics and strengths are, which helps us when working on MaWayy.
How does the collaborative process work? Does one of you write the music and the other the lyrics, or what?
It usually starts with a simple idea that we email each other back and forth on and inspires the instrumental pieces to our music. This then gives us time to find a top-liner and the perfect singer that can match our music. After we place the right vocals on the song then we listen to it and edit it like one million times till we get what we love!
I really like your song "Blame." What inspired the song?
Oh, thank you! We started an instrumental like a progressive-big room kind of sound and collaborated with LaVoyce a singer/songwriter from Dallas. The song happened to be so good that we wanted to match a better style with it. We tried to change the production a little bit, but it did not go well, so then we changed it completely to future bass music. We felt the "magic" in the music and we decided to release it right after our first song "Wrong."
The video for "Blame" is totally cool. How did you insert the lyrics so organically into the animation?
Well, you see lyrics videos are popular these days and we decided to try it on 'Blame.' We found this amazing company called "Red Cat Motion" in Vietnam and we connected with them. We knew it should be more than only lyrics so we asked "Leo DINH" (the director) to make a 2D-3D animated lyrics video for us and he was so passionate about this project. As you see, there are car-chase scenes and even our vectorized pictures are in the video. We had many brainstorming sessions and this relationship between us made this video stands out compared to other videos.
You've been compared to Twenty One Pilots. What do you think of the comparison? Is it justified?
Really? How did you get there? Haha. We are more like commercial dance artists but they are alternative electro pop artists. Our music is actually far apart in content and audience!
What's next for MaWayy musically? More singles, or maybe an EP?
We have recorded at least 10-tracks and have a completed video that has not been released to the public. Currently, we have in the pipeline 10 new songs in the making. Since we are now signed to Kobalt distribution, we are going to be releasing more new songs in the near future, faster than our previous attempts.
---
Randy Radic is a Left Coast author and writer. Author of numerous true crime books written under the pen-name of John Lee Brook. Former music contributor at Huff Post.
---
POP⚡DUST | Read More...
INTERVIEW | Indie-Pop Singer Navakaine Talks Coming-of-Age
Water and Man Release 'Phantasie'
RISING STAR | Alberta Drops Buff New Single, 'Jay Walk'n'
Related Articles Around the Web