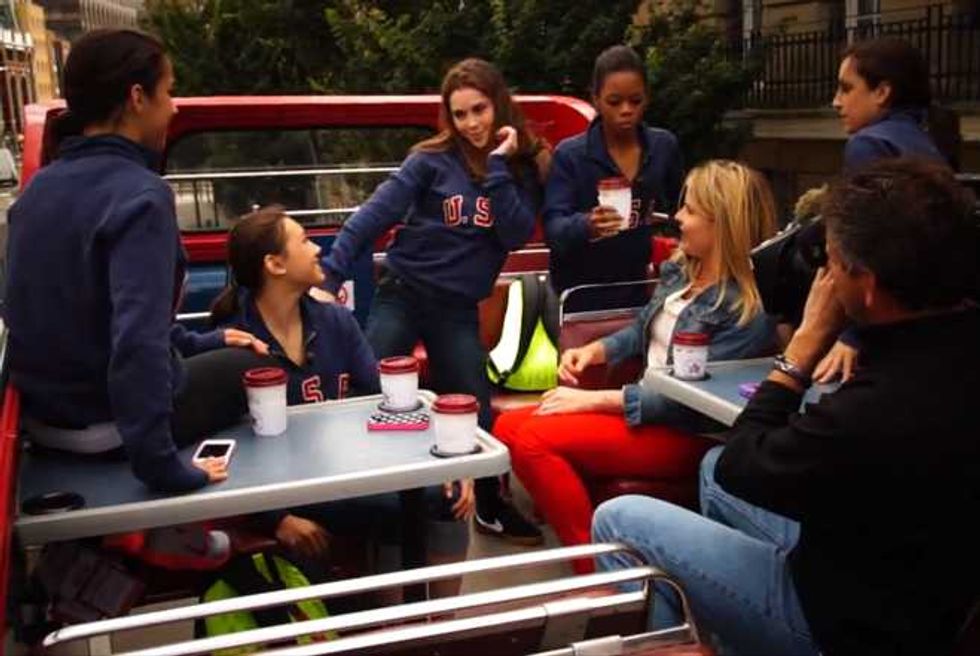 Olympic gold medalist McKayla Maroney has developed a growing fan base at this year's London games, courtesy of her high-flying vaults and Grade A stink eye. Because gymnasts are flexible, and thus, we believe, talented dancers, the 16-year-old showcased her skills during the Fierce* Five's a tour of London with Today correspondent Jenna Bush-Hager. The girls have reportedly been planning ways to unwind now that their share of the competition has ended, so naturally a celebratory rendition of the Cali Swag District's tune is in order. They're only two years behind the NFL and NBA's obsession with the song!
We predicted this Team USA gymnastics-Dougie relationship weeks—OK, one week—ago, narrowly missing the athlete who would publicly display her talents. Oh, Gabby Douglas. This should have been you! #TeachMeHowToDouglas will forever live on in our hearts. But you know who else likes to Dougie, right? Missy Franklin can't have The Bieb all to herself.
Sure, now that Team USA has won their medals, they are totally free to dance on top of tables standing on moving double-decker buses with no regard for potential injury.
*According to Today, the girls no longer wish to be called the "Fab Five," after learning the name already belongs to members of the 1991 University of Michigan men's basketball team. No one wants a mouthful from Chris Webber.