Music Features
The alternative rapper is finally seeing his work pay off, just don't try to box him in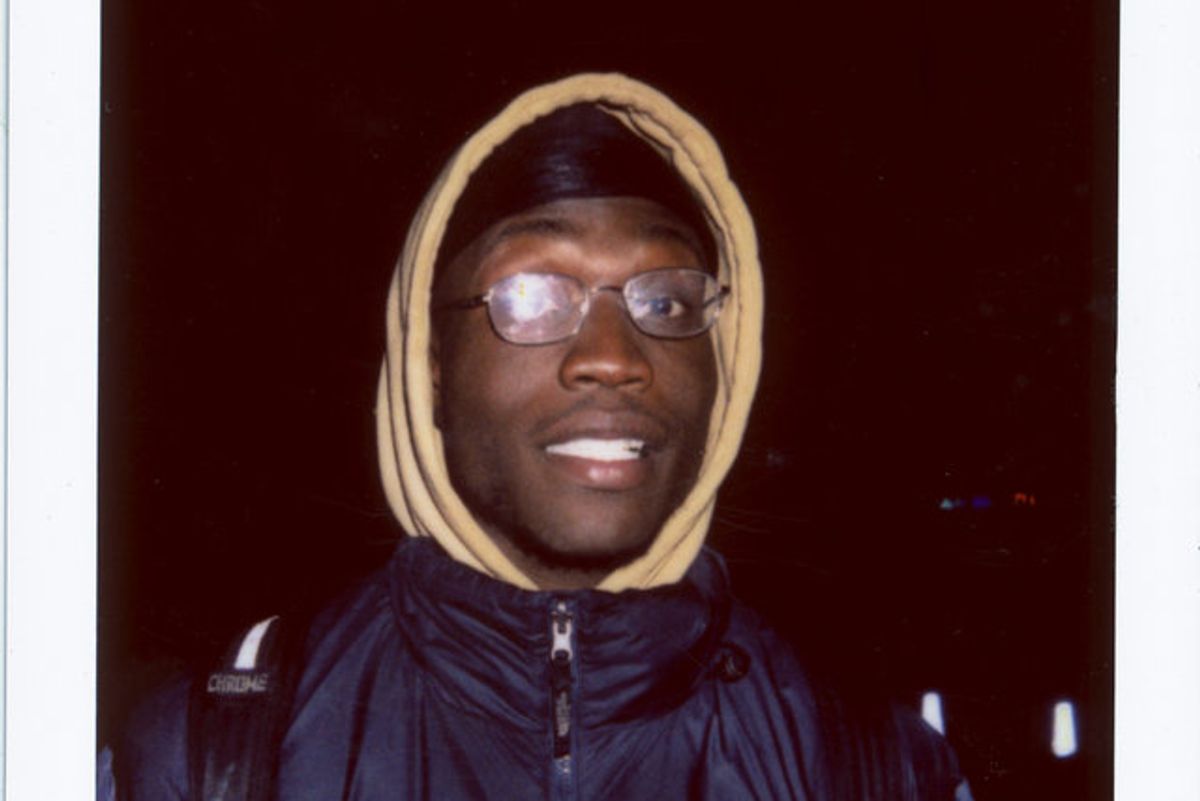 Medhane prides himself on being a Hip-Hop antithesis.
Full Circle, the rapper's enigmatic new EP, is produced entirely by him, and the project's dense 15 minutes offer little breathing room. As the polymath sips on a Chai latte in a crowded cafe in Bed-Stuy, Brooklyn, he explains to me that his stream of consciousness raps are purposefully devoid of certain contexts. "It's open to your perception. It's just art," he said. "You don't look at a painting and say, "Oh this painting is about this." Like a painter, Medhane's music ebbs and flows moment to moment and portrays an artist unabashedly present in the art he's creating. I asked if he would describe his music that way, like a painting. "Kinda, but like not really. It is, but it's not, it's just expression." When I asked him who Dan Freeman was, he told me that he was the protagonist of Spook Sat by the Door, a profound 1964 novel about a black CIA agent trying to overthrow the white establishment. When I asked him why he named Full Circle's opening track "DAN FREEMAN," he smiled. "I don't know, that's just what I thought it should be."
As a Brooklyn native, Medhane was raised on the sounds of Soca and Reggae, along with acts like Nas and Indie.Arie. But when he was 11, he admits, he was mostly into screamo. "I forget the name of this band but they had a song called "Daddy's Fallen Angel," he said with a laugh, "and I just thought that was the hardest sh*t ever." After getting in trouble at school, Medhane's father took him to D.C. for the weekend to experience President Obama's inauguration. While they were in town, they also went to see Notorious, a buzzing new biopic about the late Biggie Smalls. "I just went fully down the rabbit hole after that." He started making freestyle videos on his phone, and by his senior year in high school (he graduated when he was 16 after skipping a grade) he was incredibly committed to the genre. But his mom insisted he get a college education, so he reluctantly applied and was accepted into Carnegie Mellon's civil engineering program. As he dragged his heels academically, his music started to buzz, and he recalls flying to London to perform at a sold-out show with Lex Records, only to fly back and return, nameless, to his classes. "That sh*t f*cked me up."
Medhane - Affirmation #1 (Dir. LONEWOLF) www.youtube.com
His free form art thrives on unpredictability, so as a result, Medhane can't stand when the press, myself included, tries to decipher it. His lyrical meandering is often boxed in with that of Earl Sweatshirt. The comparison is often intended as a compliment, but all of it just frustrates him. "They always try to be like, "This is about depression," or, "On this song [Medhane] recalls a three-day bender." He scoffed. "There was no 3-day bender that ever occurred in my life." He refers me to a lyric from "I WAS JUST IN THE MARA." "Still speaking in code, I know how them riddles go? That's kinda what that means."
Did you see things start to change after Pitchfork reviewed Ba Suba, Ak Jamm?
"Kinda, but not really. After that project, I went back to school and...I was just going through it. I stopped putting out music, I dropped "Sky," but I was just so stressed that I went ghost. No tweets, no music for like six or seven months."
What was that experience like? What did you do to take care of yourself?
"I ghosted a lot of my friends. I was just overwhelmed. I watched a lot of Blacklist, and that show sucks. I was watching bad TV, bro, when I should be making beats. I was on some self-doubt s*it. That's what I was doing."
When did all that start to change for you?
"I graduated and got back in touch with MIKE and Caleb [Giles] and just kinda started making tracks again. I also took a family trip to Kenya, and it restored me somehow. Just coolin' with my family really brought me back. When I got back from [that trip] it was go time."
Then you dropped Own Pace?
"Yeah, and that album did numbers. That was kinda me explaining what I had gone through during that time, and people really related to it."
So what's different now with Full Circle?
"It's totally self-produced, and it's just getting more in-depth. More in-depth with certain topics. I'm just exploring that time more and exploring what really happened.
Creatively, Full Circle is a lot denser than your previous work. What inspired you all to head in this alternative direction?
"I don't know, bro. I just try to mix everything I f*ck with. I feel like out of all the homies I'm the most versatile. I could play you five songs of mine that all sound different, that all slap, and I'm not switching my style on none of them. I listen to all types of sh*t.
What's next for you?
I'm tryna run it up this year. I'm 23, I gotta be on my Jordan s*it. I'm putting out three projects this year.
It seems like things are really changing for you.
"It seems like it. I don't know. There's always that skepticism that comes with life when good s*it starts to happen to you. But everybody just keeps telling me like just keep going, which is kinda what I'm doing. We not falling off no time soon, ever."
FULL CIRCLE