The Germans are renowned the world over for their achievements in science and technology—physics, mathematics, medicine, engineering, t-ts…
Yes, t-ts.
If you require any proof of Deutschland's significant contributions to the latter, you need look no further than to the astounding Beshine, AKA Mayra Hills—self professed proud owner of the world's largest (fake) boobs.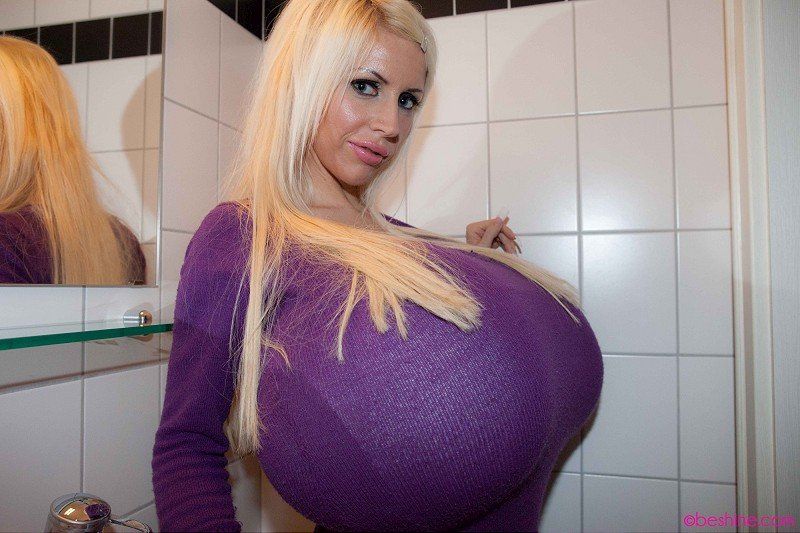 static6.boobsternewscenter.com
The 31-year-old adult model—who measures a jaw dropping 59-28-36, courtesy two separate breast augmentation surgeries—wears a 32Z bra in a bid to contain her gargantuan globes, which, according to DailyDot, weigh in at a whopping 20 pounds each.
Not surprisingly, Beshine is quite the hit on social media, with a loyal Twitter following of 126,000, her very own subreddit (with 500 subscribers) and successful website, which promises:
Access to never seen before giant boobs action and what every lover of huge and heavy juggs have ever dreamed off ! The biggest t-tted blonde boobmodel Beshine and her record breaking rack captures you with her mega gigantic melons and her sexy body. Her mix of blue eyes, blonde hair and her enormous knockers draw fans from all over the globe. Every inch of her delicious small frame with those mounted monster mountains and her attitude of becoming even more humongous makes her the hottest giant breasted woman on the planet. Beshine is truly one of a kind and has given a new meaning to the words giant boobs!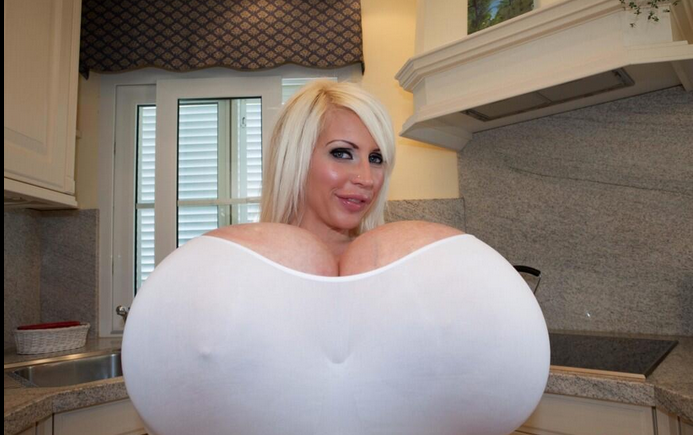 www.dailydot.com
Indeed, of that there can be no doubt....

Fortunately—for her legion of fans, but not so much for her poor back, the likelihood is that Beshine's boobs will blossom to become even more bountiful in the future.
She recently tweeted that her plastic surgeon (who clearly never bothered reading that silly old Hippocratic Oath thing doctors are bound to follow) said that if Beshine "[slowed down her] traveling schedule to very little" then she could boost her breasts from her current 10,000 cc implants to 50,000 ccs.... that's FIVE TIMES THE SIZE!!!!!
Yay!
All together now, Deutschland, Deutschland über alles!