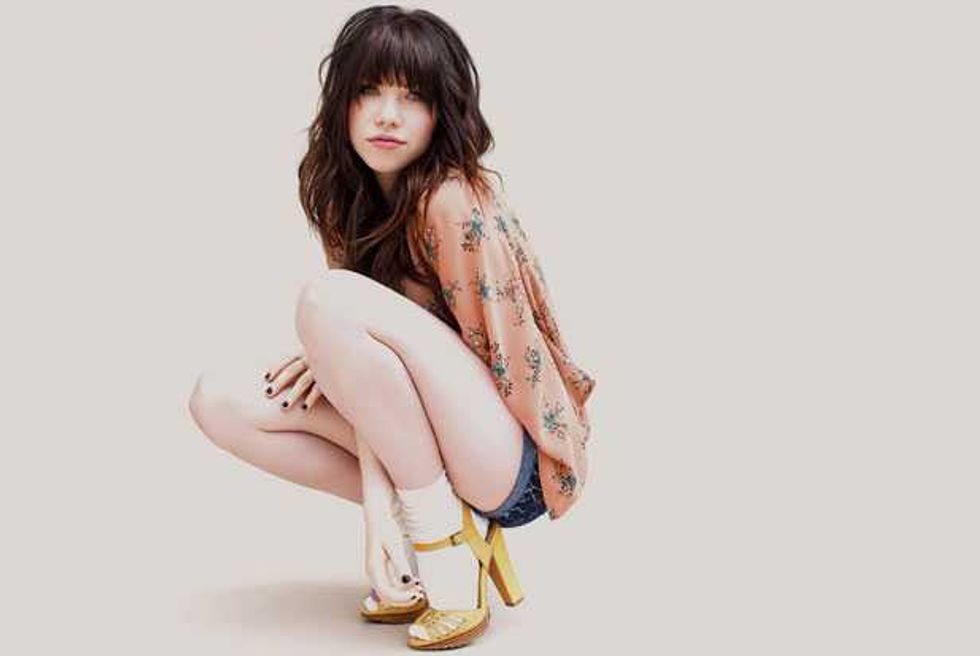 It's too early to tell what the first breakout hit of 2012 will be, but after a 10 long days we'll throw in a vote for Tyga's "Rack City"—stay out of jail!—and begrudgingly acknowledge the continued force that is "Sexy and I Know It," even if its rise really took place in late 2011. As far as Justin Bieber and girlfriend Selena Gomez are concerned—and when are they not?—the song of the moment, and possibly their lives, is "Call Me Maybe." Every couple has some kind of musical representation that epitomizes their union, and these two young lovebirds are brave enough to reveal "their song" to the world, regardless of whether or not a future as the youngest parents with the most Twitter followers is in the cards. Justin has described "Call Me Maybe" as one of the "catchiest songs [he's] ever heard," while Selena has admitted that the two "have not stopped listening" to her song this winter. The couple that serenades one another with catchy pop songs...
The object of their recent obsession is Carly Rae Jepsen, the 26-year-old British Columbia native who finished third on the fifth season of Canadian Idol in 2007 and released her debut album Tug of War in 2008. A previous Juno nominee for Best New Artist, she's currently signed to 604 Records, with plans to release her sophomore album Curiosity this year; later this month, she'll open for Hanson on their Shout Out Loud world tour. As a fellow Canuck, Bieber has been a fervent supporter of Jepsen, recently tweeting his love for the song, as well as visual proof of just how elated it makes him and his crew—yes, that's "former" Bieber swagger coach Ryan Good and Pretty Little Liars star Ashley Benson below. Once part of the swag fam, always part of the swag fam, apparently. Their unscripted reaction is funny because it's true, as we here at Popdust have already danced around in similarly awkward glee at least twice already while listening. "Call Me Maybe," co-written by Jepsen, Josh Ramsay and Tavish Cowe, is currently No. 3 on Canada's iTunes chart, and a certified gold record. Is 2K12 Carly Rae's year? Her name might be a mouthful, but it's looking more and more likely with every high-profile endorsement she gets. Watch below.
Look how happy this song makes people @thatrygood and @ashbenzo call me maybe? twitvid.com/AO49T

— Justin Bieber (@justinbieber) January 10, 2012
Powering up.(computer power supply maintenance)
Personal Computer World October 2, 2008 | Laing, Gordon Byline: Gordon Laing Powering up How a power supply can affect the performance of your PC Power supplies are one of the most important yet overlooked components in a PC. As PC components grow hungrier, it's the power supply that needs to keep up, delivering sufficient current and stable voltages to maintain reliability. A poor or under-rated power supply can cause stability issues and ultimately cost more to run.
The potential cost savings of a good power supply, not to mention its influence on stability and handling of upgrades, makes buying a budget model a false economy A- and a better supply may cost less than you think, with good models costing from just [pounds sterling]45. In this month's Performance column we'll look at the key specifications behind a decent power supply. see here power supply calculator
Power The most obvious power supply specification is its rating in watts, but that's about as far as many buyers look. A 500W power supply may sound better than a 350W model, but dig a little deeper and you'll see why this figure doesn't tell the whole story.
A PC power supply has to convert mains AC into a variety of DC outputs. Modern units deliver three main DC outputs A- or rails A- at +12V, +5V and +3.3V. In addition there will be a -12V and +5VSB rail, the latter allowing a PC to come out of standby.
The total output of a power supply is divided between these rails, but in different ratios depending on the quality of the unit. In a modern PC the processor and graphics card both consume 12V, which, as the hungriest components, makes the +12V rail in a power supply the most important. So you should look for a power supply that delivers the lion's share of its output on the +12V rail. Lesser models may not. Check the label on the power supply to see the breakdown in amps.
Avoid power supplies that deliver more amps to their +3.3V and +5V rails than they do to the +12V rail. This is an easy way to boost the total wattage figure for marketing purposes, while neglecting the critical +12V rail. Ideally, the amount of watts a power supply can deliver to the +12V rail should be around three-quarters or more of its total power rating. To find out, simply multiply the number of amps for the +12V rail by 12 and see how many watts you end up with.
It's also important to check the conditions under which the manufacturer's figures have been taken. Many budget models quote ratings at room temperatures or those within the PC case, but the power supply itself will normally be running much hotter. Power supplies don't perform as well at higher temperatures, so beware of figures taken at around 25A[degrees]C and instead look for ones under more typical conditions like 50A[degrees]C. go to website power supply calculator
Efficiency outervision.com/psucalculator.jsp.
It's also advisable to comfortably over-specify your power supply, not just to accommodate hungrier components in the future, but also because power supplies run at their most efficient when delivering considerably less than their maximum output. This means lower power bills, and cooler PCs with less waste as heat.
So if your components will draw a maximum of, say, 200W, don't buy a 250W supply. Even assuming it could deliver sufficient power to the required rails, it would be running very inefficiently. Instead get a 350W or 400W supply and allow it to run more comfortably. A higher-rated power supply may be initially more expensive to buy, but it will be cheaper and cooler to run in the long term.
You may also notice some companies using an '80 Plus' badge. This means the power supply conforms to the 80 Plus program which states a power supply must be at least 80 per cent efficient under various demands including full load.
Extras Beyond power and efficiency ratings, you should also consider how quietly a power supply will run and the number and types of connectors it has. Modern PCs need a 24-pin motherboard connector, a supplemental four- or eight-pin plug for the processor and a six- or eight-pin plug for a PCI Express graphics card (or two if you're using twin cards), along with the usual drive connectors. Some may also allow you to detach any cables that aren't required, for a tidier and more easily cooled PC.
As for models, Corsair, Enermax and Zalman consistently deliver good power supplies. All offer a wide range, but three budget models that are good value are Corsair's VX450W, Enermax's Pro82+ 385W and Zalman's ZM360B, all for around [pounds sterling]45. At those prices it really isn't worth skimping on a poor supply. PCW Laing, Gordon