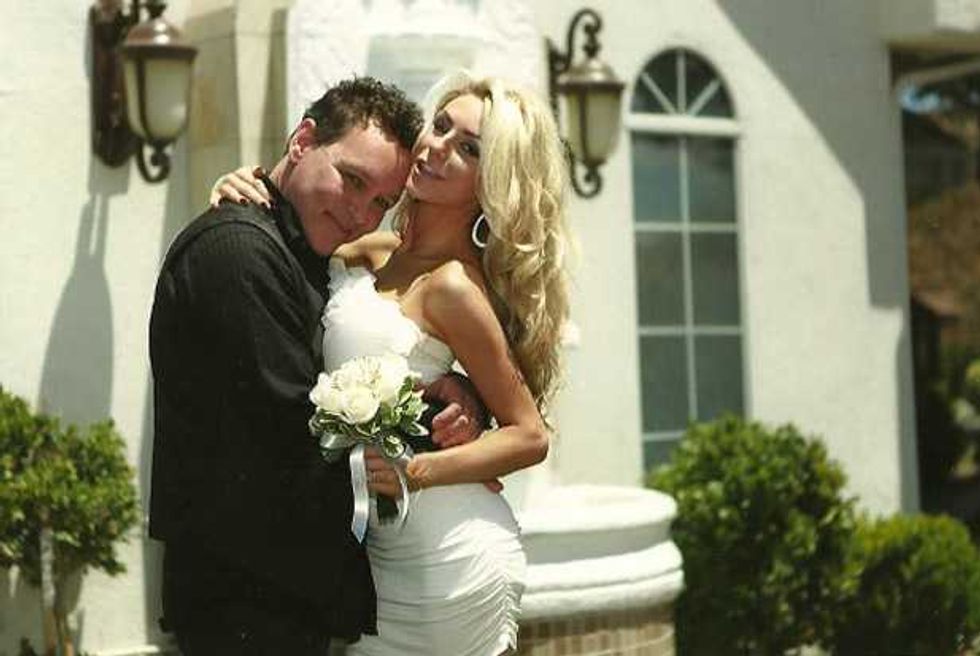 In cringeworthy news of the day: 51-year-old actor Doug Hutchison (The Green Mile, Lost) wed Courtney Stodden, 16-year-old singer and teenager. "We're aware that our vast age difference is extremely controversial," the newlyweds told E! Online. "But we're very much in love and want to get the message out there that true love can be ageless."
Conveniently Stodden, who needed legal permission from her parents to go through with the marriage, is a client of Hutchison's company Dark Water, a production company "dedicated to the chaos, unrest and beauty of creation through artistic endeavor—the sharing of truth and unveiling of everyday miracles that serve to touch and enlighten the human spirit." While we're not really in a position to question to the basis of the aforementioned marriage considering we are currently mourning the loss of "Friday" from YouTube, listening and critiquing her musical endeavors is totally fair game. So if your stomach has finally settled, prepare your ears for the next onslaught, this time in the form of the self-described All American Girl's original songs. Her website boasts seven tracks, which we've had the misfortune pleasure of experiencing. "Luxury" is the least country-sounding of the bunch, a cliched ode to the finer things in life that name drops caviar, champagne and basically any stereotypically expensive item, whether or they can be legally purchased and/or consumed by Stodden herself. Things get pretty deep by the chorus, as Stodden steps back and looks at her life as an outsider: "Luxury/ It takes a hold of me/ This is how I want to be/ Living just like this." What perspective for such a young age! (This, too, is how we want to be living. Just like this, this way we have not really described, but it's how we want to live. You feel us?) But before you call her shallow, she's also done her patriotic duty and recorded a song for the troops! Girl's got range. Who wouldn't sign her?
Country success or not, clearly we are listening and looking at the next—and possibly youngest—Real Housewives star. (Claws out, ladies.) A much older husband and an aspiring music career? Snatch this one up Bravo! She just saved you a bundle on casting expenses.